Kevin James Explains The Real Reason Why He Killed Off His TV Wife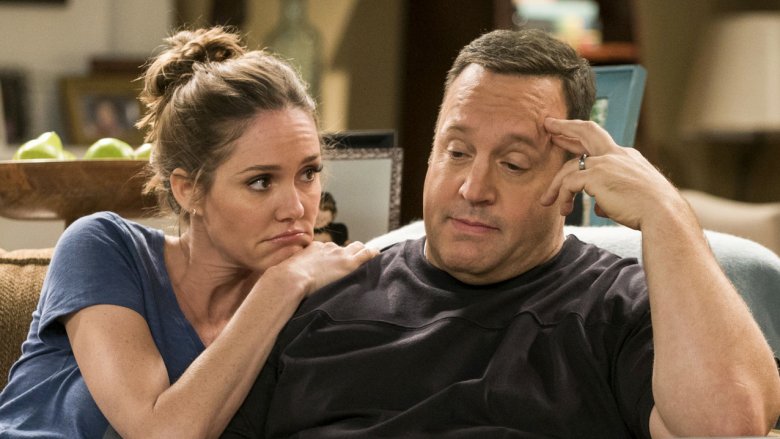 CBS
This comedy has had its fair share of drama.
Kevin Can Wait shocked fans when it announced that one of its core cast members, Erin Hayes, had been let go ahead of the show's second season. What's more, her death would never even be shown on TV as a result of a time jump (via Variety). Many fans suspected that Hayes' termination was only a way for guest star Leah Remini to make a new home on the series, teaming up with the show's star Kevin James, whom she'd previously worked with on King of Queens. However, James has since debunked that rumor, claiming that the show needed a major change in order to survive.
"I get that people are like 'Whoa, why would you do this?' But it really felt like a thing like this was needed for this show to drive forward," James, 52, told the New York Daily News. "Now, I have to deal with my daughter in a different way, and she's gonna go to college, or one's getting married, or the holidays. And it deals with things in a different, weightier way."
According to James, his character was originally supposed to be a single dad, with producers bringing on a fleshed-out family before filming. And, apparently, that's just what caused a major lull in the show's trajectory. "The plot of the show didn't have enough drive," James explained. "If we got through a second season, I wouldn't see us getting through a third one."
He noted, "We were literally just running out of ideas."
Executive producer Rob Long shared similar sentiments to TV Line in an August 2017 interview. "The goal was to give Kevin's character a real drive and a real predicament [involving] how a family comes back together [after tragedy]," he said. "Also, out of respect for the character of Donna — and certainly the way that Erinn Hayes portrayed her — it seemed like the only right and fair way to treat her character."
Since Donna's unexpected death, Kevin Can Wait has mostly danced around her absence, yet to fully explain just what happened to the beloved character.
But it's clear that Remini's guest stint on the series influenced casting in season two. After all, she's now a series regular, playing Vanessa Cellucci, the former police partner of James' character. And James clearly loved sharing the small screen with his one-time TV wife again.
"When she came on ... it was just the greatest," James gushed to the NY Daily News. "Fans loved it, everybody on the crew loved it. We just knew right away, so we thought, 'How can we get her here full-time to be on the show?'"
Guess the writers at Kevin Can Wait figured that one out.