What Really Happened Between Mel B And Eddie Murphy?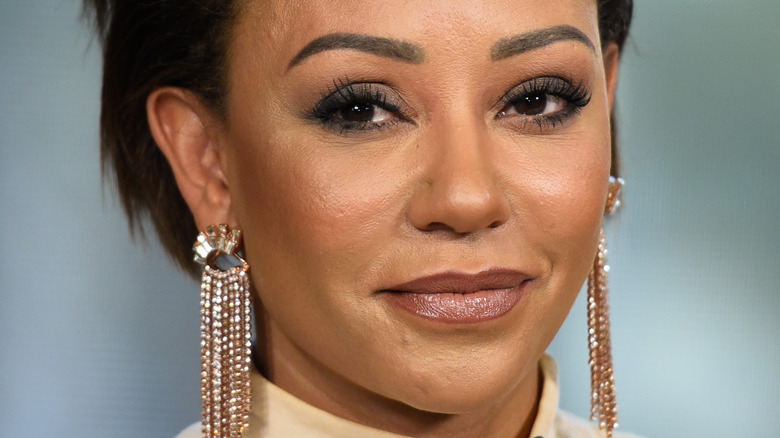 Noel Vasquez/Getty Images
In 2006, "Beverly Hills Cop" star Eddie Murphy was seemingly looking to spice up his life, and decided he wanted to be the lover of Melanie Brown, aka Scary Spice of the Spice Girls. Both superstars were fresh off of other relationships. The "Saturday Night Live" legend had divorced his wife of 12 years, Nicole Mitchell, that April, per People, and the exes had 5 children together. The British "2 Become 1" songstress had previously been married to the Spice Girl's backup dancer Jimmy Gulzar in 1998, but despite having daughter Phoenix together, they broke up in 2000, per The Mirror.
As the "Say You'll Be There" singer revealed in recent years, she considers Murphy and their brief courtship to be the highlight of her romantic life. She even went so far as to call him the love of her life. When speaking with Piers Morgan on "Good Morning Britain" in 2018, she referenced passages from her book "Brutally Honest," where she called Murphy her "great love." "He always will be," Brown told Morgan, who then asked if it was love at first sight. "Yeah, completely...  I went for a dinner party at his house, and it was very intense that attraction, and I left actually because it was a bit too much," she laughed. "But he's such a lovely person, he's all about family and he's very respectful and very old school and we courted for quite some time before anybody knew."
But alas, after nine months together, Murphy and Brown were not meant to viva forever.
Mel B became pregnant, but Eddie Murphy denied paternity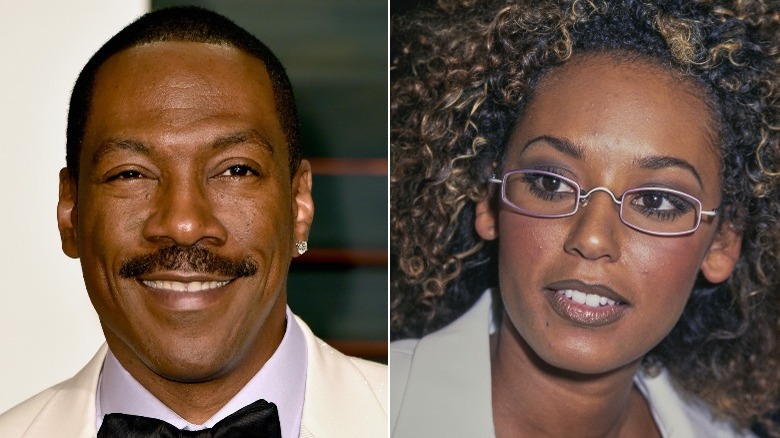 Pascal Le Segretain & Michael Ochs Archives/Getty
While the 2006 romance between Melanie "Mel B" Brown, aka Scary Spice, and "Coming To America" star Eddie Murphy fizzled, it was passionate enough to create life. The "Who Do You Think You Are?" pop star became pregnant with daughter Angel Iris that year, and according to Brown, the pregnancy wasn't an accident. In fact, in 2007, she told Essence, "This was a completely planned pregnancy" (via People). "This wasn't some random, 'Oops I fell over and I'm pregnant.' I don't live my life like that." Brown later added, "As soon as I had my IUD removed we proceeded to get pregnant. It happened quicker than we expected but it was perfect timing."
Murphy, however, told a different story to the media. Dutch news outlet RTL Boulevard asked about his impending bundle of joy with Brown in December 2006, but he tersely replied, "I don't know whose child that is until it comes out and has a blood test. You shouldn't jump to conclusions, sir" (via Irish Mirror).
But the "Stop" singer put a stop to that narrative. In 2007, when daughter Angel Iris was 4 months old, Brown filed a paternity suit against Murphy for child support, and held a press conference with celebrity attorney Gloria Allred. Speaking of their daughter, Scary Spice said, "She will always know that she was planned and wanted by both of us, but I want her to know that she has two parents who desire to be responsible for her during her life," per People.
Eddie Murphy finally acknowledged he fathered a baby with Mel B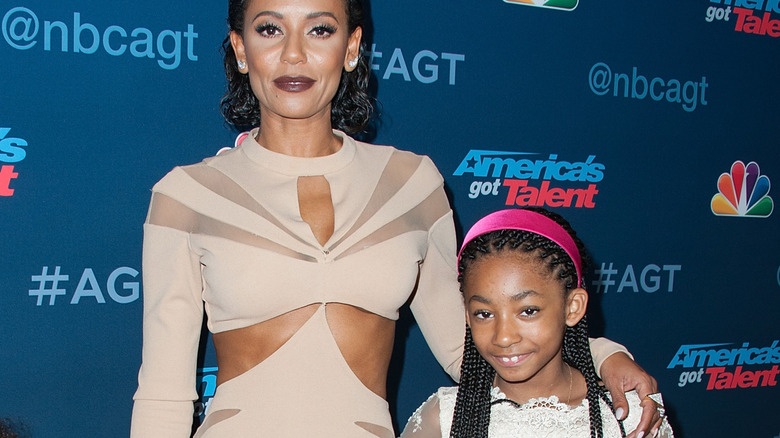 Jennifer Lourie/Getty Images
In June 2007, "Dream Girls" star Eddie Murphy submitted to a DNA test to prove the paternity of daughter Angel Iris with ex-girlfriend Melanie Brown. The test proved he was the father, per People, but he hadn't acknowledged paternity until August when the British pop icon sued him in a Los Angeles court for child support. Only then did he publicly acknowledge he was Angel's father. "Mr. Murphy and Ms. Brown dated very briefly and never made any plans of ANY sort. He acknowledges paternity of the child Angel, and has paid child support to Ms. Brown, as well as covering the expenses of her pregnancy," his publicist stated, per Reuters.
While that might sound like the end of their troubles, child support came up again in 2020 when "The X Factor" judge filed court documents requesting an increase in the amount of financial support Murphy was paying for their then-13-year-old daughter Angel, per Us Weekly. Brown stated that her income had "dramatically reduced" and asked Murphy to increase the 2009 agreement of $25,000 per month plus cover her attorney fees. 
Despite the legal woes, the Spice Girl has nothing but compliments for the legendary actor and comedian. "We were madly in love and we've got a gorgeous daughter to prove it," she told Steve Harvey on his eponymous talk show in 2018 (via Us Weekly). "And now everything's good!"