Inside Bill Gates' Relationship With Daughter Phoebe Gates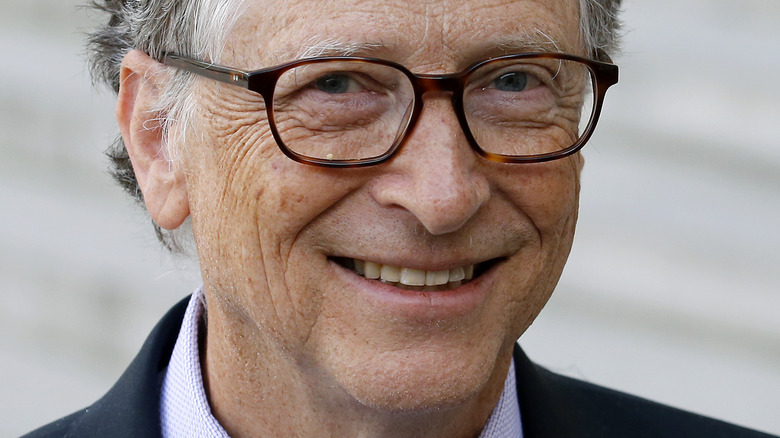 Chesnot/Getty Images
The Gates family is one of the world's most influential families. The patriarch is Bill Gates, the founder of Microsoft and consistently one of the world's richest men. Though his net worth fluctuates with the stock market, as of July, Gates was worth an estimated $122 billion, according to Forbes. Then there's Melinda French Gates, co-founder of the Bill and Melinda Gates Foundation, the biggest private charity in the world. The couple has three children together, their oldest daughter Jennifer, middle son Rory, and the youngest Phoebe. This appeared to be a perfect — and extremely wealthy — family until Bill and Melinda shocked the world by announcing their divorce in 2021 after 27 years together.
One question was how the relationship would change with the children. Another obvious question was inheritance. Bill has long said that he didn't want to give his children easy money, and in fact would only leave a limited amount of money to each child in terms of percentage of his insane net worth. For each child, he planned to leave them only $10 million each, Page Six reported. When the divorce was finalized, Melinda rented an entire island in the Caribbean called Calivigny Island to house the family away from all the media attention — and from Bill. Allegedly, everyone in the family, including Phoebe, was upset at Bill following news of the divorce, per TMZ.
Between the inheritance talk and divorce, here's a look at Bill's relationship with his youngest daughter Phoebe.
Bill and Phoebe Gates have a glamorous time together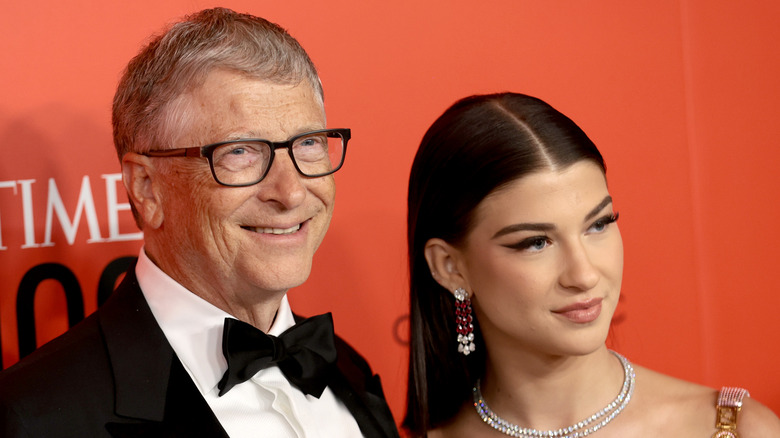 Dimitrios Kambouris/Getty Images
In June, Bill and Phoebe Gates both dressed up to attend the dazzling Time100 event held in New York City. The yearly gala celebrates the world's 100 most influential people according to Time magazine. On the red carpet, Bill and Phoebe took photos side-by-side. Bill wore a classic black tuxedo while Phoebe wore a shimmery pink dress by Italian luxury brand Fendi. Even more, this dress was designed by Donatella Versace in a collaborative collection between Fendi and Versace. It's the exact same dress that supermodel Naomi Campbell showed off on the runway. Following the gala, Phoebe shared on Instagram that she was honored to attend the event with her dad. She also claimed that at the event, actor Simu Liu from "Shang-Chi and the Legend of the Ten Rings" convinced Bill to try bubble tea for the first time. A few weeks later, Phoebe posted on Instagram an adorable series of childhood photos with Bill. "Thank you for being my dad. Love you today and always," she wrote in the caption.
After graduating high school in 2021, Phoebe went to attend Stanford University. Her sister Jennifer made a heartfelt post congratulating Phoebe on her accomplishment. Bill is one of several famous Harvard dropouts but has been a major supporter of Stanford, donating $6 million towards the Gates Computer Science Building on campus.
The ups and downs with Bill and Phoebe Gates
One shared connection between Bill and Phoebe Gates is a love of reading. Bill is famous for his voracious reading habits, revealing to Reddit that he'll sometimes read up to three hours per day. This passion seems to have been passed to Phoebe. One of her favorite authors is John Green, and she hooked both her parents onto his books. Given Bill's influence, it's unsurprising he was able to then connect with Green and introduce him to Phoebe. At an event, "John pulled Phoebe aside to share a secret with her: the plot of his new book. He made her promise not to share it with anyone, and she stayed true to her word for nearly two years," Gates revealed in his blog GatesNotes.
Sadly, this family bonding changed a few years later. Bill's relationship with Melinda French Gates had reportedly already been rocky for years, and Phoeobe growing up and moving out put the final nail in the coffin. "It's absolutely because their youngest child is graduating from high school, and the idea was that they stayed together through that," a source close to the Gates family told People. While it was likely difficult for Phoebe to deal with her parents separating, she had to continue living her life as a teenager. A few weeks after her sister posted about the family's challenging time, Phoebe showed off her pink prom dress on Instagram.