Travis Scott Continues His Comeback Attempt After The Astroworld Tragedy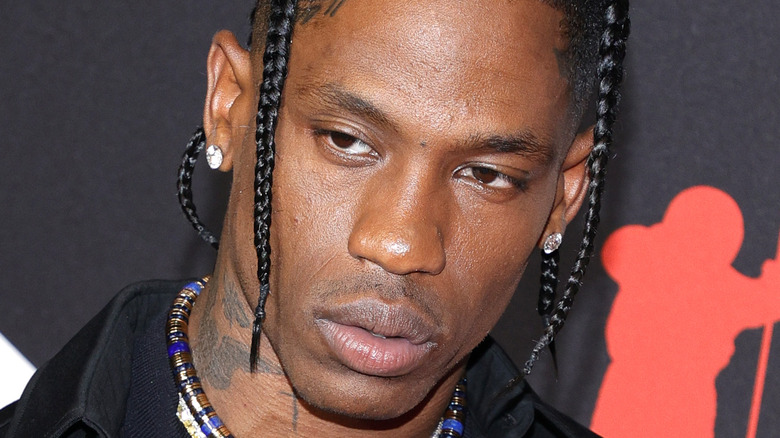 Jason Kempin/Getty Images
Travis Scott has kept a low profile since his disastrous 2021 Astroworld concert. While performing at the festival located in his hometown of Houston, Texas, the rapper allegedly incited a mob which resulted in the death of 10 people, per Rolling Stone.
In the wake of the tragedy, Scott faced massive blowback from critics and fans alike. Many felt that he was aware of the increasingly dangerous situation at the festival and should have stopped his concert long before he did. Additionally, it did not help his case that he reportedly encouraged the crowd to mosh and act in other dangerous ways, per NBC. Scott did sit for an interview with Charlemagne tha God, during which he claimed he was unaware of what was happening until after the show.
In the aftermath, Scott took a break from social media and stopped performing in public for a while. Other than appearing in a few of his girlfriend Kylie Jenner's Instagram posts, Scott seemed to be trying to let the worst of the scandal pass by as quietly as possible. Now, nearly 10 months later, Scott is back on the scene and trying to revamp his tattered image.
Travis Scott is putting fans first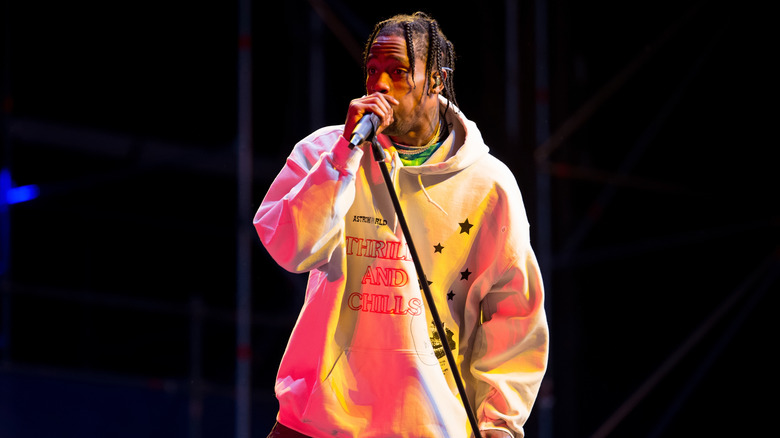 Christian Bertrand/Shutterstock
After months in hiding, Travis Scott is back on the concert circuit and trying his best to make a good impression on his fans. During a July performance in Miami, Scott reportedly went out of his way to improve the concert experience for his fans. According to an eyewitness, Scott noticed a fan recording a video of the performance with his cell phone, so he grabbed the phone from the stage to help him get a better angle. "But it was a FaceTime call," the source told Page Six. "Travis looked confused and flipped off the guy [at the other end of the call] in a playful way and mic-dropped the phone back [to its owner]." Scott reportedly also welcomed high-paying patrons on stage to perform his "Goosebumps" with him.
Other than trying to give his supporters a good time, it seems that Scott is more committed than ever to creating a safe environment for his fans. The following night, while performing at Coney Island in Brooklyn, New York, Scott reportedly stopped the show when things started getting out of hand. According to a TMZ report, during Scott's performance, fans began climbing the trusses around the stage and dangling upside down. Scott stopped the show, asked them to get down, and refused to continue until everyone was safely on the ground.