Why Meeting David Bowie Had Such An Impact On RuPaul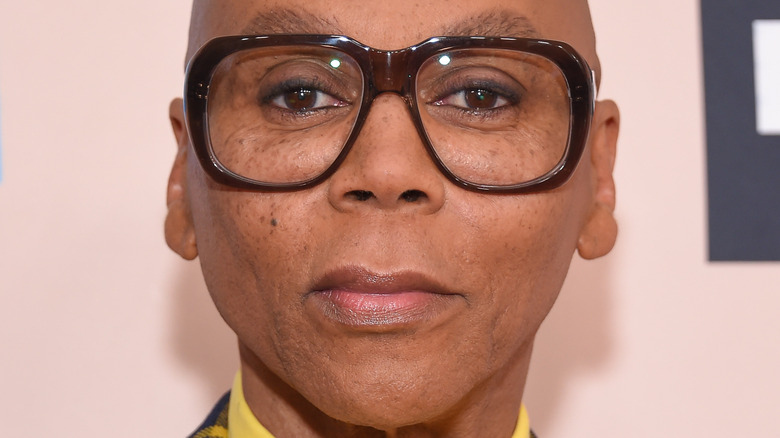 DFree/Shutterstock
When it comes to "Sashay! Shantay!" no one does it like RuPaul. The long-reigning queen of drag and host of "RuPaul's Drag Race" knows a thing or two about being fabulous. But according to RuPaul, he learned from the great '60s and '70s icons like Cher and Diana Ross. He told Variety in 2018, "They were unlikely superstars and outsiders in their own way. Just knowing that they existed helped me achieve my stardom and helped me to keep going during the times when I didn't have a lot going in my way."
The "Supermodel" singer was also a ride-or-die David Bowie fan, and admitted to Billboard in 2017, "I was beyond — beyond — obsessed with David Bowie. From the time I was about 14 throughout the rest of my life." He went on to tell the outlet that when Bowie's daughter Lexi (whom he shared with his wife Iman) visited the set of "Drag Race," RuPaul broke down and cried. "To think that David Bowie's kid was on our set ... I didn't let on to her, but the fact that I've lived long enough in my life to have this turnaround to where David Bowie's kid was obsessed with something I was doing was really crazy."
Of course, fandom from afar is one thing, but the charismatic drag queen actually had the opportunity to meet the late, great Ziggy Stardust hitmaker before he died in 2016 after a cancer diagnosis, and it was a meeting that shook RuPaul to his core. 
RuPaul screamed and cried when he met David Bowie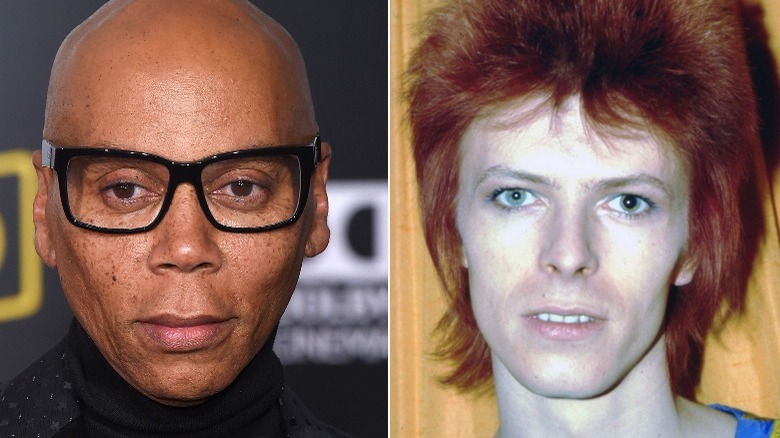 Michael Ochs Archives/Getty & DFree/Shutterstock
The late, great rockstar David Bowie made a name for himself with hit 70s glam rock tunes like "Space Oddity," and "Starman," and as queen of drag RuPaul tells it, coming face-to-face with the man who had so much influence on culture and music was a life-altering event. In 2016, the drag performer told Vulture about their meeting. "I was at a dinner party and when I saw he was there, I had to excuse myself ... Thinking back, I guess he came in there specifically because he knew that I went in there. And he said 'Hi' and shook my hand. I said, 'Hi, great to see you.' And we spoke for a little bit. Then I actually escaped the party and didn't sit down for dinner because I had to go downstairs and let out the screaming and crying that followed."
Speaking of the legacy of "Life On Mars" rocker, RuPaul added, "To find those beacons of light in that darkness is such a gift. And he is that. He still is that. Through his music and his art, how he projected this image out there."
That wasn't the first time RuPaul spoke about this meeting. Reflecting on Bowie's tragic death, Ru posted a now-deleted tweet that read (per PinkNews), "Met #DavidBowie at a dinner party in '97. I was calm cool collected, but shortly after, I quietly left to go down the street to scream & cry."
David Bowie was a secret RuPaul stan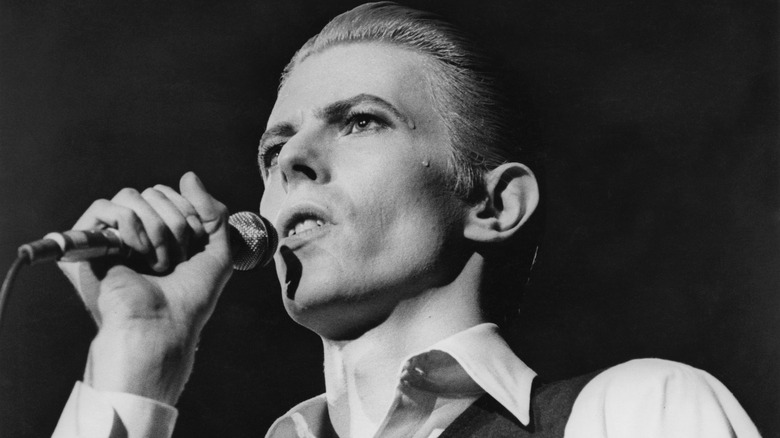 Central Press/Getty Images
Much to RuPaul's delight, we now know that the "Changes" rockstar David Bowie was also a huge fan of the famed drag queen. In 2016, RuPaul spoke with Yahoo about finding a rare interview with the "Man Who Sold the World" crooner who stated very clearly he wanted Ru to cover one of his songs. "I saw an interview with him from 1997, and he's talking about Lou Reed's 'Transformers' [which Bowie produced], and he's talking about each track. And he's asked, 'Who do you think could cover these tracks today?' And he says, 'I think RuPaul would be good for this track ["Make Up"] here.' I'd never seen that interview until recently, and it just blew my mind."
The video in question was an interview with the PBS film "Lou Reed: Rock and Roll Heart," where Bowie lists off popular bands of the '90s that should cover his and Reed's songs, and you can almost hear the icon mumble that RuPaul would "probably do it better."
As for Bowie's last album, "Blackstar," not only did RuPaul love it, he said it's a tragedy that we'll never have more music from the British legend. "It just made me miss the fact that he couldn't do more," he told Billboard. "In hearing that album and its jazz undertones, I thought, 'Oh my god' ... I just loved him so much. I still love him so much."