Victoria Beckham Opens Up About The Sad Fear She Has For Her Daughter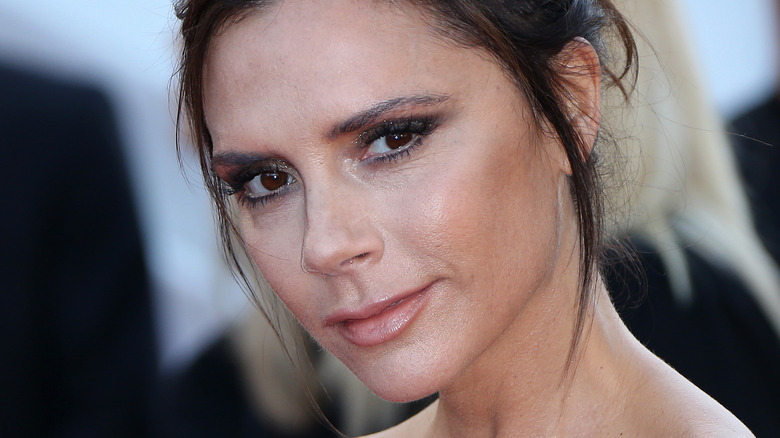 BAKOUNINE/Shutterstock
Victoria Beckham developed a bond with her daughter Harper Beckham from a young age. In 2015, when Harper was only 3 years old, the fashion designer revealed how the mother-daughter duo would often spend time together. "I'm very girly and I love nails. Harper and I will often have nail afternoons and when we're in LA," Victoria told Vogue (via E! News). The following year, the fashionista gushed over her daughter on Instagram when she uploaded a snap of the youngster adjusting a dress on a mannequin. "Draping like mummy," Victoria wrote in 2016, including the hashtag "#proudmummy" to show how happy she was to see Harper following in her footsteps.
When Harper was a bit older, the former Spice Girls member shared an adorable snap to Instagram of her daughter with dad, David Beckham. She wore a lilac-colored dress, which was significant: Not only had the designer rocked that same dress herself, but the piece was custom made with Harper in mind for Victoria's 2021 fashion line, per ET.
Not only did Harper make her mom proud with her fashion sensibilities, but the youngster earned her dad's adoration on the soccer field. "She is the only one left and she plays every Sunday, and she loves it. The boys don't play anymore, and it's heartbreaking," the former soccer star said on "The Graham Norton Show" in 2018. Although Victoria previously expressed her playful disapproval of her daughter's soccer aspirations, that was not what worried the former Spice Girl most about Harper's future.
Victoria Beckham is worried about online trolls
Even though Victoria Beckham would occasionally post photos of Harper Beckham to Instagram, the youngster does not have her own account. Partly because the Spice Girls alum wants her daughter to avoid online trolls. "Harper isn't on social media, so we don't have to worry about that just yet," Victoria told Vogue Australia when asked about "body shaming" in an interview published July 3. The issue of her daughter encountering online bullying is a subject that the fashion designer had considered often. "But seeing how cruel people can be, yes, it really does [concern me]," she told the publication. Victoria mentioned how it was an upcoming vulnerable time for her daughter as "her body is going to start changing." The fashion author was worried about Harper handling online attacks. "But it is quite terrifying, I can't lie," Victoria said.
One issue the singer does not need to worry about is her daughter mimicking her vintage Posh Spice looks, as Harper strongly disapproved of her mom's outfits from the '90s. "And she was actually quite disgusted at how short my skirts were," Victoria told Vogue Australia.
A couple years before discussing her daughter potentially being harassed online, Victoria opened up about difficulties she experienced during her youth. She wanted to instill those tough lessons in her daughter. "I was bullied a lot at school, mentally and physically, and the fact that I can talk to Harper about that ... Really I use my own experiences and share that," she told Glamour UK in 2021.