Alyssa Milano Explains The Motivation Behind The 'Me Too' Movement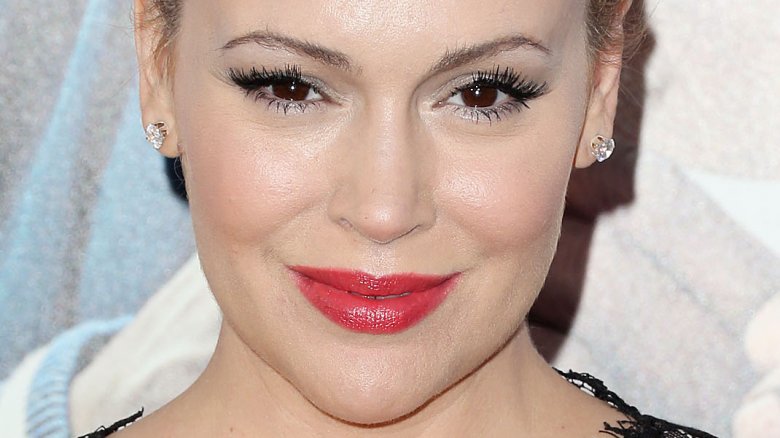 Getty Images
The former child star wants people to realize that harassment happens everywhere.
On Thursday, Oct. 19, 2017, Alyssa Milano visited Good Morning America (via Yahoo!)and opened up the "Me Too" movement that she sparked on social media, resulting in over 1 million tweets by men and women bringing attention to sexual misconduct.
"I just think it's something that is so so prevalent," Milano, 44, said. "It is a cultural issue that I think we have to face, and women posting 'Me Too'—I think gave them the courage to not have to tell their story or not have to name their predator but to just stand in solidarity. And I think that the numbers are a testament to how powerful women can be when we do stand together and we are one."
The movement was originally started by Tarana Burke back in 2006 as a way for sexual assault survivors to speak out against abuse (via Washington Post).
"What the 'Me Too' campaign really does—and what Tarana Burke—has really enabled us all to do—is really put the focus back on the victims: to give us a voice, to give us strength, to give us power," she said. "And what that enables us to do is say, 'No more. No more. We're not going to put up with this anymore. We are going to be vocal until this stops. Not one more. It stops here.'"
As Nicki Swift previously reported, Milano reignited the "Me Too" movement by tweeting a message to her followers on Oct. 15, 2017, following the ongoing Harvey Weinstein scandal. She encouraged women to share "Me Too" as their status, as a way to "give people a sense of the magnitude of the problem" of sexual harassment.
While Milano has shared that she has been a victim of both sexual harassment and abuse, the actress likely won't be opening up much more about her personal experiences. "Of course, I've done my own healing and been through counseling and have a great support system in my life. But really this was about showing that this happens everywhere," she told GMA. "That it's not just Hollywood, that it's not just actresses."
Rather than talk about her past, Milano would much rather focus on making change for the future. "It has to go beyond just a hashtag movement," she said, noting that she's been speaking with Burke and working with the Creative Coalition. Milano explained that she wants to help put new protocols into effect to help define "those lines so that men know that they cannot cross them." She also asked for people's suggestions, as she'd like to be able to help however she can.
"I really want this to be about the every woman's voice," Milano explained. "I want it to be—this is your movement, women. This is your time. And if I can be the vessel and hold the bullhorn for you guys to shout as loud as humanly possible, then I'm honored to do so. But let's fix this problem."
While we try to figure out how best to resolve the issue of sexual harassment and assault, read up on how celebrities have reacted to the disturbing accusations made against disgraced producer Harvey Weinstein.