Julia Louis-Dreyfus Completes Second Round Of Chemo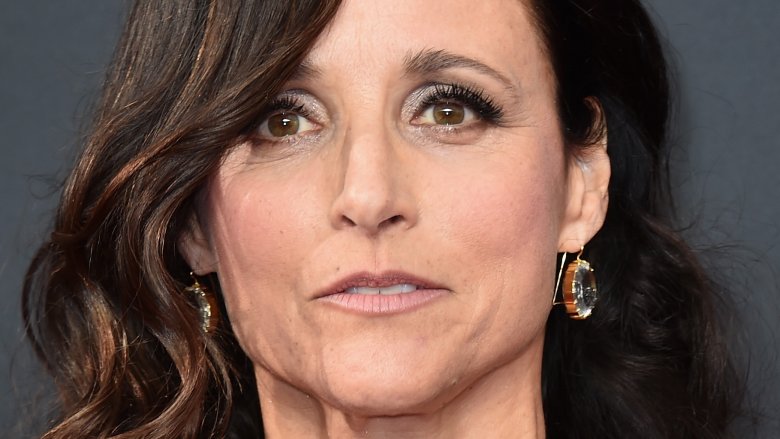 Getty Images
Julia Louis-Dreyfus is determined to beat cancer.
After completing her second round of chemotherapy, the Veep star took to Instagram late Thursday, Oct. 19, 2017 to update fans on her condition amid her breast cancer battle. "Chemo #2 finito. We are NOT f**king around here," she captioned of a photo of herself sporting a hoodie, sunglasses, and a drawn-in mustache. 
Despite the gravity of the situation, Louis-Dreyfus kept things light yet sincere by quoting the lyrics to "Roar" by Katy Perry, before thanking her costars for their support. "'I've got the eye of the tiger. The Fighter dancing through the fire cuz I am a champion and you're going to hear me ROAR.' Thanks to @mrtonyhale & @timothycsimons & @katyperry for their hilarious and loving inspiration."
In the wake of this health update, her hit show shared its unwavering support for their fearless leader with a GIF of Selina Meyer, the actress' famous onscreen counterpart, on Twitter. "Always here for you. @OfficialJLD #Veep," read the caption.
Always here for you. @OfficialJLD #Veep pic.twitter.com/jXPMvwhrnM

— Veep (@VeepHBO) October 19, 2017
As Nicki Swift previously reported, the former Seinfeld actress announced her shocking breast cancer diagnosis on Sept. 28, 2017. "1 in 8 women get breast cancer. Today, I'm the one," the 56-year-old wrote in a text photo on Twitter. "The good news is that I have the most glorious group of supportive and caring family and friends, and fantastic insurance through my union. The bad news is that not all women are so lucky, so let's fight all cancers and make universal health care a reality."
As HBO told The Hollywood Reporter at the time, Louis-Dreyfus received her diagnosis the day after taking home the Emmy Award for Best Actress in a Comedy Series for the sixth time in a row. "Our love and support go out to Julia and her family at this time," the network said in a statement. "We have every confidence she will get through this with her usual tenacity and undaunted spirit, and look forward to her return to health and to HBO for the final season of Veep."