Kesha Actually Wrote One Of Britney Spears' Biggest Hits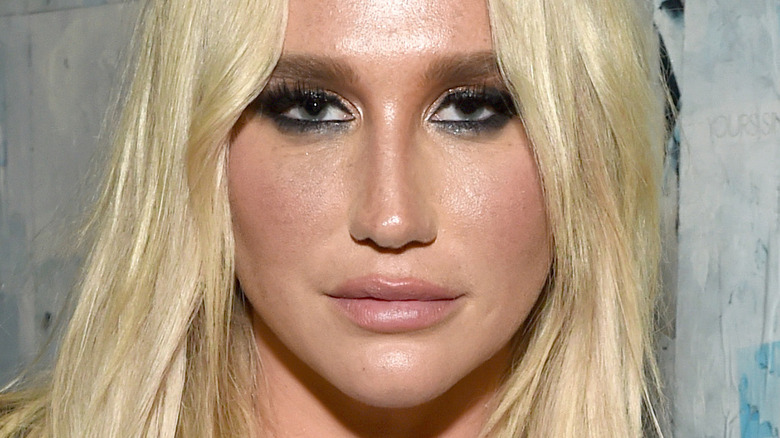 Michael Kovac/Getty Images
Ever since she burst onto the scene, Kesha made a splash with her music. Her debut single, "Tik Tok," could have easily made the singer a one-hit wonder. But, by continuing to release and write bops, Kesha managed to morph into one of the biggest pop stars of the 21st century. As of this writing, she has released four studio albums, two of which reached the top spot on the US Billboard 200. On the US Hot 100, Kesha has earned three No. 1 singles and a total of 10 top 10 hits.
While promoting her 2012 album, "Warrior," the "We R Who We R" entertainer opened up to Popdirt about her songwriting process. "I'm always writing. I'll write even in my sleep. I'll write things on my hand and wake up and say what in the hell did that even mean?" she explained, adding, "I'm always constantly writing and I was inspired by my tour and my fans inspired me a lot, but this spiritual journey I went on inspired me. It's where I came up with the title 'Warrior.'" In 2018, Kesha told Anthony Mason for CBS Sunday Morning that writing hit songs is the "most insane feeling in the world," describing the magical feeling as if you are "riding on a whale."
While Kesha has written many bangers for herself, she has also contributed to Britney Spears' iconic music catalog.
Kesha co-wrote one of Britney Spears' biggest hits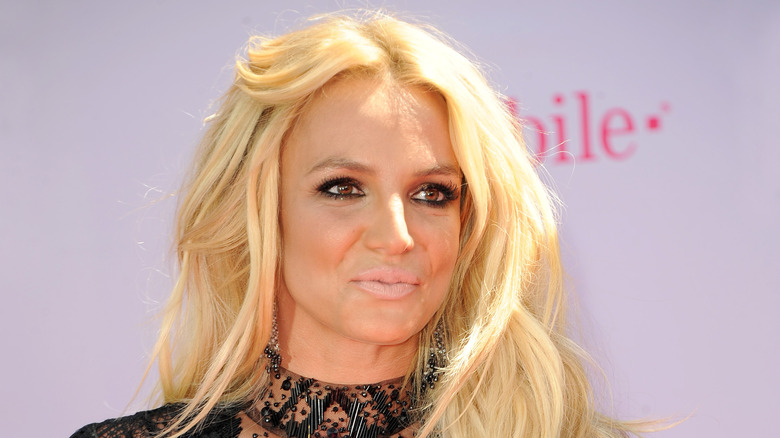 Tinseltown/Shutterstock
Kesha AND Britney Spears? Yep, that's definitely an iconic duo. In 2011, Spears released "Till The World Ends," which served as the second single from her chart-topping album, "Femme Fatale." Not only was the song a party banger that peaked within the top three on the US Hot 100, but it was also co-written by Spears' fellow pop star Kesha.
Despite her many accomplishments, Kesha told MTV News in 2011 that having Spears sing a song she penned is one of her career highlights. "That song just came on the radio and I have to say, I love hearing Britney Spears sing my lyrics, every single day. It never gets old. I get so excited," she explained, adding, "It's better than any drug when you hear Britney Spears sing a song you wrote." 
This isn't the first (or last) time Kesha worked alongside Spears, however. After choosing to release "Til The World Ends" as a single, Kesha and Nicki Minaj featured on the remix. Also, for Spears' 2008 song, "Lace and Leather," Kesha provided backing vocals. "I just did backgrounds for her 'cause I was so broke. I needed to pay my rent. I got a few bucks. No, [I didn't meet her]. I just did backups for her," she told MTV News (via Songfacts). Other artists Kesha has written for include Miley Cyrus, Alice Cooper, and Ariana Grande, to name a few, per Rolling Stone.
Kesha has defended Britney Spears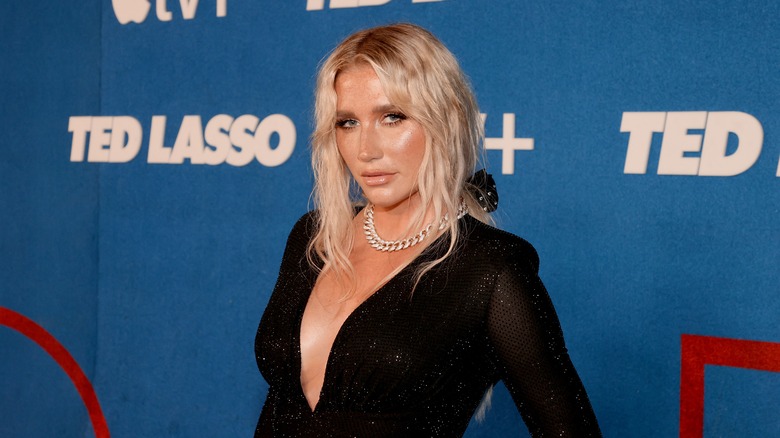 Kevin Winter/Getty Images
After word got out that Britney Spears didn't write any of the songs on her "Femme Fatale" album, Kesha was asked by MTV News whether that was a bad thing. "I don't think so," the "Die Young" hitmaker said in defense of the singer, adding, "She's an amazing singer, an amazing performer and she's an icon. I don't think that means she has to write."
That wasn't the only time Kesha has been on Spears' side. In 2021, the topic surrounding Spears' conservatorship became a hot topic. Such a hot topic, in fact, that a "Free Britney" campaign was started by fans and supporters who wanted the pop legend to live the life she deserved. In July 2021, Kesha took to Instagram to share a photo of herself in what looked to be the desert. For her caption, she put the hashtag "FreeBritney" three times. In the comments section of one of Spears' Instagram posts (via Exhale), Kesha expressed sympathy towards what she had been going through behind the scenes. "I hate that you could not tell the truth about what you were experiencing," Kesha wrote to Spears. "Especially after performing and earning for them all. I'm. So. Sorry."