How Many No. 1 Singles Has Ariana Grande Had On The Billboard Hot 100?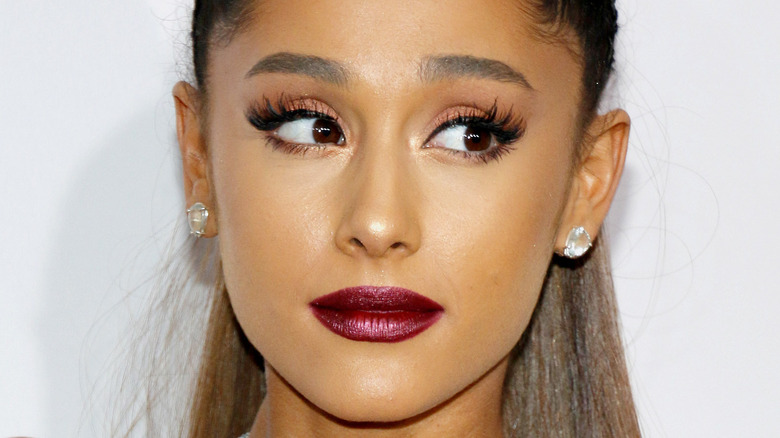 Tinseltown/Shutterstock
From her role as the adorable Cat Valentine in Nickelodeon's "Victorious" to her own Netflix documentary that follows her through her "Sweetener" tour, pop star Ariana Grande has impressed the world with her high belts and diva-like runs. Grande started her career at 8 years old, per Broadway World, and she performed in the Broadway musical "13." Although people may always think of her as Cat Valentine, she broke through the music industry with her first single with late rapper Mac Miller called "The Way."
"Since 'The Way' came out a lot has happened, a lot has changed," Grande told Elle in 2013 before her debut album was set to release. "I've been followed around by people with cameras, which is insane to me. I don't really understand it; I never will. But it's okay. I'm not too comfortable with the whole celebrity thing, but I think I'm doing well with the music thing, and that's what makes me happy."
After her debut album was released, the pop star's popularity skyrocketed. Throughout her career, she has been gaining recognition for her catchy tunes and her impressions, as she learned how to style her own riffs off of artists like Céline Dion. She even collabed with Mariah Carey and Jennifer Hudson, and she has released six studio albums, climbing her way through the Billboard charts up to no. 1.
Ariana Grande dominates the Billboard charts
Kevork Djansezian/Getty Images
According to Billboard, Ariana Grande has six no. 1 hits on their top 100 chart. Two of the songs — "7 Rings" and "Thank U, Next" — stayed no. 1 for many weeks, the former for eight weeks and the latter for seven weeks. Although "7 Rings" stirred up some mixed feelings due to claims of cultural appropriation, the hip-hop spin on Rodgers and Hammerstein's "My Favorite Things" helped it rise above the controversy.
"The genius of Rodgers and Hammerstein is that their songs become a part of the DNA of the audience," actor Nicholas Hammond, who portrayed Friedrich von Trapp in "The Sound of Music" with Julie Andrews, told Variety in 2019. "Ariana is assuming her audience will be familiar with the original, and putting her own hip-hop take on it. The contrast between the sweetness and simplicity of the original and the consumerism of her version to me is a comment on the world today."
Her other no. 1 songs were "Positions," "Save Your Tears" with The Weeknd, "Rain On Me" with Lady Gaga, and "Stuck With U" with Justin Bieber. Grande isn't just hot on Billboard's charts, but she's also very popular on other streaming platforms. Spotify ranks her the no. 17 most popular artist in the world. She has about 52,121,326 monthly listeners with listeners based all around the world. Besides being famous all around the world, the 29-year-old pop star has already achieved many milestones in her career.
Ariana Grande matches The Beatles' records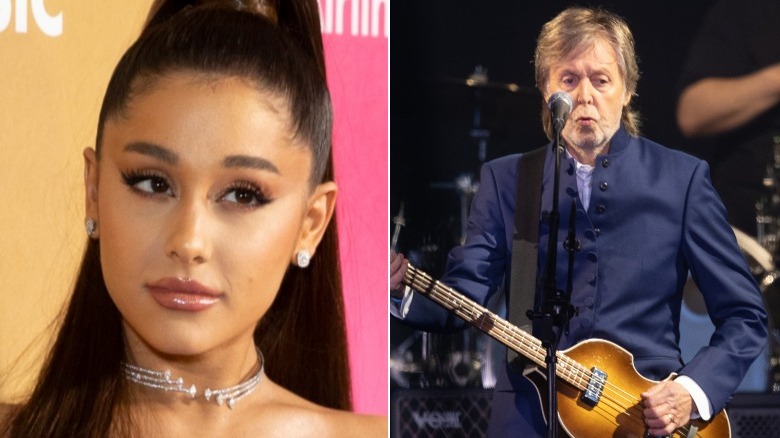 Matt Cardy/Getty & lev radin/Shutterstock
After her album "Thank U, Next" was released, her songs took the no. 1, no. 2, and no. 3 spots in the Billboard charts. This "milestone" of taking the top three spots on the charts was last achieved by The Beatles. "I think it's so funny," Grande told late-night talk show host James Corden in 2019 when she was asked how she felt about this achievement. "When I woke up, I thought it was an edit that my fans made ... I thought it was a joke. It's really wild." She drove around with her mom, listening to The Beatles to celebrate.
According to Guinness World Records, Grande achieved her 20th world record in 2021 with having the "most songs to debut at number one on the Billboard Hot 100." With this achievement, she is in the same ranks as Mariah Carey, Rihanna, and The Beatles. Other websites track Grande's no. 1 songs all around the world, meaning the pop sensation also dominates worldwide. According to Official Charts, whose headquarters are based in the United Kingdom, the singer has had seven no. 1 songs in the U.K.
We sure hope Grande can continue to release bops and bangers as her popularity rises even more in her career.