Whatever Happened To Rebecca Black?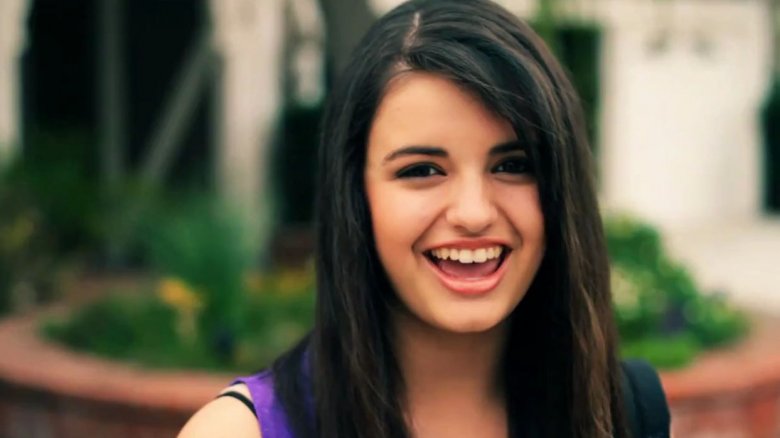 YouTube
Back in 2011, a young girl named Rebecca Black became famous for all the wrong reasons. An aspiring pop star, Black's life was changed forever when her mother paid a local recording company $4,000 to produce a song and music video for the 13-year-old Californian. The result is now the stuff of internet infamy. 
The video for "Friday" went viral after it was lambasted by Comedy Central's Daniel Tosh. Millions mocked it. Black's song became the most discussed topic in the Twittersphere (despite a major earthquake rocking Japan). The original video was taken down following the intense backlash but uploaded again a few months later. As of this writing, it's been viewed a staggering 113 million times. 
Black isn't the same little girl who made a fool of herself with her auto-tuned vanity project all those years ago. Let's take a close look at what she's been doing since her big (heart)break.
Survivng the 'worst song ever'
After "Friday" went viral, Black was swept up in a wave of hate. Her song was dubbed the "worst song ever," an unofficial accolade that stung the tweenager. "Those hurtful comments really shocked me," Black told the Daily Beast. "At times, it feels like I'm being cyberbullied." 
When Good Morning America asked about the worst things people said to her, she answered (via People): "I hope you cut yourself, and I hope you'll get an eating disorder so you'll look pretty." Black shed many tears over the online abuse. "When I first saw all the nasty comments, I did cry," she said. "I don't think I'm the worst singer, but I don't think I'm the best."
She received death threats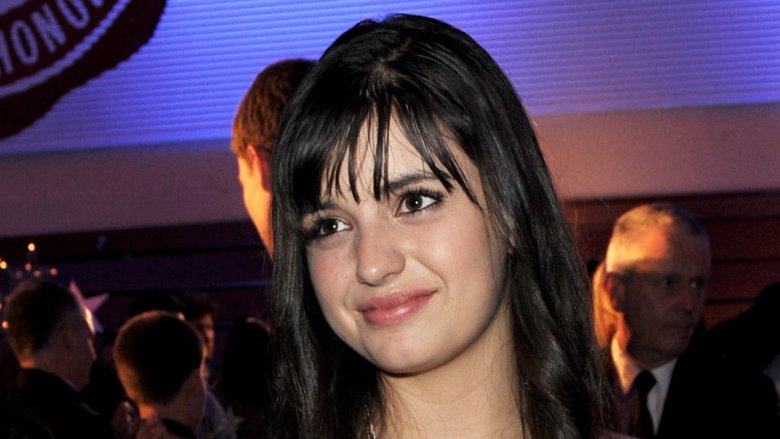 Getty Images
The hateful online comments eventually intensified into genuine death threats. Police were reportedly called in to investigate a threatening email and phone call made to Ark Music Factory, the company that created the song with Black. "In essence the threats were related to getting the music off the internet or they were going to kill her," Anaheim Police spokesman Rick Martinez told Reuters. "We're going to investigate and determine, number one, the source of the comments and then based on the investigation determine what intent was and where we go from here. If we believe they were actually intended as threats we will work toward prosecution."
No arrests were made. "They think they can get away with it and that's because they often do get away with it," cyber-security expert Parry Aftab told MTV News. "A death threat is actionable in every state, and when someone like Justin Bieber or Rebecca Black gets them, they tend to brush them off as someone who is on the internet and doesn't matter, but you don't know the difference between someone wearing Pokemon pajamas and living in their mom's basement who is harmless and people who are really nutty enough to kill you."
Ryan Seacrest came to her rescue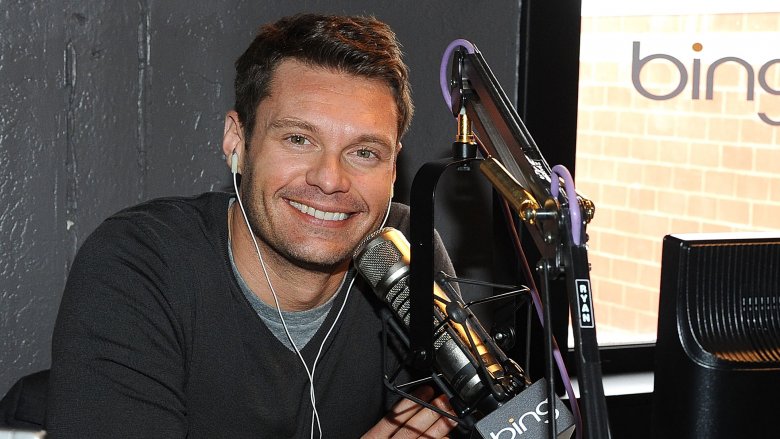 Getty Images
Black's fortunes took a turn for the better when she was invited to appear on Ryan Seacrest's radio show. The American Idol host knew all about the pain that aspiring pop stars endure, and after the interview, he decided to throw her a huge bone. 
"Ryan hooked Rebecca up with Debra Baum, a manager with DB Entertainment," TMZ reported. Seacrest turned into something of a mentor for Black, even taking it upon himself to set up a Twitter account for her. "He was really sweet," the singer told People. "That was my first follower, I believe."
Black had already made an estimated $20,000 from "Friday," and landing a legit manager should have been a dream come true for her, but it's hard to enjoy your newfound success when millions of people don't think you deserve it. The teenager attended her brother's Little League game in Los Angeles just days after signing the deal with DB, where she was snapped by a photographer looking down in the dumps.
Katy Perry took her under her wing
A few months after "Friday" dropped, Black got the chance to appear alongside an artist with some genuine credibility. Katy Perry's "Last Friday Night (T.G.I.F)" was the fifth single from her third studio album, and by this stage in her career, Perry was already one of the biggest names in pop music. Getting a cameo in the video was a really big deal for Black, but it turned out to be a blink-and-you'll-miss-it moment. The YouTube sensation only pops up for a split second toward the beginning of the video, but Black's friends confirmed to The Hollywood Reporter that it was really her.
The following month, Perry surprised fans during her show at L.A.'s Microsoft Theater (known as the Nokia Theater at the time) by bringing Black onto the stage to perform a "Friday" duet.  "Give it up for the infamous Rebecca Black!" Perry shouted as the teen emerged to sing an acoustic version of her cringe-worthy classic. The audience seemed delighted.
Glee took her song to prom
Countless popular parody versions of "Friday" appeared on YouTube in the weeks and months after Black's auto-tuned ode to the weekend debuted. The Annoying Orange and Bart Baker's versions both garnered tens of millions of views. However, one of the most talked about covers of "Friday" was one that wasn't directly making fun of Black. Puck (Mark Salling), Artie (Kevin McHale), and Sam (Chord Overstreet) performed a vamped-up version of the song during prom night on Season 2 of Glee. So many people reportedly questioned the inclusion of the song that series co-creator Ryan Murphy was forced to address the decision. 
"There's a rule for it that's explained in the show," Murphy told The Hollywood Reporter. "The [glee club] is hired to perform songs for the prom and they were told by the principal to please do popular songs that the kids know. It's songs that supposedly 17-year-olds are performing for other 17-year-olds, I think younger kids have a definite reaction to that song." Murphy added that Black's much-maligned track had a cultural impact, regardless of whether it was good or not. "The show pays tribute to pop culture and, love it or hate it, that song is pop culture."
Attorneys battling over the world's worst song?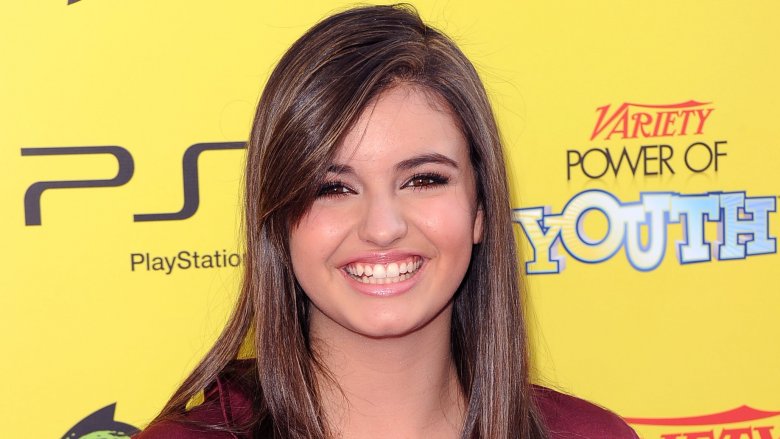 Getty Images
Despite the overwhelmingly negative response, "Friday" was making top dollar via views and downloads. Black had signed with the aforementioned DB Entertainment, but Ark Music Factory was still using her image and song to promote its business, which prompted Black's mother, Georgina Marquez Kelly, to take legal action. 
According to Rolling Stone, Kelly alleged that "Ark has failed to provide Black with the master recordings of her song and video; has been exploiting her likeness and her song on YouTube, iTunes, Amazon and Ark's website; created an unauthorized 'Friday' ringtone; and has been advertising Black as an exclusive Ark recording artist on its website."
The music mag reached out to Ark founder Patrice Wilson, who said, "She will get the masters and the song. They can have it all." Ark's lawyer, however, sang a different tune, claiming Black and her mother were in the wrong. "They say they own the composition, nothing could be further from the truth," attorney Barry Rothman said. "If they go forward and license it or attempt to copyright it in their name, that would be copyright infringement and we'd act accordingly under the circumstances."
'Saturday,' of course
Things didn't work out for Black with DB Entertainment. None of the follow-up tracks released online under the label's banner nabbed much attention, negative or otherwise. It wasn't until she decided to independently write a spiritual sequel to "Friday" that folks began to remember her name. "Saturday" (which featured fellow YouTube musician Dave Days) poked fun at the song that made Black infamous with lyrics such as, "2 p.m. getting out of my bed, trying to get 'Friday' out of my head."
Music journalist Geraint Humphreys told The Independent that Black wasn't just laughing at herself in the new video; she was actually being savvy and exploiting "Friday's" notoriety for financial gain. "It's hard to know exactly how much money people make from viral videos, but if this is getting millions of hits, then someone, somewhere is definitely making some money off it. And I imagine she will be in some way," Humphreys said.
Most critics were a little kinder to her song this time around (Kevin Rutherford called "Saturday" a "passable piece of Radio Disney-esque pop"), but Black faced backlash over the content of the video, which was construed by many as racist. It features Black attending a suburban house party with a guest list that is almost exclusively white. There is one African-American actor involved in the video, and he gets arrested by white police officers at the end.
She faced off with her haters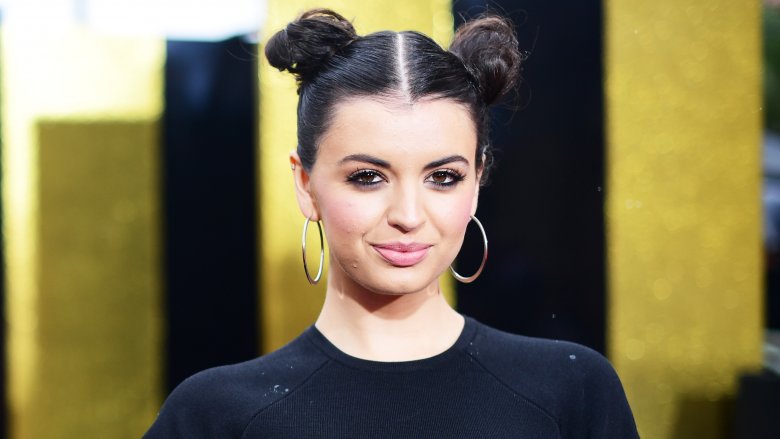 Getty Images
When she turned 15, Black felt comfortable enough to come face to face with the cyberbullies of her past. As part of a TV show that ultimately never made it on the air, she sat down with an adult woman who had childishly insulted everything from her wardrobe to her physical appearance in hateful comments.
"When I was 15, I was filming a project where people meet their haters in real life," she told the New York Post. "I spent the day with this woman who was twice my age. She took on everything she didn't like about me—the jumpsuit I was wearing, my hair, my face, everything. All I could do was cry. I was so worn down. The woman looked at me and said, 'I honestly never considered the fact that you were a real person.'"
Black learned to take the abuse in stride and even started reading people's awful comments aloud in YouTube videos, just to prove that it was all sticks and stones to her now.  "Well as you can see I'm pretty good with taking hate," she says. "I don't really care if anyone hates me, it's been three and a half years, I'm still here, I'm still singing. You can say whatever you want about me, but I think I'm sticking around."
From awkward tween to 'total glamazon'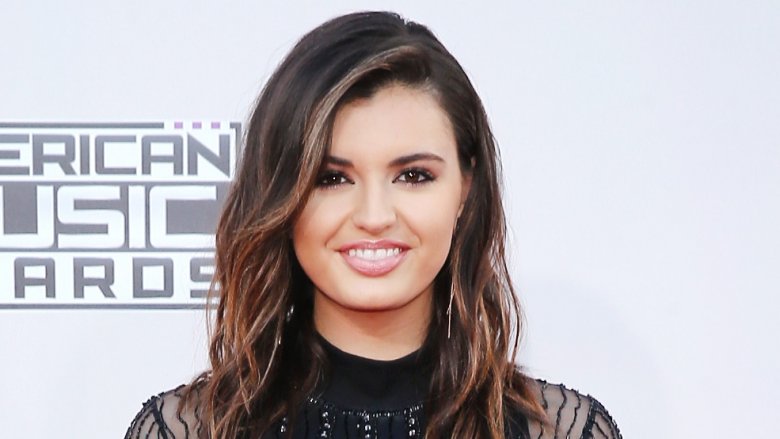 Getty Images
While she's remained a constant presence on YouTube, Black didn't return to the mainstream spotlight until 2016, when she started turning up at events looking all grown up. OK magazine did a "double take" when it spotted the 19-year-old gracing the red carpet at the American Music Awards. "The brunette star has blossomed into a total glamazon over the past 5 years," the tab said. 
Cosmopolitan also picked up on Black's new style, praising what she wore to the 2016 Make-A-Wish Fashion Show in Los Angeles. "Needless to say, after five years, Rebecca's whole style and image is more grown up, as she wore a white, cropped shirt and black trousers for the event," the mag said. Us Weekly also attended the charity bash and was equally blown away by Black's evolution. "To complete her style, the songstress wore her collarbone-length dark brown tresses down in soft curls and modeled an elegant smoky eye with a glossy mauve lip," it reported.
RE/BL with a cause
In September 2017, Black released her first EP. RE/BL is a collection of songs inspired by the singer's trials and tribulations. "Every song has its own meaning, has its own story, has its own message and purpose," she told Refinery 29. "We all go through our own stories, we all deal with our issues...but what makes us all the same is that none of us are living this perfect life that everyone thinks we are."
The lead single "Heart Full of Scars" surpassed 115,000 views within four weeks of being uploaded to YouTube. Black's sound had clearly matured. "I listen to a lot of indie music actually, and I like to bring things like that to my music even more," she told PopCrush. "I also love electronic music, and I love EDM."
It seems highly unlikely that her new material will surpass her colossal debut release in terms of views, but Black wouldn't have it any other way. The singer made it clear that while she has evolved as an artist since "Friday" hysteria gripped the world, she will never shy away from it. "I'll never hate that song and I'll never again be ashamed of that song because I have no idea where I'd be without it," she said.