Why Billie Eilish Wasn't A Fan Of Her Blue Hair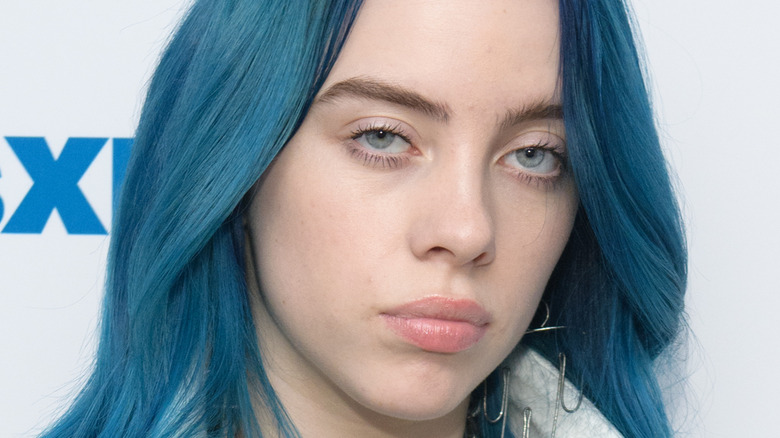 Noam Galai/Getty Images
Billie Eilish might have only been on the music scene for a short period of time, but she's already had her fair share of transformations.
The "You Should See Me In A Crown" hitmaker is commonly known for wearing loose-fitted attire. "What I like about just dressing like I'm 800 sizes bigger than I am, is it kind of gives nobody the opportunity to judge what your body looks like," she told Vogue Australia in 2019. At the time, Eilish insisted she wanted "layers and layers and layers," explaining she wanted to be "mysterious." However, in June 2021, the Grammy Award-winner opted for a more Hollywood glamor-inspired look for her British Vogue cover shoot, which saw her wearing fewer layers than usual. "It's all about what makes you feel good," the singer told the magazine. In a discussion with NME a year later, Eilish stated she opted for a drastically different image because the public "only thought of me in one dimension and I didn't like that." She continued, "I wanted to have range and to feel desirable, and to feel feminine and masculine — and I wanted to prove that to myself, too."
Clothing isn't the only thing Eilish has experimented with, as her ongoing hair style and color changes have proven she is a chameleon. Although, out of all the shades she has sported, she regrets dying her locks blue.
Blue is Billie Eilish's least favorite color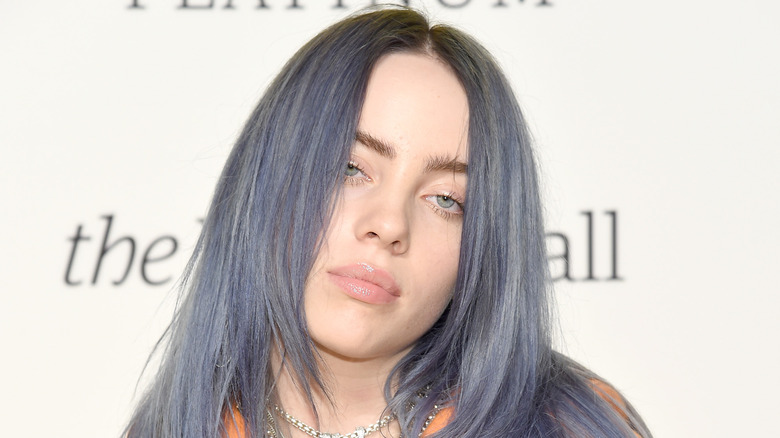 Dimitrios Kambouris/Getty Images
Out of the many hair colors Billie Eilish has rocked, she is very confident in saying that having blue hair wasn't a favorite of hers. When answering fan questions for BuzzFeed in while surrounded by adorable puppies, Eilish was asked about the reasoning behind the many shades of blue. "I hate the color blue, it's my least favorite color. I don't know how I ended up dying it blue," the "Bury A Friend" hitmaker said in 2019, adding, "I remember I just lived with it for a while and then I realized that I was somebody with colored hair, I didn't clock that. I had blue hair but I didn't think I was someone with blue hair."
Eilish explained she wanted to change her hair to a dark gray but didn't realize the blue was permanent, confessing she had previously spent hours upon hours trying to get rid of the color in the salon chair. 
While the singer herself wasn't a fan of the phase, Eilish's blue locks made such an impact on pop culture that someone dyed their hair a similar shade for an episode of Refinery29's "Hair Me Out."
Billie Eilish's signature green and black hair was a wig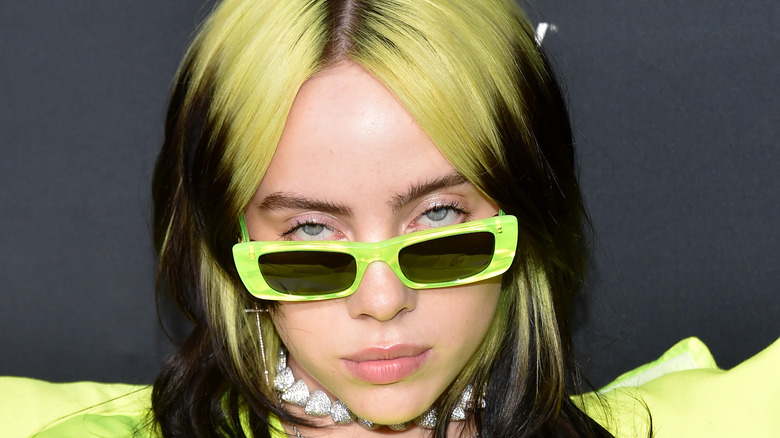 DFree/Shutterstock
Even though Billie Eilish first rose to fame with blonde hair, it was still a big deal when she returned to her natural hair color during the "Happier Than Ever" era. However, what really shook fans up was when they realized her signature green and black hair was actually a wig for a period of time. As seen in a TikTok video, Eilish made it clear to fans that it wasn't her natural hair when lifting up the wig from the front.
In her 2021 British Vogue cover story interview, Eilish boldly stated that she has no plans to ever put that wig back on again. The real reason behind wearing the wig, however, was explained during an Instagram Q&A, per BuzzFeed. When asked why she chose to hide her blonde hair, Eilish revealed going back to her natural color took six whole weeks to accomplish. For this reason, she had to attend the 2020 Grammy Awards in the wig.
In a now-deleted Instagram post, Eilish's hair stylist, Lissa Renn, opened up about the operation of going back to blonde. "The process is real when you're doing it right. 6 weeks to get all the black out of her ends without damaging it, along with her following my strict hair care regimen," she said (via Teen Vogue), adding, "We actually loved all the stages of lifting the color too but the end result is [flame emoji]."