What Is Billie Eilish's Real Name?
Kevin Mazur/Getty Images
Billie Eilish is one of the most famous people in the world. Since emerging on the music scene as a teenager, she has impacted the industry in a major way.
Her 2019 debut album, "When We All Fall Asleep, Where Do We Go?," not only was a No. 1 success but helped Eilish break an impressive record. As previously reported by Alt Press, the "Bored" hitmaker became the first artist born this millennium to top the U.S. Billboard 200 chart. In addition to that, Eilish also became the youngest person at age 17 to reach No. 1 overseason in the U.K., according to BBC News. In a tweet, Billboard also announced that the Grammy Award winner was the first artist born in the 2000s to reach the No. 1 spot with her single, "Bad Guy." In 2021, it was revealed she was going to be the youngest star to headline Glastonbury, per The Guardian. With such a global appeal at such a young age, Eilish admitted to The Guardian that same year she used to be "very scared" of getting older. "I dreaded it," she said.
But as the singer has gotten older, many might be surprised to find out that she wasn't always referred to as Billie.
Billie Eilish was called Pirate for months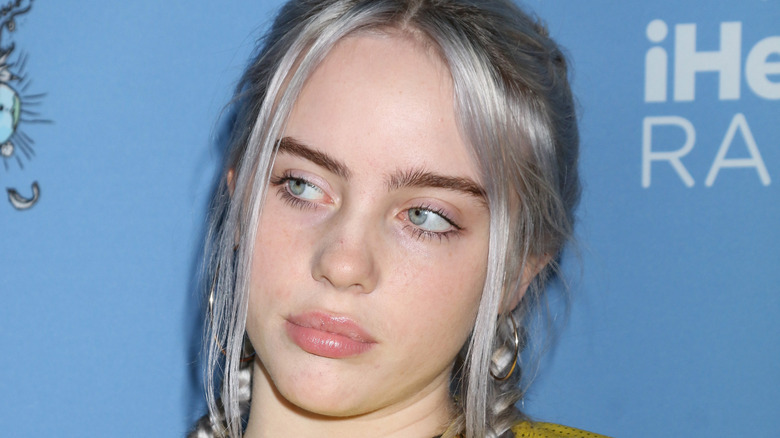 Kathy Hutchins/Shutterstock
The success of Billie Eilish's music has allowed the singer to venture into other avenues. Alongside launching her own fragrance, the "All The Good Girls Go To Hell" hitmaker dropped her own self-titled book and a stand-alone audiobook, "Billie Eilish: In Her Own Words." Within the audiobook, Eilish surprised fans by sharing that she was almost wasn't going to be called Billie.
In addition to sharing photos from her childhood, Eilish revealed she almost had a different first name due to her older brother, Finneas O'Connell, and his obsession with pirates. When her mother, Maggie Baird, was expecting Eilish, O'Connell, at age 4, would call his unborn sister "Pirate," ultimately becoming a contender for her first name. "They called me Pirate for months, and they were kind of planning on naming me Pirate," Eilish said (via USA Today). "And soon before I was born, my grandfather died, and his name was William, AKA Bill, Billie. And that's where my name came from."
Eilish's parents didn't completely ditch the idea of Pirate, however. Instead, they chose to use it as one of her middle names. Now a high-profile star, fans probably can't imagine her name being anything other than Billie Eilish Pirate Baird O'Connell.
Finneas O'Connell has played a big part in Billie Eilish's career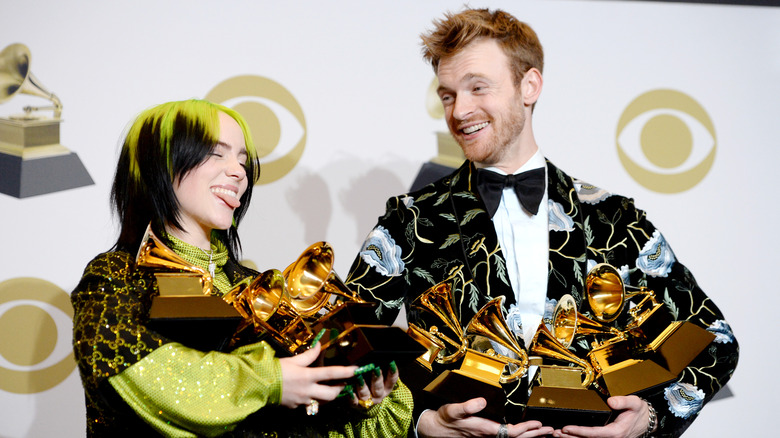 Amanda Edwards/Getty Images
For those that don't know, Billie Eilish has worked closely alongside her older brother, Finneas O'Connell, on the majority of her music. "He's four years older than me and we've been best friends kind of forever. We started writing music together when I was 13 and he was 18 or 17 and he produces everything," Eilish said during her acceptance speech when taking home the Variety Hitmaker of the Year award in 2019. In fact, she credits him for a lot of her success. "He's the only reason I'm anywhere in the whole world. He's probably the only reason I'm alive," Eilish added.
On the other hand, O'Connell humbly insists that his younger sister is the "trust artist" behind the songs he produces and co-writes with her. "Even though we're all together making songs and I produce them, it's so her vision," he told People in 2020. "Especially when we walk out on stage every night. It's so meticulously thought through by Billie and I admire that endlessly in her."
Eilish and O'Connell's work has certainly hasn't gone unnoticed. At the 2020 Grammy Awards, the duo won big, taking home countless awards, including record of the year for "Bad Guy" and album of the year for "When We All Fall Asleep, Where Do We Go?" That same year, O'Connell won producer of the year, non-classical.