What Was The Last Music Video Aaliyah Filmed Before She Died?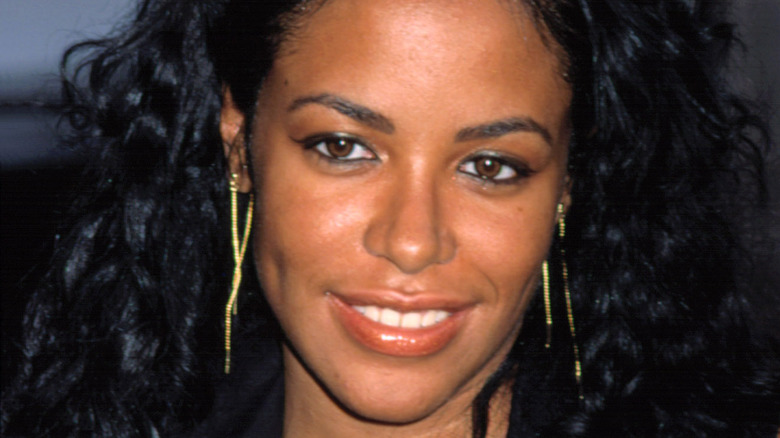 Everett Collection/Shutterstock
There's a lot to remember Aaliyah Houghton for. The multi-talented artist had a major impact on the entertainment and fashion industry. The '90s R&B singer not only created unforgettable hit songs, but redefined the tomboy aesthetic with her mesmerizing streetwear looks. Aaliyah's star quality is evident in her iconic music videos, where she showed off her impressive dance skills and trendy, unique style. She also dipped into acting, starring in the 2000 film "Romeo Must Die."
The world grieved a massive loss when Aaliyah, along with several members of her team, tragically died in a plane crash in August 2001. The superstar and her crew had taken off from The Bahamas after filming her final music video.
Though she was only 22 years old at the time of her death, Aaliyah had a prolific career. Let's take a look at the last music video Aaliyah filmed before she died — and its sweeping influence.
Aaliyah inspired her team on the set of her final music video
Aaliyah's infectious energy was felt by her team. Her choreographer Fatima Robinson told W, "She could move exactly like me, which made her really fun to dance with." The two had history before her final music video, "Rock The Boat." Robinson said, "The first thing I did with her was 'One in a Million,' and when I took that initial meeting at the dance studio, me and her just danced. From then on, the two of us looked at each other like, 'soulmate!'" Aaliyah was clearly a major inspiration to the choreographer. In a behind-the-scenes video of "Rock The Boat," Robinson gushed, "I live out my dreams of being an artist through Aaliyah definitely, because she's on my same vibe and everything so it's perfect."
Derek Lee, Aaliyah's stylist, was a key figure in creating the artist's glamorous yet relatable image. He styled her for several music videos, including "One in a Million," "4 Page Letter," and of course "Rock The Boat," per Complex. When Aaliyah asked Lee what inspired him (in the BTS video), he effusively responded, "You do ... well it's not hard to be inspired" in admiration of the fashion icon. And Lee had some resonant words about Aaliyah's timeless style. He told Complex, "It's survived so long because it was organic and obtainable ... That girl that Aaliyah is will always be present. She's always there because it's always referenced."
Artists and designers paid homage to Aaliyah's Rock The Boat
Aaliyah also had an electrifying effect on musicians and fashion designers.
At the 2021 Soul Train Awards, R&B stars joined together in memory of Aaliyah and the 20th anniversary of "Rock The Boat." Vocalists such as Musiq Soulchild and Elle Varner offered a fresh take by freestyling over the hit single (seen above). It was a powerful collaboration to commemorate Aaliyah. JoJo has also covered "Rock The Boat" at numerous concerts. The Weeknd sampled the song on his ballad "What You Need" off of his 2011 mixtape "House of Balloons," per Nylon.
In March, Kith Women released clothing in honor of Aaliyah, per Vibe. The collection, Kith Women for Aaliyah Capsule, launched on International Women's Day. In addition to crew tops and vintage tees, the collection included a cotton fleece "Rock The Boat" hoodie in white or black. The clothing pieces featured never-before-seen photos of the R&B legend taken by photographer Robert Whitman. According to Aaliyah's Instagram, all of the proceeds were split between Aaliyah's alma mater the Detroit School of Arts and I Support The Girls foundation. Aaliyah's brother and estate manager Rashad Houghton stated, "[Aaliyah] went on to touch the whole world with her light and creativity. That's why I felt that Kith would be the perfect partner to release unseen photos of my sister on their incredible fashion designs."
To this day, we honor Aaliyah's tremendous legacy.