What Happened To Rebecca Glasscock After RuPaul's Drag Race?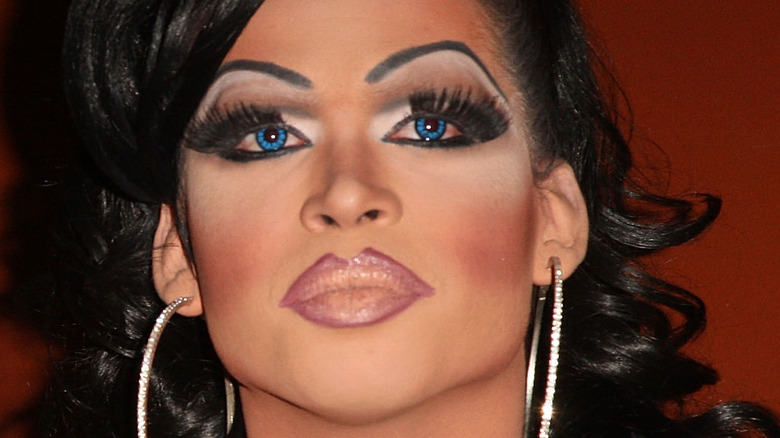 Stephen Lovekin/Getty Images
Rebecca Glasscock was the "villain" of the first season of "RuPaul's Drag Race," per Screen Rant, ranking #4 on their list of "worst losers" on the show. The website even stated that the other girls didn't think she deserved to place as high as she did. But like most reality television shows, behind all of the makeup, the glam, and the hair, there was a real person.
"The people that know me know that I'm very generous, very down-to-earth, and very approachable, and very nice overall," the queen told Misty Eyez in 2009. "It's a TV persona, and I look forward to what the future has in store for me."
According to Just Jared, the finalist retired from drag and decided to go by his real name, Javier Rivera. The ex-drag queen, who ended up in third place on the show, pursued an acting and modeling career after being on "RuPaul's Drag Race."
Rebecca Glassock helps Javier Rivera shine in the spotlight
Javier Rivera has built a huge social media following since he was crowned the second runner-up of Season 1 of "RuPaul's Drag Race." He has nearly 22,000 followers on Instagram. According to TV Guide, he made appearances in "Men in Black 3" and "Snow (2013)" before leaving drag behind for good.
"I had a lot of fun being Rebecca for many years," Rivera told Instinct in 2021. "She gave me the confidence that I didn't have as a young gay and she allowed me to express myself artistically and tap into many different talents. I traveled all over and met many wonderful people along the way. In 2016 I reached a point in my life where Rebecca needed to step aside to allow Javier to grow and blossom."
Rivera has also taken on a career in modeling. He has been keeping himself busy by competing in male pageants, and was crowned Mr. Stonewall in 2021 and Mr. Noche Latina in 2022, per Out magazine. It seems as though Rivera has made a name for himself beyond being known as Rebecca Glasscock.
Javier Rivera still loves drag
Javier Rivera doesn't have any hard feelings about how he was shaped as the first villain of "RuPaul's Drag Race." Although he has moved on from his own drag queen days, he is always supportive of his fellow drag queens. His Instagram is filled with photos of him going to drag queen shows, as well as small mentions here and there of Rebecca Glasscock.
"What do you do while in Canada?" Javier captioned a 2021 Instagram post. "Eat Pizza, Watch TV and Play with Makeup. Thanks to my Irish sister @tinadparton.21 for letting me practice makeup on her. I haven't done anyone's makeup in 3 years. She was a good sport....and of course, once the makeup was done, the wig came on and it was Photoshoot Time! he kinda reminds me of someone....Lol. 😜"
According to Screen Rant, Rebecca came back for a reunion episode in 2018 to celebrate the show's 10-year anniversary.