The Truth About Tom Sandoval's Band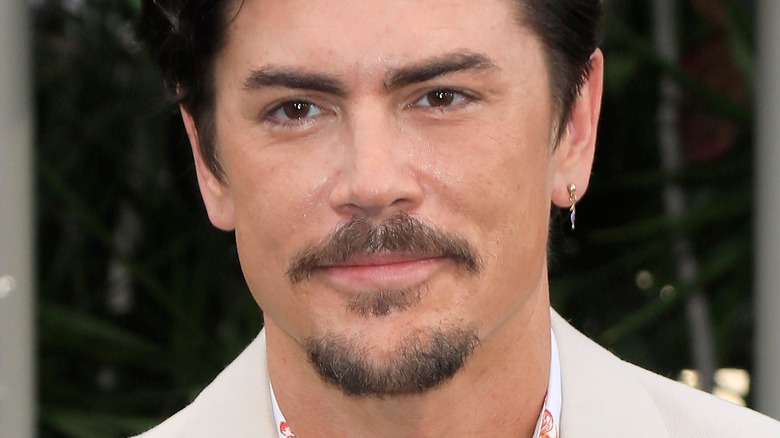 Joe Seer/Shutterstock
"Vanderpump Rules" star Tom Sandoval is a man of many talents. While many admire his long-standing relationship with Ariana Madix, the bartender and author is not a one-trick pony. Sandoval was first bitten by the music bug back in 2002. He starred in Bon Jovi's music video for the song "Misunderstood." Per People, a naked Camila Alves (Matthew McConaughey's wife) sits astride an equally naked Sandoval before his girlfriend "Jill" walks in on them. Drama ensues in a manner reminiscent of when Kristen Doute invited "Miami Girl" to confront him for allegedly sleeping with her while dating Madix, per Us Weekly.
Per Billboard, Sandoval added to his musical portfolio by working as a backup dancer for "I Do!!" singer Toya and then appearing in Kill the Noise's "I Do Coke" music video. However, the "Vanderpump Rules" star wanted to make his own mark in the industry. He and Isaac Kappy formed a two-man band called Charles McMansion, released "Touch in Public," and went on to perform it at 2016's Coachella. 
At the time, Madix told Billboard, "In any creative field if you put something out there it's such a huge risk. Of course, not everyone is going to be your No. 1 fan, but it's cool to see people vibe to [this song] and see it grow from there." It's little wonder that with Madix's support, Sandoval has gone from strength-to-strength, and started a new band. In typical Sandoval style, it is so extra!
Tom Sandoval and The Most Extras are fire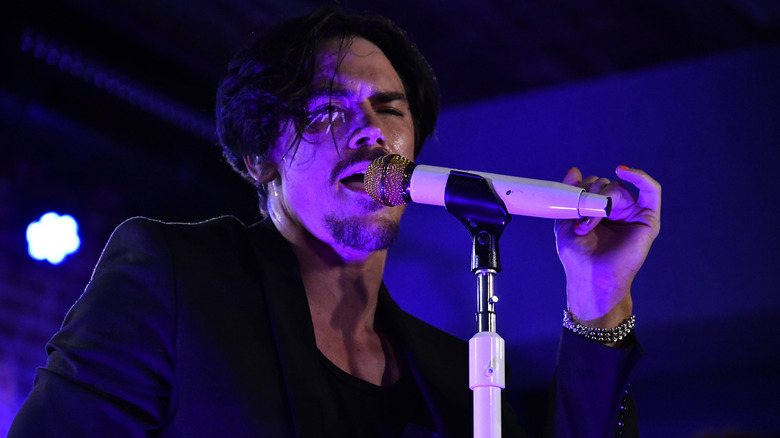 Michael Tullberg/Getty Images
Tom Sandoval is the frontman for a nine-piece cover band called "The Most Extras." Of course, it seems a natural fit for the Bravolebrity as his BFF Tom Schwartz once reflected (via GQ) that Sandoval is "a peacocker, he's a preener, he is someone who likes to make an entrance." Sandoval has thus taken his voice and showmanship tendencies to the next level as through his musical endeavors.
In an interview with Page Six in late 2021, Sandoval revealed that he wants to be taken seriously as a musician. When he first considered starring in "Vanderpump Rules," he thought that he would limit his music and acting career. Instead, he has found that the show has given him a platform to pursue art that's "more authentic than anything I've ever done." 
Sandoval loves that the band does covers because "Everybody benefits from a band like ours." He told the outlet that one advantage of being part of a cover band is that "people are going to come, they're going to be able to jam out and they know the words to these songs." He also added, "People don't have to get to know your music, which takes off a bit of the pressure I've felt in my other bands." The reality star has also vocalized his intentions for the future of the band, and as usual, Sandoval dreams big.
Tom Sandoval's ambitions include 'original music'
Five months after the launch of Tom Sandoval & The Most Extras in November 2021, the singer opened up about how his life has changed since the band's inception. He spoke to Bravo Insider about the band's first tour, saying, "It was amazing and I'll never forget it for the rest of my life." He shared that the group covers lesser-known songs, unlike other cover bands who cover more popular pieces. Sandoval also revealed that he would love to get his girlfriend Ariana Madix in on the action. He said, "I'd love to get her up there to sing a song at some point, because she's got such a great voice." The frontman added, "Ariana can sing — she's got some pipes on her." Madix previously raved to Page Six about her boyfriend's talent and said that she was "incredibly proud" and "very excited for him." 
However, Sandoval also shared that he wants to expand from cover songs. He divulged to Bravo Insider that "I'm really excited that I have been actually working on some original music." The "Vanderpump Rules" star continued, "I'm really excited for [people] to hear this song," and said that a music video was in the works. Bring on the extra, we're rooting for it!