Why Tyra Banks And Janice Dickinson Didn't Get Along On ANTM
Kathy Hutchins/Shutterstock
When Tyra Banks brought "America's Next Top Model" to the masses in 2003, inviting a pair of fellow models to join her as judges seemed like a no-brainer. For the show's inaugural cycle, Banks pulled double-duty by hosting the reality competition and critiquing the contestants' smizing. Two other seats at the judges' table were filled by runway icons Janice Dickinson and Kimora Lee Simmons, and the panel was rounded out by Beau Quillian, the editor of Marie Claire.
In addition to their years of experience in the fashion industry, Banks and Dickinson brought their big personalities to the "ANTM" judges' table. Dickinson's departure date came in 2005 after four cycles of drama, but unlike the end-of-show images of the models who got the ax, she did not completely fade away — she ensured that her shadow loomed large over the series by making biting remarks about Banks long after her exit. But when Out asked Dickinson if she would ever consider returning to the show that she couldn't stop talking about, she stated, "Please. Why would I want to back pedal? I want to go forward, young man. Not a damn thing could get me back."
In a 2005 interview with The New York Times, Dickinson suggested that her departure was related to money. "I think I was asking for too much," she said. But the outspoken runway royal has also revealed that there was some major bad blood there, and she thinks she knows why Banks allegedly disliked her.
Janice Dickinson believes Tyra Banks was jealous of her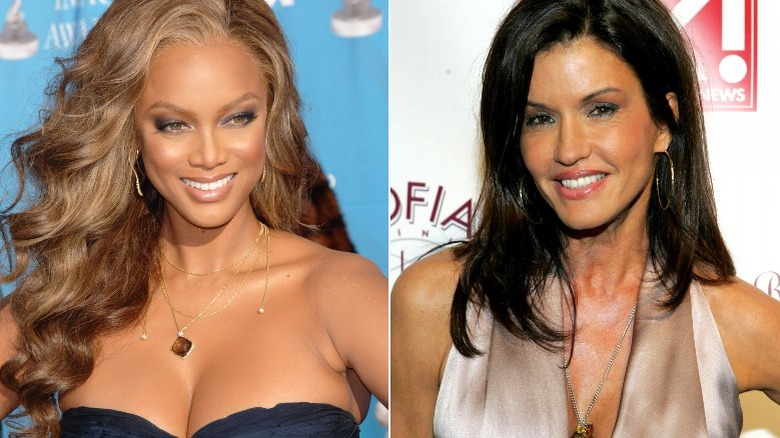 Everett Collection & Featureflash Photo Agency/Shutterstock
In 2005, Janice Dickinson confirmed to Radar Online that she had been fired from "America's Next Top Model." She also revealed that her unfiltered criticism had been poorly received. "After a few episodes I began getting labeled a b***h, and that got to me," she admitted. When Tyra Banks appeared on "Nightline" in 2009, she refused to talk about Dickinson or her firing, per HuffPost, but Dickinson aired her grievances about Banks for years. "Sitting next to Tyra for hours and hours can be daunting because she didn't really like me, and we didn't really get along," she said on a 2021 episode of the "Behind The Velvet Rope with David Yontef" podcast. Dickinson theorized that the Sports Illustrated Swimsuit Issue cover girl was envious of her modeling career. "She never did Vogue. I did Vogue, she did Elle. I used to constantly remind her of that," she recalled.
Dickinson further admitted that she didn't really respect Banks' authority as a producer, which allegedly got under the other supermodel's skin. "I was the star of 'America's Next Top Model,' as far as I'm concerned," Dickinson told a group of television critics in 2006, per Deseret News. But she eventually became disillusioned with "ANTM," alleging that the judges' input was irrelevant because CoverGirl picked the winner of the competition. "They weren't taking my valuable words of wisdom and applying it to who should win or who should use," she complained on "Behind The Velvet Rope."
Janice Dickinson apologized — then went back to being unapologetic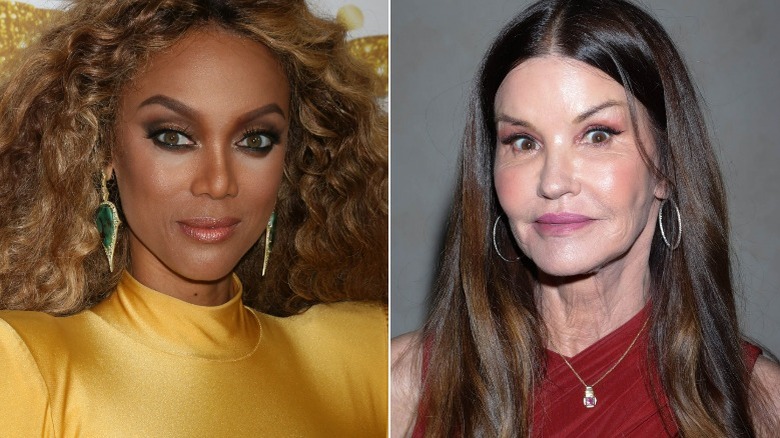 Kathy Hutchins/Shutterstock & Arnold Turner/Getty
Janice Dickinson's animosity towards Tyra Banks seemed implacable; she was livid when a copy of her memoir, "No Lifeguard on Duty," ended up in Banks' hands in 2008. While she got free publicity from a photo of Banks toting the book around, Dickinson sneered to Page Six, "I mean, the thing looks so worn it's like she's been reading it on the toilet. It's pathetic." And in an interview with FOX411 (via Fox News), Dickinson said of Banks, "She's soulless, she's heartless and she's cold."
But in 2014, Dickinson extended an olive branch to Banks, and she even admitted that she had unleashed her avalanche of vitriol because she was upset over her "ANTM" firing. She further explained that she had been struggling with substance use issues at the time. "I just want to take this time to apologize to Tyra, and say I'm terribly sorry for any of the antagonistic things I've said about her in the past," she told Us Weekly.
However, Dickinson didn't keep the peace for long. When she resumed her Banks bashing on the "Behind The Velvet Rope with David Yontef" podcast in 2021, she explained why she was reopening the floodgates. "She never kept in contact with me or never said anything nice about me, so why should I say anything nice about her?" she said. "I'm really not the type of person to take the high road when I've been burned."