Whatever Happened To Gennifer Flowers?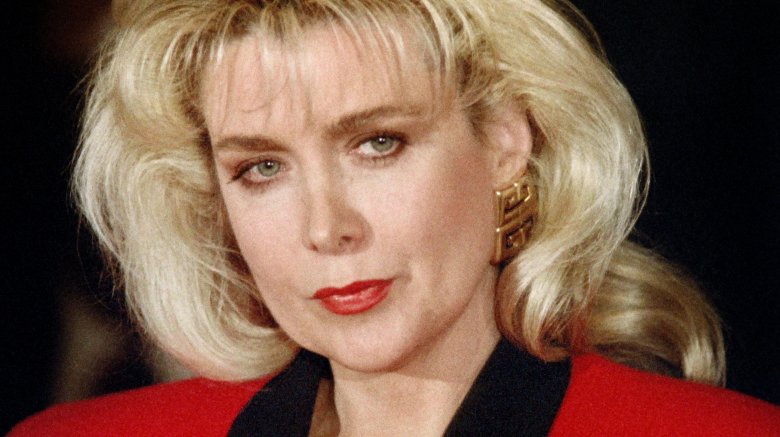 Getty Images
We may receive a commission on purchases made from links.
With all the attention paid to Monica Lewinsky and Paula Jones over the years, it's easy to forget that there was another big player in the whole Bill Clinton-sex scandal fiasco. 
In 1992, Gennifer Flowers gained massive public notoriety when she claimed that she'd carried on a 12 year long affair with then-presidential candidate Clinton. Flowers alleged that the two had met when she was a news reporter for KARK-TV in Little Rock, Arkansas, and that Clinton had later helped her to get a job with the state. Clinton denied the affair in a now-famous January 1992 appearance with Hillary Clinton on 60 Minutes. During a press conference the next day, Flowers played snippets from taped conversations between her and Clinton that purported to prove their ongoing relationship. The Clinton camp later claimed the recordings could have been doctored, resulting in a years-long defamation suit from Flowers (which was finally thrown out in 2006).
Clinton finally admitted that he had had one sexual encounter with Flowers in 1977 while he was under oath in 1998. So, what's Ms. Flowers been up to since those heady days of the late-1990s? 
She got involved in the 2016 Election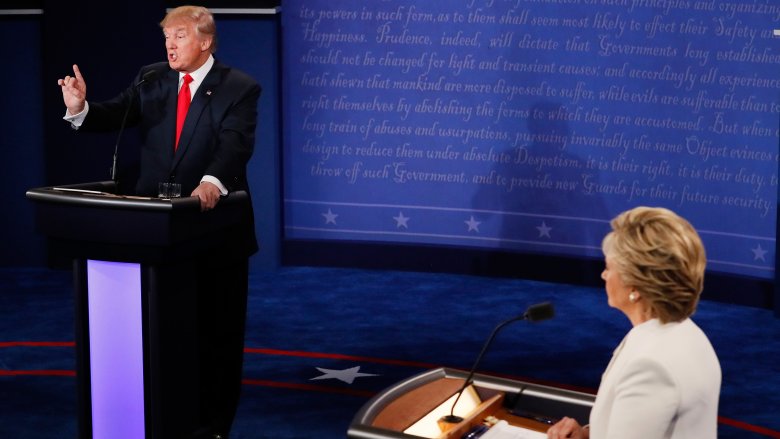 Getty Images
The lure of adding some drama to another campaign involving the Clintons proved too tempting for Flowers to resist just before the first presidential debate between Hillary Clinton and Donald Trump in 2016.
As the New York Times reported, it all started when media figures announced that they might be supporting Hillary Clinton at the event, to which Trump couldn't resist responding, tweeting out an invitation to — you guessed it–Gennifer Flowers. 
Flowers ended up taking Trump's invitation to attend the debate seriously, and joined the Twitter convo, writing on her page, "Hi Donald. You know I'm in your corner and will definitely be at the debate!..." with a kissy emoji (gross), setting off reports that she would in fact be attending. Her assistant even told Buzzfeed that Flowers had accepted an official invitation from the Trump campaign. 
However, VP-nominee Mike Pence quickly squashed the rumors during an appearance on Fox News Sunday, explaining that Trump's tweet "was actually mocking [an] effort by Hillary Clinton and her campaign to distract voters" and Flowers, despite her prompt RSVP, wouldn't be attending the debate. And so it went on without her.
She's a public speaker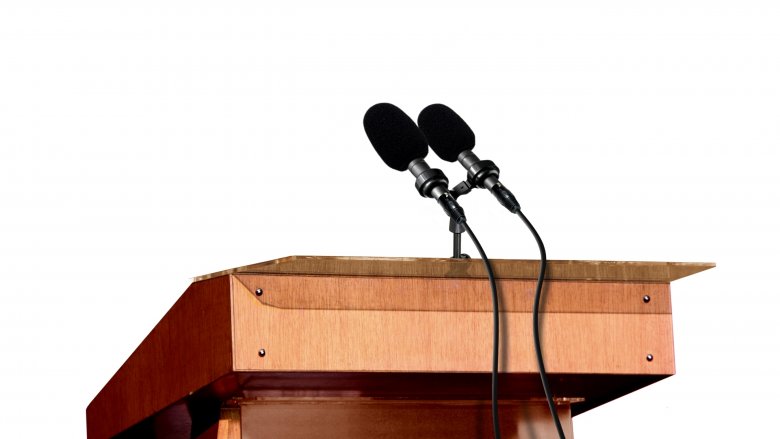 Shutterstock
Curious about topics like "Surviving Sex, Power and Propaganda" and "The 'M' Years...Surviving Menopause Mania!"? Well, you're in luck. 
According to her website, Flowers is primed to give speeches on these very subjects, complete with performances of "beautiful music that truly inspires thought and inspiration within her audience." No footage of any speaking engagements exist, but Flowers says that she's regaled audiences at Oxford University. 
She released a record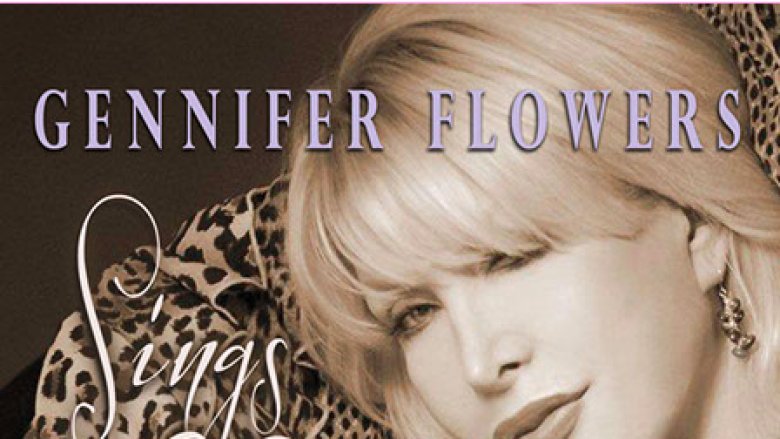 GenniferFlowers.com
Along with her speaking engagements, Flowers has pursued a recording career and released a CD entitled Gennifer Flowers Sings For You. The album consists of Flowers' renditions of classics like "Ain't Misbehavin'" and "When a Man Loves a Woman," and her site lists praise from outlets like the New York Post ("Skeptics take note, the blonde bombshell from the big easy... turns out to have sex appeal, great comedic timing and most importantly, a willingness to laugh with the audience").
Flowers told OWN's Where Are They Now in 2013 that music has always been a big part of her life, explaining, "Singing is everything to me. It's something that I have done my whole life. I started singing at church when I was five, then when I got out of school in 1970, I started my own band, and I've been performing ever since." According to the Tampa Bay Times, Flowers released her first album at just 11 years old.
She's continued to perform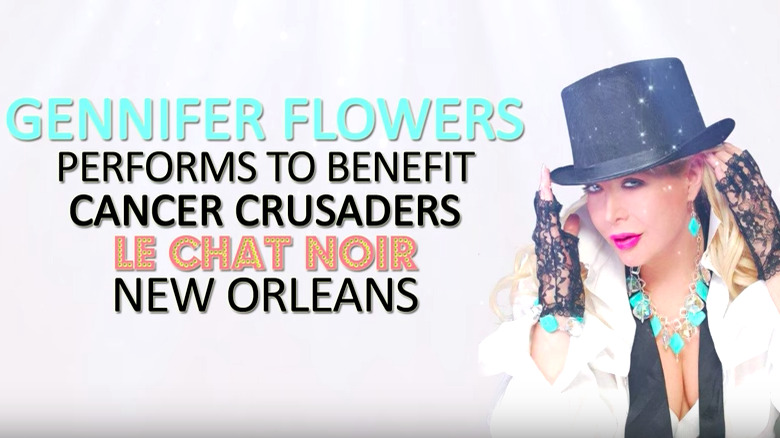 She tried to create a reality show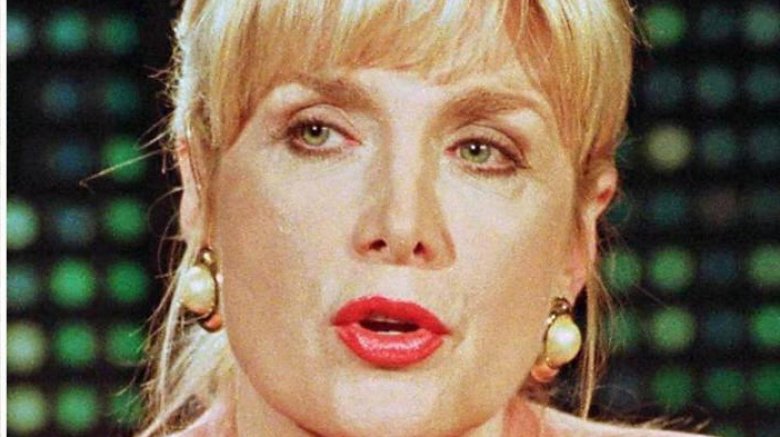 Getty Images
Back in 2013, when Oprah's Where Are They Know caught up with Flowers in New Orleans, she revealed that she'd been working on a reality show concept following seven women (including her) that would be modeled after the Real Housewives format. 
Flowers told the show (via the Times-Picayune),"We've been working on a pilot for the last year, and now it's being shopped to networks...I would call it 'Housewives with a Twist' because, even though it still has drama to some extent — because all of our lives do — I really like to approach life with a sense of humor. I believe that's how I managed to survive some of the things I've been through, like a national scandal – an international scandal, really. I like to interject some fun things and some humorous things. So we have a lot more of that than what I've personally seen on television in terms of the 'Housewives' shows."
Unfortunately, plans ultimately didn't pan out and viewers' hopes for a Flowers television renaissance were dashed. 
She still talks to the media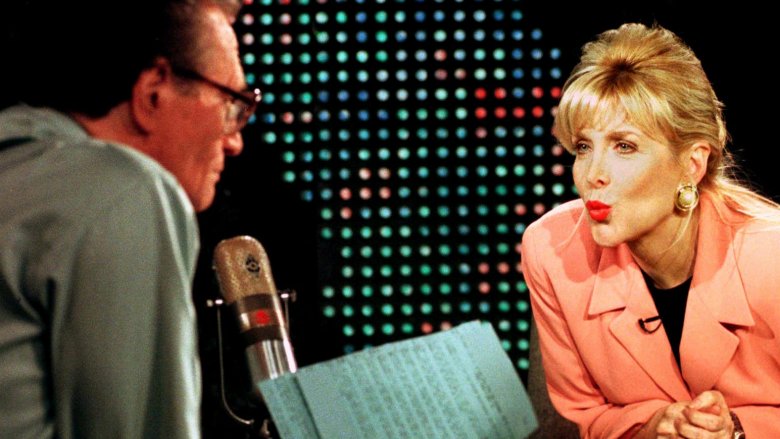 Getty Images
Despite the regret that Flowers described to OWN's Where Are They Now about going public with her claims about Bill Clinton, she has maintained a friendly relationship with the media, and continues to reveal details about her relationship with the former President. In 2013, she sat down for an interview with the Daily Mail Online to discuss, among other topics, her belief that he was "the love of her life." 
In the same interview, Flowers claimed that Clinton had tried to arrange an in-person meeting to speak with her in 2005, though she turned him down due to her recent divorce. She added that today, however, "If we had the opportunity to sit down and visit with each other in person, I'm not saying the romance would be rekindled but we will always have something. Whatever you might call it... Bill and I would be together today if it wasn't for politics. It was me, Bill and Hillary. Then they had Chelsea and the stakes got too high."
Flowers went on a New Orleans ABC-affiliate network WGNO in 2012 to discuss Bill Clinton with Susan Roesgen, claiming that she had "made him a household name overnight." Shee also told Dr. Drew in 2012 that "when Bill tried to make amends with me, I really didn't want any part of it." 
She backed Hillary in 2007 ...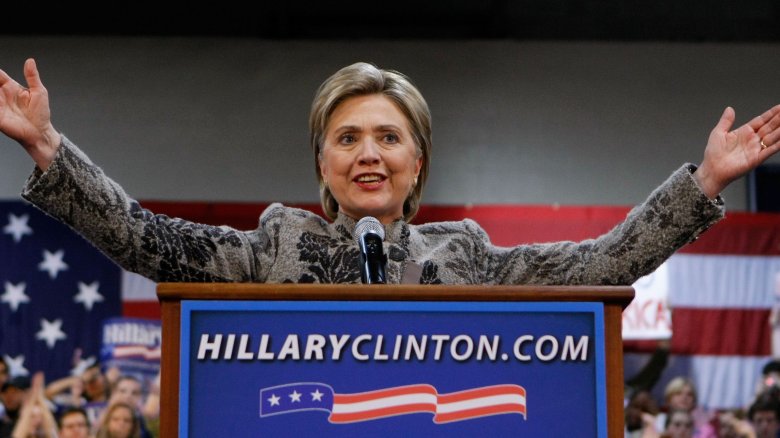 Getty Images
Despite their strained history, Flowers expressed her support for Hillary Clinton during Clinton's first run for president in 2007, telling CBS News that year, "I can't help but want to support my own gender, and she's as experienced as any of the others – except maybe Joe Biden...I would love to see a woman president, I just didn't think it would be her... I don't have any interest whatsoever in getting back out there and bashing Hillary Clinton."
When CBS News asked her what advice she'd pass along to Clinton, she replied, "She wouldn't take any advice from me anyway. Looks like she's doing just fine on her own." At the time, Flowers was a registered nonpartisan who had "recently voted Republican," but she said that "the GOP has yet to start impressing me."
But then switched sides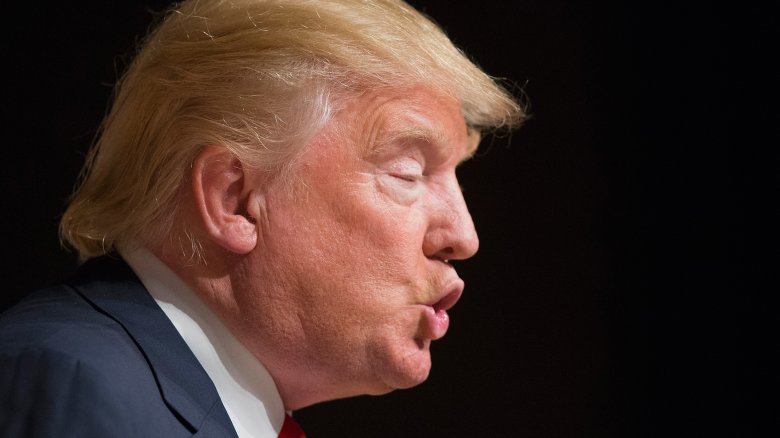 Getty Images
Along with that whole debate debacle, a quick glance at Flowers' Twitter page reveals that her political sentiments have shifted in a major way in the 10 short years since she showed her support for Hillary. She frequently retweets Donald Trump, Melania Trump, and Donald Trump Jr., and voices support for Trump-friendly (but otherwise unfriendly) figures like Steve Bannon.
According to the Daily Mail, Flowers also did a total 180 on Hillary Clinton's track record on women's rights, telling radio host Aaron Klein in a 2015 interview, "Hillary never put up a shingle and worked for her clients and built her clientele. She always got things on the back of her husband. ... I think it's a joke that she would run on women's issues." Quite the reversal.
She was in a play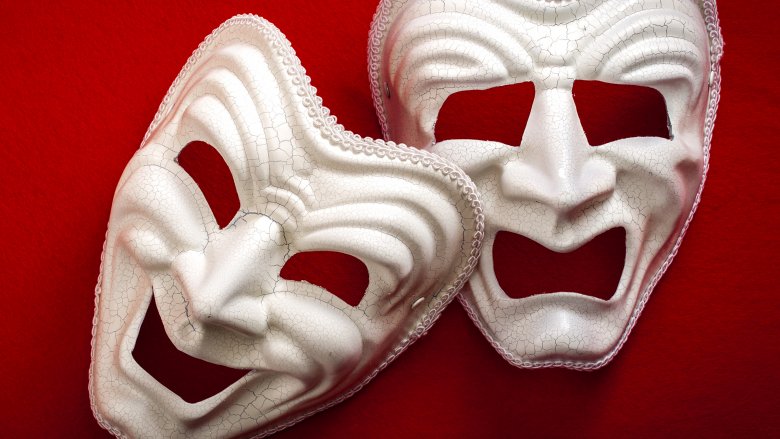 Shutterstock
She published a book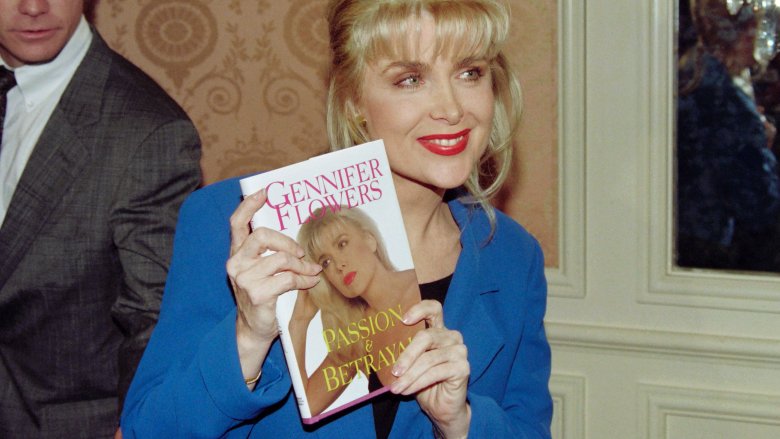 Getty Images
Scratch that — Flowers actually published two books. Gennifer Flowers: Passion and Betrayal was released in 1995 (you can read an excerpt here, but forewarned, it features , followed by Sleeping With the President: My Intimate Years With Bill Clinton in 1996. 
Of Passion and Betrayal, Flowers explained to Dr. Tracy Cabot that, "I was afraid something would happen to me, and it would be made to look like a suicide. That's why I went public and wrote my book, 'Passion and Betrayal,' to protect myself and to tell the real story. I was just trying to cover my rear end with the book." 
A 1995 review in the Baltimore Sun offered restrained praise for the book, saying, "It can only be a matter of time before other authors realize that Gennifer Flowers has done the republic of letters a major service: Thanks to her, it is now demonstrably possible to write and publish genuinely dirty books about sitting politicians. Another taboo is broken – and about time, too."
In 2015, the Daily Mail reported that Flowers had penned a third tome, titled Men are like Pantyhose: Some Fit in the Crotch And Some Don't!, though it has yet to surface in stores or online. 
She interviewed The Rock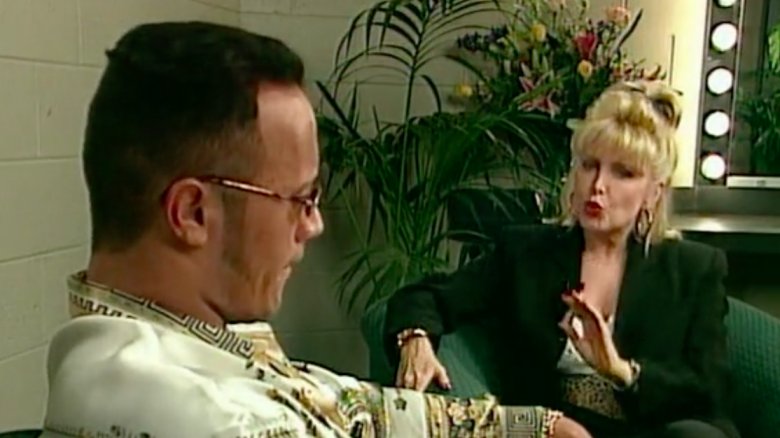 In a really strange twist considering Dwayne "The Rock" Johnson's rumored political aspirations, Flowers sat down to interview the then-professional wrestler in 1998 at WWE's Wrestlemania 14.
Flowers actually asked The Rock during the interview, "If you were the leader of this country, how would you run things?" To which the in-character wrestler responded, "The term leader is really beneath The Rock" and reminding "Genny" that a more appropriate term would be "ruler." Alrighty, then. The awkward interview may also have been the genesis of The Rock's catchphrase "Can you smell what the rock is cooking?", with Johnson telling Flowers that if he was in charge of the judicial system, he'd be a "hung jury, if you smell what I'm cooking." 
Wink? Barf.
She released a jewelry line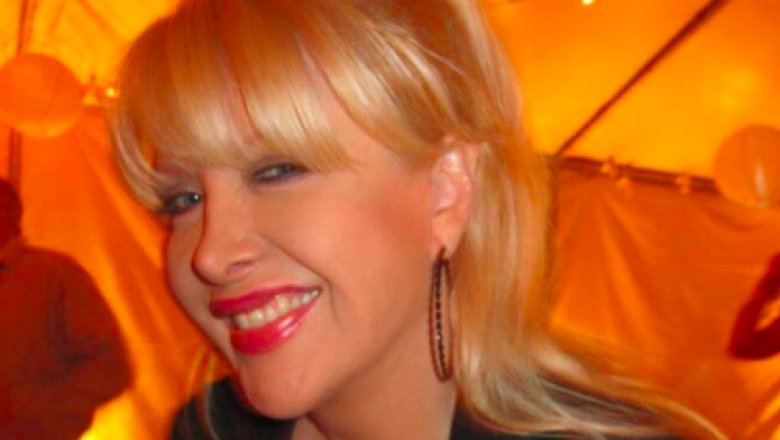 Gennifer Flowers Twitter
The Gennifer Flowers Collection jewelry line made its debut in 2011. According to an official press release, "For some time, [Flowers] had been receiving pieces of jewelry from a friend in Houston. All the pieces had been made by acclaimed Texas jewelry designer TRea. Gennifer and TRea then began a correspondence, and along with two other women from Houston, set the course for this new endeavor. With Gennifer and TRea collaborating on each hand-crafted design, they began to put The Flowers Collection together."
Although you can still find the collection's page on Flowers' old site, it seems the online store is closed for good. Sorry to dissapoint.