John Stamos Is 'On Cloud Nine' With Fiancee Caitlin McHugh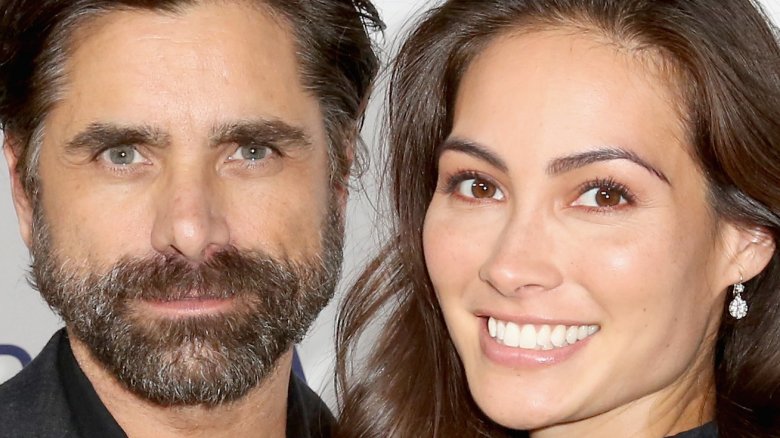 Getty Images
The Fuller House star couldn't be happier about his recent engagement.
John Stamos couldn't help but gush over his new fiancée, actress-writer Caitlin McHugh, during an Entertainment Tonight exclusive on Tuesday, Oct. 24, 2017. "I didn't even walk in. Did you see? I just floated from the car," he told the publication. "I'm on cloud nine. I've been waiting for the perfect girl for over a decade and she walked into my life."
"A true, pure, beautiful person inside would have never gone for the old me a few years ago," Stamos admitted. "I had to get to the best me. Get back to the person I was, hit reset, and then I knew the right person would come along. Especially if I prayed and hoped and I knew my parents were up there watching. So I think they delivered an angel to me."
"We're a perfect balance. I'm like, hyper and tense and she's like, 'It's cool man. Everything's fine,'" the Scream Queens actor went on. "She's so calm and so graceful, which I'm not either of those things, so it's just a great balance. She's just a pure, authentic beauty. She's not trying to be something she isn't. She doesn't care about money or showbiz."
As Nicki Swift previously reported, Stamos popped the question on Sunday, Oct. 22 at Disneyland. The actor revealed to ET that he orchestrated the surprise proposal with the help of Disney CEO Bob Iger, complete with a video montage of Disney and Pixar's most romantic moments, cut together by the actor's Disney animator friend, Paul Briggs. His bride-to-be is now sporting an "old, vintage ring" courtesy of famed jeweler Neil Lane. "It was pretty special," he added.
After celebrating with family and friends, the actor took to Instagram to announce their engagement. "I asked...she said yes!" Stamos captioned a sweet illustration of the two standing in front of Sleeping Beauty Castle. "And we lived happily ever after."
Stamos, 54, and McHugh, 31, began dating in early 2016. The ER actor was previously married to model-actress Rebecca Romijn from 1998 to 2005.