The Unexpected Cameo Elsa Pataky Makes In Thor: Love And Thunder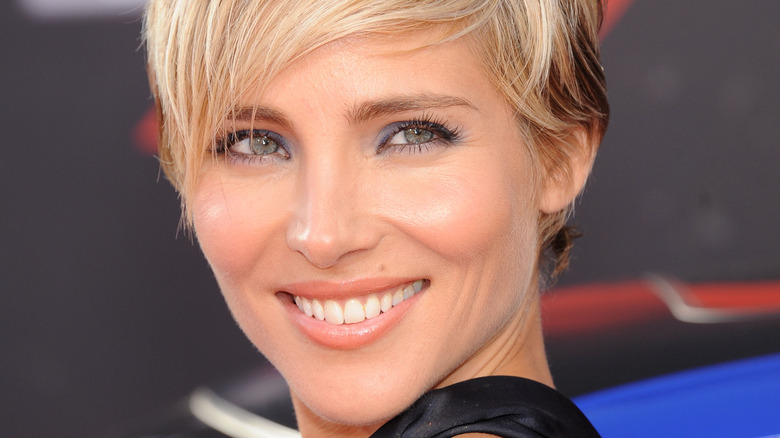 DFree/Shutterstock
Chris Hemsworth and his wife Elsa Pataky have both had a blockbuster 2022. Hemsworth's latest entry in the Marvel Cinematic Universe, "Thor: Love and Thunder," had the third-biggest box office opening this year (per CNN), raking in $150 million domestically. The fourth in the "Thor" franchise, the Taika Waititi-helmed action comedy touts an all-star cast comprised of Hemsworth, Natalie Portman, Tessa Thompson, Christian Bale and Russell Crowe — and that's not counting cameo roles. The good news about "Love and Thunder" comes mere weeks after another Hemsworth success — his thriller, "Spiderhead" — debuted in the top spot on Netflix's Top 10 list, per Movieweb. 
As for Pataky, she scored a major commercial hit of her own with her star in the Netflix action flick, "Interceptor." Led by first-time director Matthew Reilly, the flick debuted on the streaming service at No. 1 with 50 million viewing hours logged, per Variety. This is also despite the film being panned by audiences and critics alike. "It's blown me away," Reilly confessed to Variety. "I don't think anybody was expecting it to take the world by storm. I'm just as confused as everybody else."
Chalk it up to the Hemsworth family charm. After all, "Interceptor" was also produced by Hemsworth himself. As those who have seen "Love and Thunder" might have spotted, Pataky and Hemsworth seemingly love working together. It just might be a little hard to recognize Pataky in her "Thor" cameo, however. 
Elsa Pataky has been in Thor movies before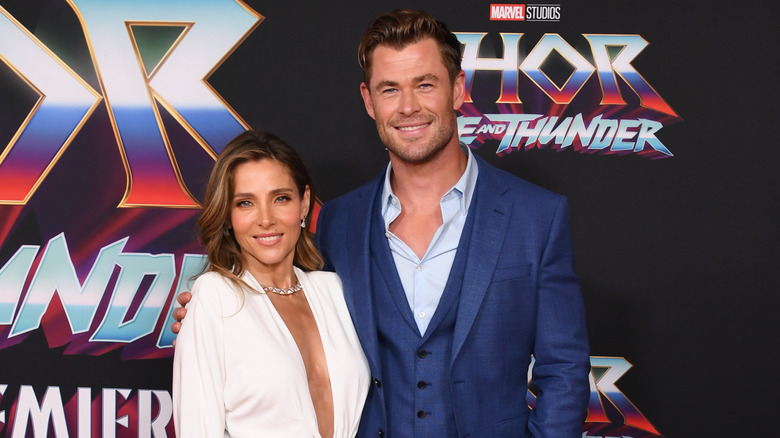 Jon Kopaloff/Getty Images
Although "Thor: Love and Thunder" revolves around Thor (Chris Hemsworth)'s relationship with former flame, Jane Foster (Natalie Portman), the God of Thunder has had other lady loves. In a hilarious montage showing Thor's past conquests, Hemsworth's real-life wife, Elsa Pataky, is credited as a "Wolf Woman," who gets frisky with Thor on the back of a giant wolf. We guess no one else is better for that job! 
Actually, this isn't the first "Thor" movie in which Pataky appeared alongside her husband, and smooched him on screen. When Portman wasn't available for reshoots for 2013's "Thor: The Dark World," Pataky served as her stand-in to film a big post-credits kiss scene. As Portman told the Daily News, "They put his wife in my wig and costume — that's why it was so passionate. It was such a perfect solution, wasn't it?" 
Pataky wasn't the only member of the Hemsworth household to cameo in "Thor: Love and Thunder," however. Her and Hemsworth's twin boys, Tristan and Sasha, have brief appearances as well, alongside the children of Portman, Christian Bale and director Taika Waititi, per Nerdist. But all their roles are nothing compared to that of Pataky and Hemsworth's daughter, India, whose involvement in the action romper is emotionally significant — on and off screen.
Thor 4 was a family affair for Chris Hemsworth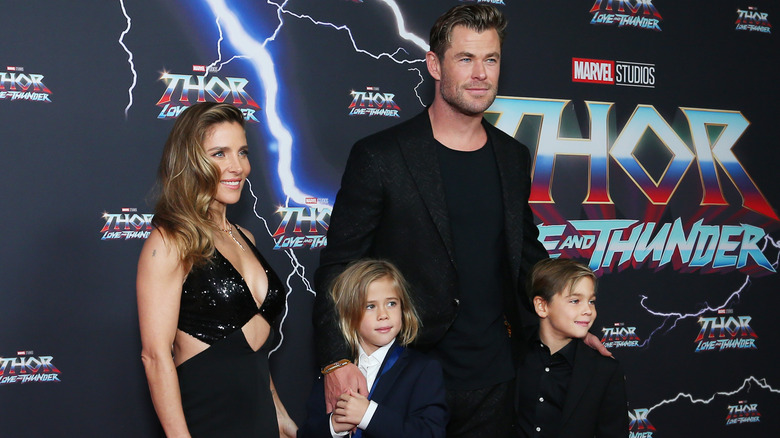 Lisa Maree Williams/Getty Images
Major spoilers ahead for "Thor: Love and Thunder!"
India Hemsworth, daughter of Chris Hemsworth and Elsa Pataky, portrays arguably one of the most important characters in "Thor: Love and Thunder." Her character, Love, is Gorr the God Butcher (Christian Bale)'s daughter, whose early death in the film brings forth the villain's arc. As he dies at the end of the film, Gorr chooses to resurrect Love as an act of grace, with Thor taking her under his wing. After sharing an endearing breakfast talk, the adoptive daughter and father leap into battle together in the final shot of the film. The screen cuts to the title card, revealing that she was the "Love" in "Love and Thunder" all along. (We're not crying. You are!)  
When asked about India playing his onscreen daughter, Chris quipped to Marvel.com in July that "it was just like when I'm at home, trying to tell her to do anything, she's like, 'Pfft, no, I'll do it my way.'" However, Chris proudly noted, "And power to her, good on her, because she did an incredible job." Although the father-of-three revealed his role in helping India with her audition, he also described this as a "one-off experience." As he told Good Day DC, he had no grand designs for his kids to become child actors. "It was just a special experience we all had and they loved it," he reflected.