Jane Lynch Reveals How She Really Feels About Lea Michele Joining The Funny Girl Cast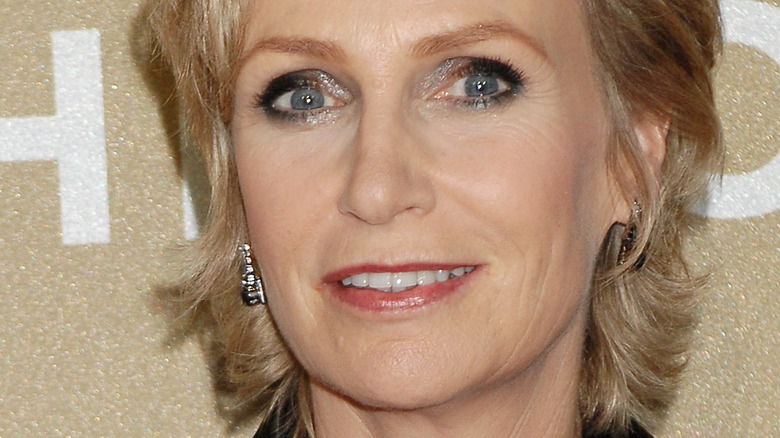 Ga Fullner/Shutterstock
Life is becoming a real-life "Glee" episode, and the internet is in shambles. Just recently, Lea Michele announced on her Instagram that she would be taking over the lead in the Broadway musical, "Funny Girl." While her caption said that the role was more than "a dream come true," the role is a dream that she's somewhat been able to live before.
When Michele starred as Rachel Berry in the musical show "Glee," her character dreamed of playing the same role that Michele just obtained: leading lady and Fanny Brice. In a clip from the series, via YouTube, Berry is seen finally achieving that goal and performing on Broadway. Sue Sylvester, the antagonistic cheerleading coach portrayed by Jane Lynch, walks out.
Ironically, Lynch has also been a member of today's "Funny Girl" cast, and her departure was announced at the same time as Michele's arrival. Fans couldn't help but notice the parallel, with one writing, "[J]ane lynch leaving the day lea michele is set to start is the most sue sylvester icon behavior extravaganza i have ever laid witness to." While the jokes write themselves, it's easy to wonder: Does Lynch harbor the same resentment towards Michele as some of her other former co-stars?
Jane Lynch is excited for Lea Michele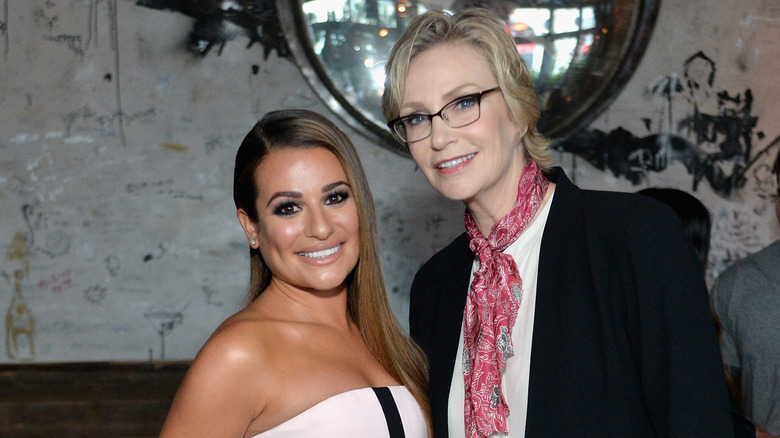 Stefanie Keenan/Getty Images
In 2020, some of Lea Michele's former co-stars spoke out against her on-set behavior. As Refinery 29 reported, "Glee" actor Samantha Ware tweeted about Michele's pattern of racist microaggressions, which made her experience "a living hell." Two other Black co-stars, Alex Newell and Amber Riley, tweeted their support. According to Us Weekly, Naya Rivera—who played the longstanding role of Santana—wrote about Michele and her similarities to the fictional diva Rachel Berry in her memoir: "I think Rachel—erm, I mean Lea—didn't like sharing the spotlight." 
Many took Jane Lynch's planned departure from "Funny Girl" as further proof that Michele is a nightmare to work with. "Jane lynch really said absolutely not to working with Lea Michele again lmao," one wrote. However, in a new interview with Deadline, the 61-year-old actor told a different story. 
"I adore her," she shared. "She's just going to take this show and make it her own. I'm so glad she's getting the opportunity in real life to do the show and not just in 'Glee.'" Lynch also clarified that the reason she's departing right when the new Fanny Brice arrives is simply because it makes more sense to debut Michele and Lynch's replacement, Tovah Feldshuh, at the same time. Fans may still have their own theories, but "that's how Sue c's it!"