Ashley Judd To Harvey Weinstein: 'I Forgive You'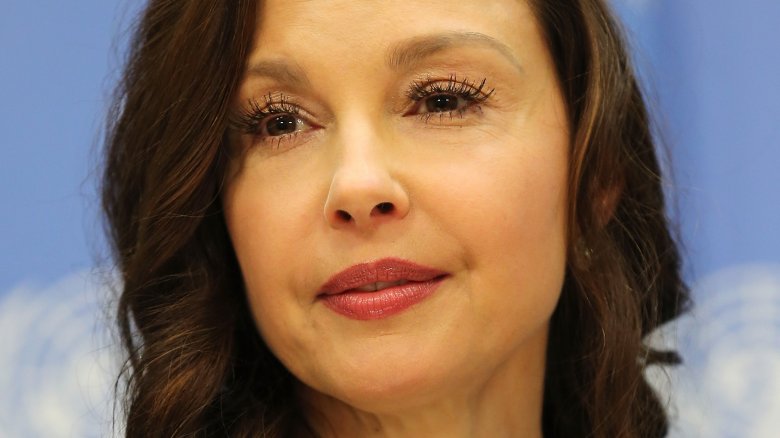 Getty Images
The Double Jeopardy actress has spoken out once more against disgraced producer Harvey Weinstein—and, in a major turn of events, she revealed that she's forgiven him.
Appearing on Good Morning America on Thursday, Oct. 26, 2017, Ashley Judd spoke with reporter Diane Sawyer in a pre-taped interview about the entire Weinstein scandal. "I had no warning," Judd said of Weinstein's reputation (via Yahoo! News). "I remember the lurch when I went to the desk and I said, 'Uh, Mr. Weinstein...is he on the patio?' And they said, 'He's in the room.' I was like, 'Ugh, you're kidding me!'" However, she still attended that meeting, despite her reservations, because "I had a business appointment."
"That's his pattern of sexual predation," Judd, 49, stated. "That was how he rolled."
Judd recalled Weinstein allegedly negotiating with her, attempting to wear her down as he'd asked to give her a massage and then asked for her to give him one. "I thought with this volley of no's, which he ignored...who knows? Maybe he heard them as 'maybe,' maybe he heard them as 'yeses,' maybe they turned him on," she told Sawyer. "I don't know."
She recounted feeling trapped as he ushered her toward his hotel hallway, having asked her to pick out his outfit and later requesting for her to join him in the bathroom to watch him shower.
Judd stated that, in order to get out of the room without offending Weinstein, she made a deal with him. "He kept coming back at me with all this other stuff. And finally I just said, 'When I win an Oscar in one of your movies, OK?' And he was like, 'Yeah, when you get nominated.' And I said, 'No, when I win an Oscar!'" she remembered saying. "I just fled."
"Am I proud of that? I'm of two minds," she said. "The part that shames myself says, 'No.' The part of me that understands the way shame works says, 'That was absolutely brilliant. Good job, kid. You got out of there. Well done.'"
Now, nearly 20 years after the initial incident, Judd said that she's forgiven Weinstein. "What I would say to Harvey is, 'I forgive you. I understand that you are sick and suffering, and there is help for a guy like you, too. And it's entirely up to you to get that help,'" she said (via E! News).
Regarding her feelings toward Weinstein, she continued, "It's just who I am," adding, "Frankly, it's an easier way to roll through the world than the alternative."
She also stated, "I believe that there is hope and help for everyone. It has to be the appropriate help, and there has to be a real profound understanding on the part of the sexual predator that they're doing is wrong and criminal." However, she said, if Weinstein did rape any women, "He absolutely should go to jail."
As Nicki Swift previously reported, Judd was one of the women who spoke with The New York Times about the harassment she suffered at the hands of Weinstein. Since then, dozens of women have come forward to share their stories, with many accusing Weinstein of sexual assault and rape.