The Real Reason Ryan Gosling And Sandra Bullock Split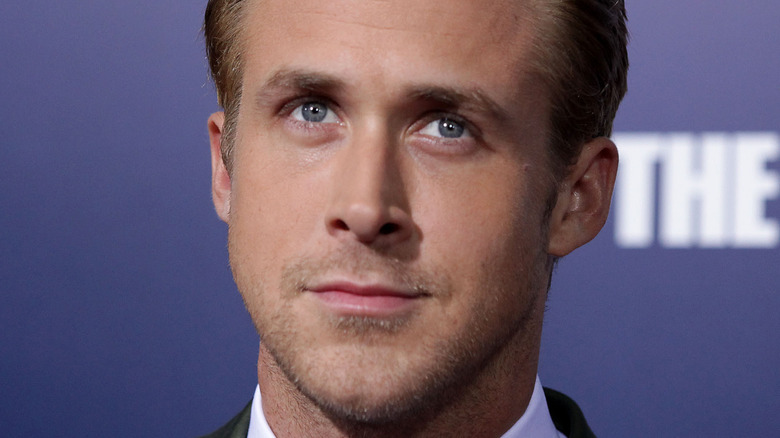 DFree/Shutterstock
Ryan Gosling is the perfect blend of dreamy looks and undeniable talent, a killer combination in Hollywood that often translates into fan adoration, massive media attention, and endless paparazzi pursuits. Despite all of it, the Oscar nominee and Golden Globe winner has opted to keep his dating list short and as far from prying eyes as possible. While rumors have abounded, Gosling has only had three confirmed relationships during his time in the spotlight, per PopSugar.
Gosling is currently with Eva Mendes, whom he met while filming the crime drama, "The Place Beyond the Pines," in the summer of 2011, People reported. Gosling and Mendes have never tied the knot, but their decade-long relationship is as strong as ever. The couple has built a family together, welcoming their first daughter, Esmeralda, in September 2014, and their second, Amada, in April 2016.
Before settling into family life, Gosling dated Rachel McAdams between 2005 and 2007, according to People. "The Notebook" co-stars were linked again a year after breaking up, when McAdams showed up in support of Gosling at the event that marked his deejaying debut, the outlet detailed. But their second attempt didn't go much further. Prior to McAdams, Gosling was linked to Sandra Bullock. The relationship was short-lived and stayed mainly away from the public eye. In fact, they barely addressed the romance at all, with Bullock merely doing us the favor of not denying it and Gosling referencing it after the breakup to clear up who the culprit was. 
Ryan Gosling blames Hollywood for Sandra Bullock breakup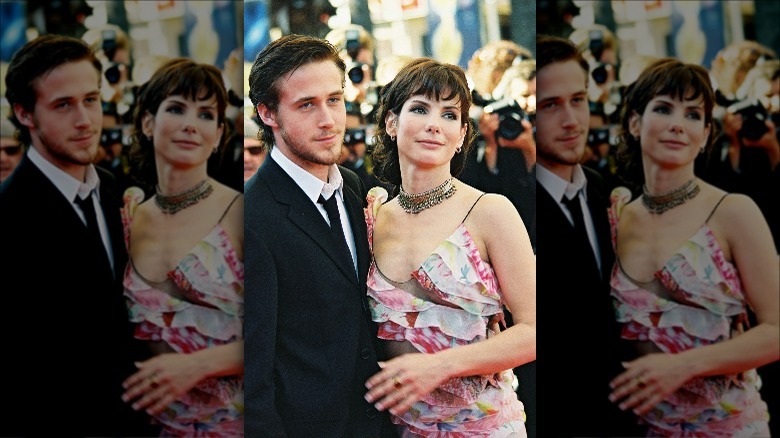 Denis Makarenko/Shutterstock
Ryan Gosling and Sandra Bullock met while filming the Barbet Schroeder psychological drama "Murder By Numbers" in 2002, Mama Mia noted. They seemingly confirmed they were an item when they showed up together at the Cannes screening of the film in May of that year. Even though they refused to use words to confirm the relationship, Gosling and Bullock made no effort to hide their closeness, as seen in the picture above. The pair drew considerable attention given their nearly 17-year age gap, according to The Mirror. Gosling was just 21 when "Murder By Numbers" came out, while Bullock was 38.
But the age difference was not the reason the two were only together for about a year. By 2011, Gosling had very clear and loud opinions about who was to blame. "Show business is the bad guy. When both people are in show business it's too much show business. It takes all of the light, so nothing else can grow," the "La La Land" star told The Times (via Us Weekly). The relationship may have been short-lived, but Gosling had nothing but positive things to say about his ex-girlfriend all those years later.
And the same was true of his opinion of Rachel McAdams, showing Gosling isn't one to go around bad-mouthing his former partners. "I had two of the greatest girlfriends of all time. I haven't met anybody who could top them," he told the U.K. publication at the time. 
Ryan Gosling has learned to separate love from work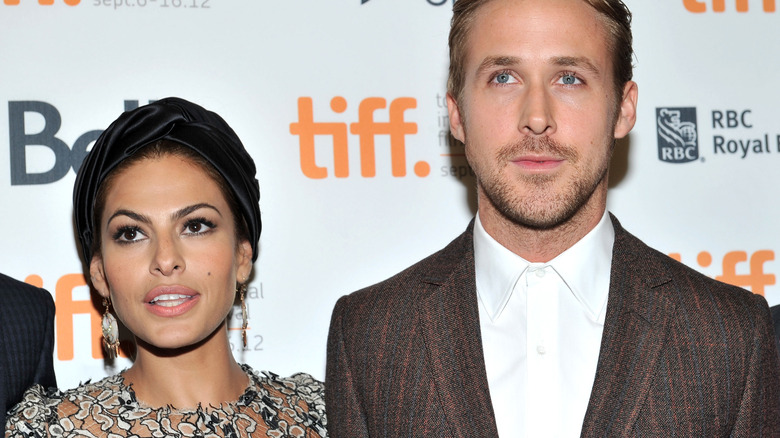 Sonia Recchia/Getty Images
His former experiences while dating in the spotlight might have taught Ryan Gosling a thing or two about how to navigate the rough waters. He and Eva Mendes are well-known for keeping their relationship and their family away from the spotlight. They have a knack for it, too. The couple even managed to keep both of their pregnancies private until the end or nearly the very end. When Us Weekly reported that Mendes was pregnant in July 2014, "The Hitch" actor was already seven months along. They were even more successful at hiding their second pregnancy. When the media learned that the couple was expecting another baby girl, Amada was already a few days old, E! News reported.
While both are active on social media, they keep the content strictly work-related. Mendes mainly ignores when her Instagram fans ask about Gosling and their daughters, but she doesn't hide her intentions. "As far as Ryan, I'll only post flashbacks of things that are already 'out there' (like pics from movies we did or stuff like that)," she replied to a follower in March 2020 (via People). "My man and kids are private. That's important to me so thanks for getting that."
Gosling is completely onboard with his partner's approach. He often dodges questions about his relationship, while still managing to melt hearts. "I know that I'm with the person I'm supposed to be with," he simply told Hello! Canada in 2015.