The Real Reason Enrique Iglesias Had His Mole Removed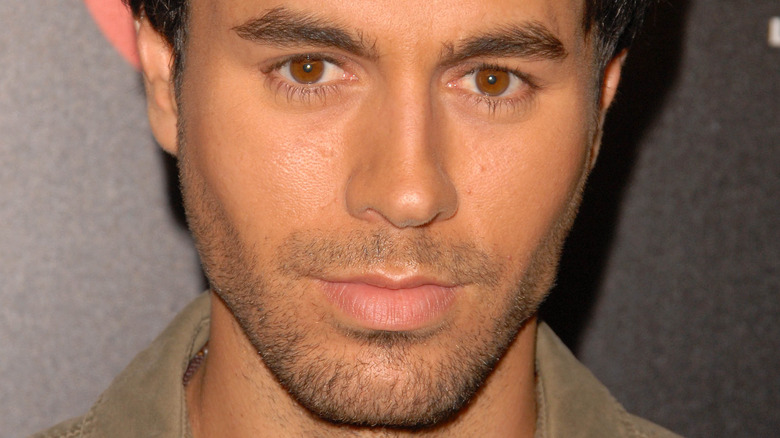 s_bukley/Shutterstock
Enrique Iglesias is celebrated for his catchy Latin pop songs and smoldering looks. When the singer first came onto the scene, teenage girls swooned over the artist's hypnotizing voice and coolly confident presence. The Grammy award winner, who's the son of successful Spanish singer Julio Iglesias, is known for hit throwbacks like "Hero," "Cuando Me Enamoro," and "Do You Know? (The Ping Pong song)." In 2020, Iglesias was crowned Billboard's Top Latin Artist of All-Time. In 2021, Iglesias joined Ricky Martin on a co-headlining tour, per Billboard.
Besides receiving attention for his music, Iglesias was once known for his signature mole next to his nose — until it mysteriously disappeared. In 2003, Iglesias ended up getting his iconic beauty mark removed.
What was the reason behind Iglesias' decision? Was it an aesthetics choice? Or did the singer get his mark lopped off for medical reasons? Let's revisit the life of Enrique Iglesias' famous mole.
Enrique Iglesias found it necessary to get his mole removed
In 2003, Enrique Iglesias gave Access Hollywood (via Entertainment Weekly) the mole removal backstory. He said, "I went to the doctor one day and he said I could have it removed in five minutes." Talk about a quick procedure! The singer continued, "I thought about it and asked, 'What are the consequences if I do it or if I don't?' I didn't really care. But then the doctor told me that with time the mole could cause cancer, so I thought, 'Oh, go ahead. Take it."
Years later, Iglesias' mole has still been on many fans' minds. In 2015, one user tweeted, "Each night Aaron Neville's mole sneaks out & goes to the secret place it used to meet with Enrique Iglesias's mole, hoping to see it again." In 2017, another person teased, "I had no idea Enrique Iglesias had his mole removed.'Bye, La Mole...' would've been perfect," making a pun on Iglesias' song "Bailamos." 
Fans have gone so far as to create spoofs on the legendary mole. In one video, an actor played both an ordinary man and the singer in a satirical skit. "If you're Enrique Iglesias, then where's your mole, huh?" the man asked. The faux Iglesias then pulled a personified mole out of his pocket and professed his love for it.
It wasn't just Enrique Iglesias' mole that amassed attention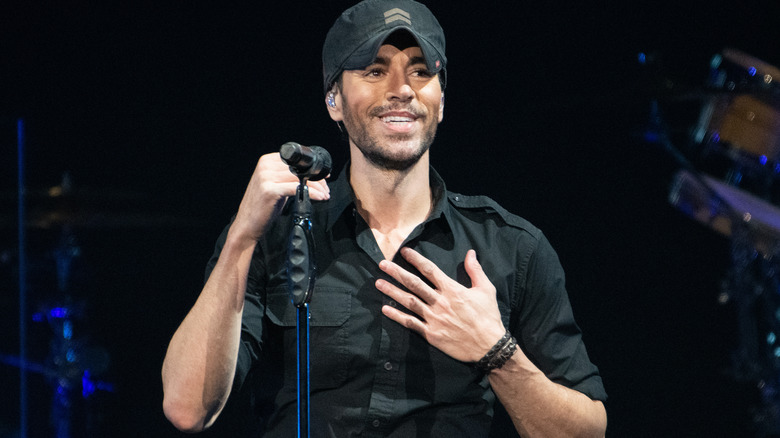 Scott Dudelson/Getty Images
In an age-old interview with Roseanne (when Iglesias still had his mole), fans literally couldn't contain themselves around Enrique Iglesias. As they hollered and grabbed at him, the famous singer soaked it all up. 
Once they sat down, Roseanne demanded he "take off his shirt." The crowd went wild, eager to see the star's incredibly toned figure. Unfortunately for viewers, Iglesias claimed he was "shy" and didn't take his shirt off. 
Along with his fit body, Iglesias was also praised for his tasteful and laid-back 2000s fashion sense. Back in the day, chic, monochromatic ensembles often dominated his performance wardrobe. In a 2007 article by the Daily Mail, the singer reflected on his minimal style. "I like to dress down and be comfortable in what I wear, rather than appear too 'stylish'. My favorite look is a pair of old jeans mixed with a suit jacket and a comfortable pair of trainers."