Real Housewives Star Shannon Beador Separates From Husband David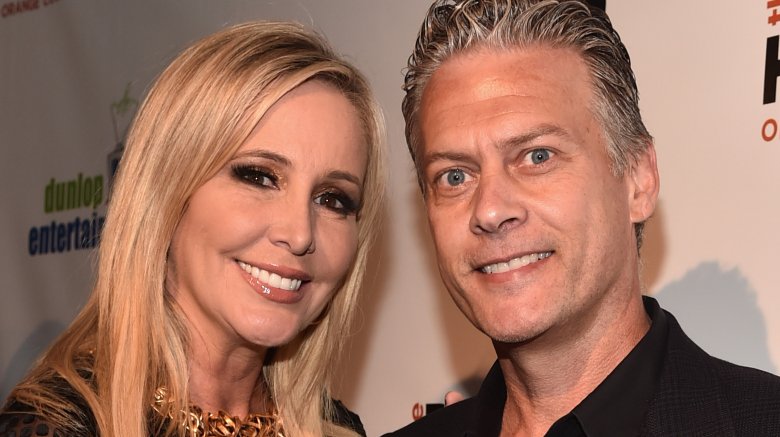 Getty Images
The couple reportedly split back in September.
People confirms that Real Housewives of Orange County star Shannon Beador and her husband, David Beador, have called it quits on their 17-year marriage. Shannon revealed the heartbreaking news to her reality TV show castmates on Friday, Oct. 27, 2017 during filming for the season 12 reunion. The episode is slated to air on Bravo in November.
"It's heartbreaking for me and my daughters that this is the road that had to be taken but it's the only way," Shannon told People magazine. "I felt alone in my marriage. You can do what you can to keep your family together, but you have to have willing parties. You need two people to make a marriage work, and that just wasn't happening in our relationship."
Shannon and David have suffered through a rocky couple of years in their marriage. In June 2015, it was revealed that David had cheated on Shannon. However, the two pursued therapy as a means to overcome the strain on their relationship. Though the two renewed their vows in August 2016, the pair wouldn't remain happy for long. As E! News previously noted, Shannon had once implied that her 40-pound weight gain was one reason for their relationship struggles, claiming that her extra weight "disgusted" her husband.
Still, despite the warning signs, Shannon was understandably "crushed" by her and David's decision to separate. "This is not the path that I thought that I would be taking," she told People. "To come from the highest of the highs last year to go to such a low so quickly? At the beginning when it starts to crumble, you think, 'This is just a phase. It'll get better.' But it never did."
Shannon and David share three children together, Sophie, 15, and twins Stella and Adeline, 12. As she goes through her break up, Shannon said that she hopes to remain a positive influence in her daughters' lives. "As a mother, I want to be a good role model for my daughters," Shannon explained. "Three years ago I was proud of what I showed them, because I fought for keeping my family together after infidelity. As the last year went by, it's been extremely difficult and painful to watch the show, because clearly I was in denial about what was going on in my marriage. I was taking things out on other people instead of at home. ... As a mother you keep thinking about your daughters and you have to say, 'This is an unhealthy environment.' Not only is it unhealthy for me, but it's unhealthy for my girls, too. They deserve a happy and joyful home, and I am providing that for them now."
"We are doing our best to be amicable for our children," Shannon said, adding, "At this point it's scary, when you're 53 years old, to be out there on your own. But I intend to show myself and my daughters that it can be done. I'm ready to get the old Shannon back, that's for sure."