Inside Iggy Azalea's Plastic Surgery Transformation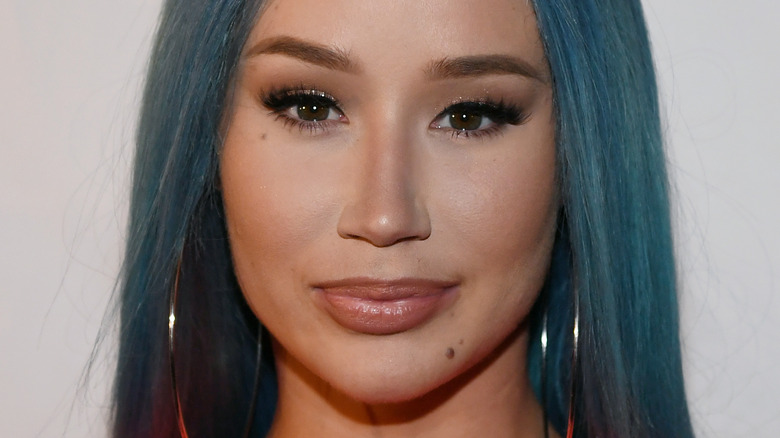 Ethan Miller/Getty Images
Aussie rapper Iggy Azalea has been nominated for four Grammy Awards, and in 2014, she became the first female rapper to top the Billboard Hot 100 chart for six weeks. But in interviews, the mastermind behind the history-making single "Fancy" often finds herself discussing her appearance just as much as her music.
While Azalea appears to possess an effortless swag when she's onstage, the focus on her face and body has taken it's toll on her self-confidence. "Some days I just think I want to crawl into a cave because I don't feel confident at all," she said in a 2015 "Today Australia" interview, per E! News. She told Vogue that she felt pressure to look a certain way even before her rap career took off, revealing that she tried to get into modeling shortly after she arrived in America. "I went to a few agencies, but once they measured my body, they didn't like me anymore," she recalled. She was advised to slim down, but instead, she added some curves to her 5-foot-10 frame.
Azalea is an outspoken advocate against plastic-surgery shaming. "We should be more accepting of the fact that both famous and non-famous women are having cosmetic procedures. That's just the reality," she told Elle Canada. She also called for people to be honest about the work they've had done to combat the stigma attached to nips, tucks, needle pricks, and implants — and the "Problem" hitmaker practices what she preaches.
Why Iggy Azalea got plastic surgery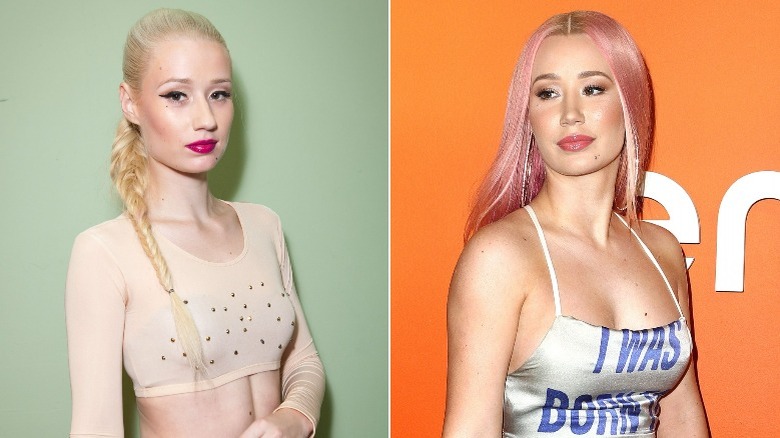 Frederick M. Brown & Imeh Akpanudosen/Getty
Outlets including the Daily Mail and Radar have asked plastic surgeons to speculate on which cosmetic procedures Iggy Azalea has had done, but Ashkan Ghavami is the only doc who has all the deets about Azalea's transformation. In fact, the singer gave Ghavami an Instagram shoutout for his birthday in 2016, describing him as "the man I owe my fabulous nose and breasts to." So when Ghavami talked to People about Azalea's 2014 breast enhancement procedure, there was no guesswork involved — he described exactly how he carefully crafted her new cleavage by bringing her breasts closer together and choosing the implant size that he thought would be most suitable for her build.
"I'd thought about it my entire life," Azalea told Vogue while discussing her decision to get implants. On "The Ellen DeGeneres Show," she candidly explained why she wanted the change, saying, "I just had nipples, and now I have breasts. Thought I could use some. It would be a good addition."
Azalea also mentioned her rhinoplasty, admitting that her nose didn't look all that different from the way it had pre-surgery. However, speaking to Elle Canada, the singer explained that she wasn't going for a drastic change; she just wanted to get rid of a bump that she was not born with. "I got smashed in the face with a soccer ball when I was 16. Now I feel like my nose looks the way it's supposed to look," she said.
How Iggy Azalea has responded to butt implant rumors
It's important to Iggy Azalea for her fans to get their information about her cosmetic procedures from the most reliable source out there: the singer herself. In a 2021 tweet, Azalea shared her reaction to a video claiming that she had undergone a lengthy list of cosmetic procedures. "That low key scares me because that's SOOOO much surgery to be encouraging girls to do — that I've never done and it's dangerous misinformation," she wrote. But while Azalea might be the utmost authority on the authenticity of her famous backside, she can't seem to escape speculation that she has butt implants.
Talk show host Wendy Williams refused to accept Azalea's assurance that her derriere is real. "Ray Charles could see that your cakes are fake! Are you serious?" she said on "The Wendy Williams Show" in 2015, per Hollywood Life. And when a "Wild 'N Out" cast member dared to ask Azalea, "How much of that booty is really real?" in 2016, she took him down a few pegs with her saucy response. "It's real in your hands, but y'all don't need to be worrying about booty that's above your weight class," she fired back.
Azalea was still scuffling with skeptics in July 2022, serving up her clapbacks with a side of body confidence. "I don't have implants & I also don't have the body of a 22 year old," she tweeted. "Im grown, with a child & very sexy."