Nick Offerman Says The Parks And Recreation Cast Is Supporting Chris Pratt Following His Split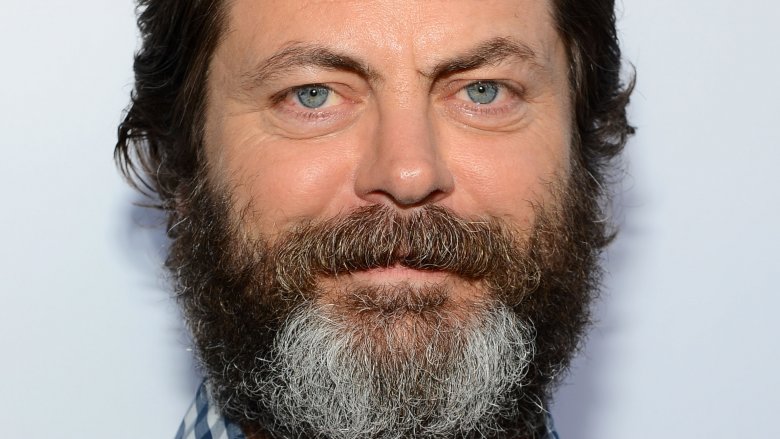 Getty Images
The Parks and Recreation cast is standing by their former co-star amid his divorce.
Nick Offerman opened up to Us Weekly about Chris Pratt's split from Mom star Anna Faris on Saturday, Oct. 28, 2017. "It's a family. We're all human beings, and all dealing with foibles and hardships, whether they're in the newspaper or not," Offerman told the magazine while attending the Pen Center USA's 27th Annual Literary Awards Festival in Beverly Hills. "Chris has our shoulders, just like everybody else does....It's a great group therapy session."
"We have a family thread of texting that's been going for eight or nine years. Usually it's no more than two or three days go by where we all — somebody has something to chime in on. So we all stay in touch," the 47-year-old actor continued. "We have just said [that] it's been too long since we've all been together. So just this week, we're scrambling to find a date we can all sit and hug each other."
But when asked whether the Guardians of the Galaxy star was ready to date again, Offerman remained understandably mum. "I sure couldn't tell you anything about that," he simply stated. Offerman and Pratt portrayed Ron Swanson and Andy Dwyer, respectively, during the beloved NBC comedy's seven-season run between 2009 and 2015.
As Nicki Swift previously reported, Pratt, 38, and Faris, 40, announced they were calling it quits after eight years of marriage in early August 2017. "We tried hard for a long time, and we're really disappointed. Our son [Jack, 5] has two parents who love him very much and for his sake we want to keep this situation as private as possible moving forward," the two wrote in a joint statement on Facebook. "We still have love for each other, will always cherish our time together and continue to have the deepest respect for one another."
Want to learn more about the former couple's relationship? Read up on all the real reasons Pratt and Faris split up.