Jimmy Kimmel Forced To Postpone Son's Follow-Up Heart Surgery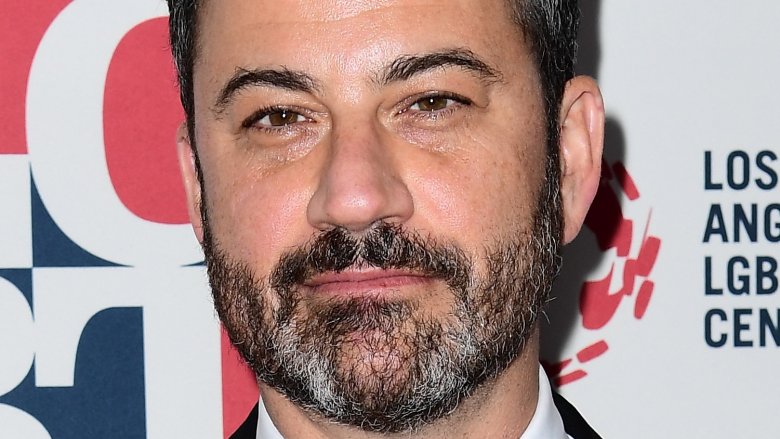 Getty Images
The late night host's family is battling cold season.
According to Page Six, Jimmy Kimmel and his wife, Molly McNearney, have been forced to delay their infant son's follow-up heart surgery due to family colds. As the comedian's publicist explained in a statement on Monday, Oct. 30, 2017, Billy's operation, originally scheduled for that week, was postponed as a precaution.
Kimmel had taken a planned vacation this week from Jimmy Kimmel Live for his son's surgery. His fill-in guest hosts include the likes of Shaquille O'Neal, Dave Grohl, Channing Tatum, and Jennifer Lawrence.
As Nicki Swift previously reported, Billy was born with a heart defect in late April 2017 and underwent emergency open-heart surgery only three days after his birth. In early May, the comedian revealed his son's health problems during an emotional monologue on his show and also used his platform to speak out on behalf of the Affordable Care Act. "No parent should ever have to decide if they can afford to save their child's life," the host stated in his speech, which went viral. Since then, he has become a surprising health care advocate.
However, Kimmel recently shared some slight regrets on his decision to be so open about his son's health. "What I didn't think through was that, everywhere I went, every day of my life, people would be asking me how my son is doing," the 49-year-old dad told The New York Times in early October. "But thank God I can say he's doing well. If that wasn't the case, each day would be very, very painful."
At the same time, he felt he owed his audience an explanation for his prolonged absence from his show. "I'd been talking about the fact that my wife [who is also his show's co-head writer] was pregnant for six months," Kimmel continued. "I left for paternity leave and then I didn't come back. That was something I had to address."
"[Billy's] going to have another operation coming up soon, and another when he's around eight to 10 years old," Kimmel explained to the newspaper, adding that despite his son's heart condition, "He's doing well."