Jennifer Lopez, Alex Rodriguez Share Details About Their First Date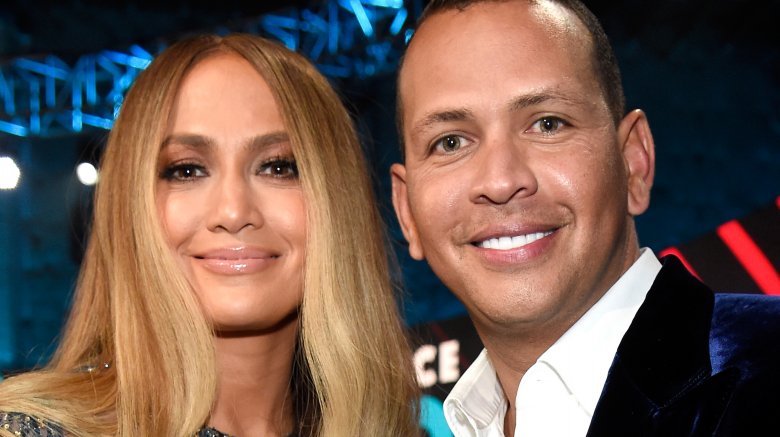 Getty Images
The "Ain't Your Mama" singer and the former Yankees player just opened up about the beginning of their relationship.
In a cover story for the December 2017 issue of Vanity Fair, Jennifer Lopez and Alex Rodriguez got real about their romance, explaining how they met and fell in love. While at lunch in Beverly Hills the previous winter, Lopez said she spotted Rodriguez, and, apparently, she just had to talk to him. "I almost yelled out, 'Alex,' but I am the shyest person when it comes to things like that," she recalled. "I could literally just have walked away. But I walk over and tap him on the shoulder and say, 'Hey.' I had just come from a promo for my show, Shades of Blue, so I'm dressed like my character, like a boy — Timberlands, jeans, curly short hair. He looks at me. I say, 'It's Jennifer.' He says, 'You look so beautiful.'"
The two, who've been dubbed "J-Rod" by fans, later went on their first date at the Hotel Bel Air, and, according to Lopez, Rodriguez talked a mile a minute. "He was sitting there in his white shirt, very confident and manly, but then he was just so talkative!" the 48-year-old told the magazine. "I think he thought I was going to be this loud person, but I'm not. I just listen. So he's talking, talking about his plans, about how he had just retired from baseball, about how he saw himself getting married again, all these things you wouldn't normally talk about on a first date. I don't know if he thought it was a date. ... He was nervous, and it was really cute."
Rodriguez, 42, admitted that he wasn't positive if they were on a date or not but figured it'd be a "win-win" either way. However, it would certainly seem like Rodriguez wanted it be a date, as he said he soon texted her a quick message after excusing himself to the bathroom. "You look sexy AF," he allegedly wrote.
Fortunately, that seemed to do the trick, as he and Lopez have been together ever since.
While we wait for more details about the pair's romance, read up on why Lopez called it quits with her one-time fiancé, Ben Affleck.