Andy Dick Fired Following Sexual Misconduct Allegations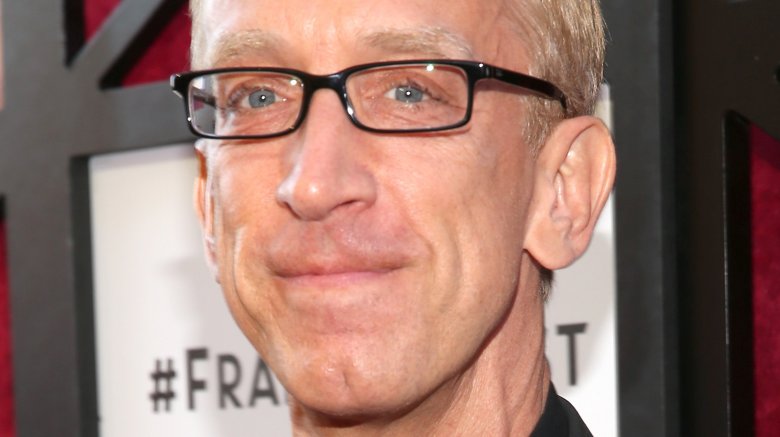 Getty Images
The comedian is the latest Hollywood star to face accusations of sexual harassment and assault.
According to The Hollywood Reporter, Andy Dick was terminated from his role in the film Raising Buchanan after he allegedly acted inappropriately toward others on set. Though no victims have come forward to the media, sources told the entertainment news site that Dick had allegedly groped people's genitals, kissed and/or licked them without consent, and sexually propositioned at least four people involved in the movie's production.
Dick, who has a history of exposing his genitals on stage, has since denied these accusations, though he has admitted to some of the alleged behavior. After joking that his "middle name is 'misconduct,'" Dick told THR, "I don't grope people anymore. I don't expose myself anymore."
He added, "I do understand that the temperature in the world right now is delicate."
Dick, of course, is likely referring to the onslaught of sexual harassment allegations that have been plaguing Hollywood in recent weeks. Miramax co-founder Harvey Weinstein's alleged history of sexual misconduct was first exposed in October 2017. Similar accusations then hit director James Toback, as well as a number of top dogs in the entertainment industry.
In his interview with THR, Dick, 51, continued, "I didn't grope anybody. I might have kissed somebody on the cheek to say goodbye and then licked them. That's my thing — I licked Carrie Fisher at a roast. It's me being funny. I'm not trying to sexually harass people." Likewise, he did not deny claims of propositioning people. "Of course I'm going to proposition people," he said. "I'm single, depressed, lonely and trying to get a date. They can just say no, and they probably did and then I was done."
When questioned about his history of substance abuse (he's reportedly two years sober), Dick stated, "I overtook my medication and took too many Xanax and I was a bit loopy (on set). That didn't make me rape people."
"I really don't get it," he noted. "I'm always trying to be funny and trying to get a date. I still don't have a date. I am on Tinder and I'm looking."
He went on, "I don't know the difference between sexual harassment and trying to get a date. In the '70s, all the girlfriends I got was by kissing and licking their cheek. I don't know anymore." Dick explained, "There were beautiful women and beautiful guys on the set. I flirt with them. I might kiss someone on the set and ask them to go to dinner. They are the ones that took it south."
Raising Buchanan's producer, Joe Gruberman, has since released a statement to E! News, though it's not very telling. "Our focus was and is the successful completion of this movie project. Any changes in personnel, for whatever reason, are between us and the agencies that provide those people," Gruberman said. "I feel that it would be an unwelcome distraction to us to open up a discussion about former employees. For that reason, I'd prefer not to comment on any third party information."