Are Matthew Lillard And Skeet Ulrich Friends Today?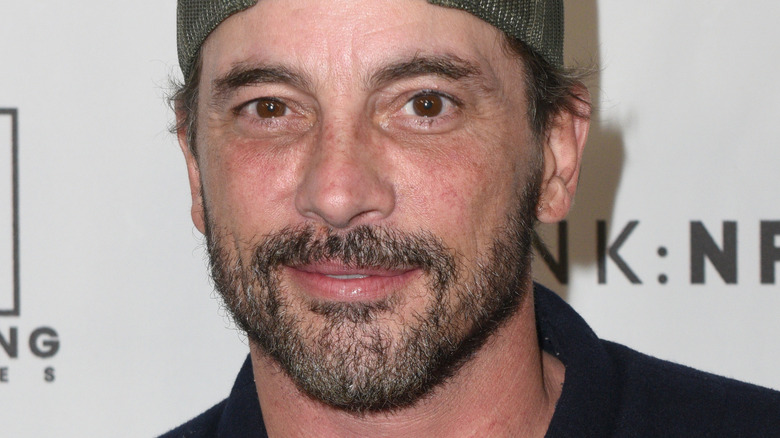 Vivien Killilea/Getty Images
"Scream" is an undeniable classic. From its clever writing to its all-star cast, this slasher flick remains a favorite over 25 years after its release in 1996. According to actor Matthew Lillard, the stars of the movie love it just as much as the fans.
"I think it's super symbolic of our youth," Lillard explained to Us Weekly. "We sorta had done movies before and had experiences, but nothing like this. We were babies. There's a sweetness about the movie for all of us because it's such a seminal part of our youth that it holds a special place and where we were then." Alternatively, Lillard's co-star and onscreen best friend Skeet Ulrich recalled the experience as long and chaotic. "That one scene, that kitchen scene, I think we shot for five working days," Ulrich revealed. "It went on and on and on and on, and it's such a high energy level that it was exhausting, but at the same time, out of that exhaustion came some pretty unexpected moments — like accidentally hitting Matt with the phone!" (The scene in question is, of course, the dramatic twist that reveals Ulrich and Lillard as the killers, Billy and Stu.) 
Experiences like filming that iconic moment cemented Ulrich and Lillard's friendship — but are they still chummy today?
Ulrich and Lillard started on the wrong foot
Though its comedic elements set "Scream" apart, not everyone understood director Wes Craven's vision, and when Skeet Ulrich first signed onto the movie, he thought it was a drama. As a result, Ulrich and Matthew Lillard didn't start off on the best foot, with the latter concerned his co-star's lighthearted approach might hurt the quality of the movie.
"I think part of it was the mindset of Billy," Ulrich explained to Entertainment Weekly. "I saw it as this very serious documentary about two killers in high school and I was researching serial killers and the psychology of them, so I didn't really key into the humor of the story until take one of day one." As a result, Lillard joked that Ulrich thought he and Jamie Kennedy were "ruining the movie." Naturally, Ulrich caught onto his mistake fast, but he elected to play Billy as the straight man to Stu. Their chemistry was electric, and the rest is cinema history.
Once filming wrapped, Ulrich and Lillard appeared close at premiere parties, with photos of the two showing them goofing around or sharing a laugh. The memories remain fond for Ulrich, who told Forbes: "I've done plenty of movies that don't necessarily have the same kind of emotional impact this movie had on my life. It's humbling that it's still successful, but it's rewarding that we're still friends, and that moment for all of us was unique in our lives."
Are parallel universe Billy and Stu in love?
Initial hiccups aside, Skeet Ulrich and Matthew Lillard continue to enjoy the nostalgia of "Scream," often attending events together or giving interviews side-by-side. And whenever they do connect, it's always a bunch of laughs. 
Case in point: When promoting "Scream's" 25th anniversary in 2021, the two joked about the fate of their comedic killers had they survived the first film. Lillard even raised concerns that his character's death — by a television smashing onto his head — left room for doubt. "Here's the deal, this two-ton TV, I'm going to throw it at my face and if I die, then I will let this moment go," he joked to Us Weekly. "He's about to get out of prison. He was 17 years old. He spent 25 years in jail. He's about to get out!" Ulrich, on the other hand, had a more practical idea of what Billy would be up to, suggesting the philosophical Billy would be "teaching English." However, Ulrich joked that Stu would "work for Panasonic, testing TVs." Not to be outdone, Lillard quipped, "By the way, Billy and Stu fall in love. They adopt many stray dogs from Costa Rica and they rehabilitate small dogs. And then they slaughter people on the weekends."
Even though they remain friendly, the actors don't appear to hang out often outside of promoting "Scream." In the 25 years since the film's premiere, both became fathers and pursued other acting projects, likely pushing them in different directions. However, while Ulrich and Lillard haven't shared the screen in decades, their comedic timing is just as sharp as in 1996.