Report: Director-Producer Brett Ratner Accused Of Sexual Misconduct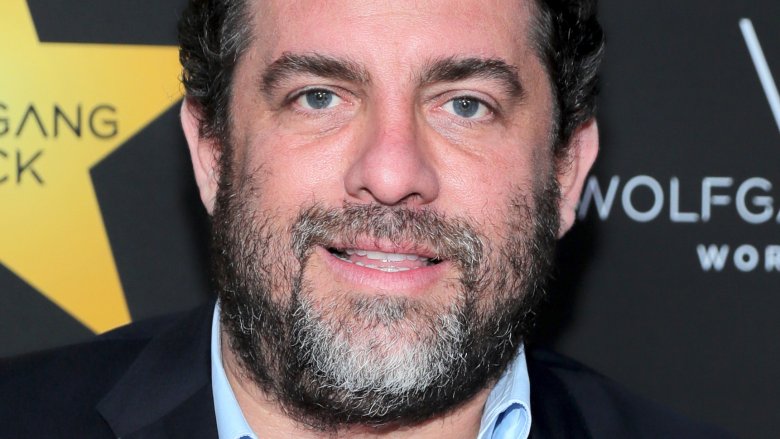 Getty Images
Another Hollywood bigwig is facing sexual harassment allegations.
On Wednesday, Nov. 1, 2017, The Los Angeles Times published a report, detailing the accounts of six women who've allegedly been victims of sexual misconduct at the hands of movie producer and director Brett Ratner
Actress and former model Natasha Henstridge, known for her roles in The Whole Nine Yards and Eli Stone, accused Ratner of forcing her to perform oral sex on him decades earlier—when she was 19 years old and he was starting out in the entertainment industry. The alleged incident reportedly took place in his New York City apartment after the two had been hanging out with friends. After their friends left, Henstridge said that Ratner blocked the door and touched himself, forcing her to perform oral sex.
"He strong-armed me in a real way. He physically forced himself on me," Henstridge recalled. "At some point, I gave in and he did his thing."
Olivia Munn also claims to have been sexually harassed by Ratner. She told the paper that as an aspiring actress she had visited the set of his 2004 movie After the Sunset to deliver food to his trailer. Once there, she alleges he masturbated in front of her. Munn later wrote about the alleged incident in a 2010 collection of essays, titled Suck It, Wonder Woman! The Misadventures of a Hollywood Geek, though she never mentioned his name. However, Ratner later identified himself as the man featured in her work and claimed that he had once "banged" her, which Munn has denied.
According to The Times, when Munn ran into Ratner at a party in 2010, he "boasted of ejaculating on magazine covers featuring her image."
It was Ratner's persistent claims that the pair were intimate that, Munn said, drove her to take action against him by speaking to the paper about his alleged behavior.
"It feels as if I keep going up against the same bully at school who just won't quit," Munn explained. "You just hope that enough people believe the truth and for enough time to pass so that you can't be connected to him anymore."
Jaime Ray Newman, who's starred in projects like Eastwick, Eureka, and Bates Motel, told The Times that she was sexually harassed by Ratner during a flight in 2005. She said that Ratner switched seats with his assistant so he could be next to her and that, once the plane took off, he started telling her sex acts that he'd like to perform on her in detail.
"He was graphically describing giving me oral sex and how he was addicted to it," Newman told the paper.
Other accusers that spoke with The Times include Eri Sasaki and Jorina King.
Ratner's lawyer Martin Singer has denied all the allegations. "I have represented Mr. Ratner for two decades, and no woman has ever made a claim against him for sexual misconduct or sexual harassment," Singer stated. "Furthermore, no woman has ever requested or received any financial settlement from my client."
Ratner is best known for his directing films like X-Men: The Last Stand (2006) and Hercules (2014). He's also produced a number of projects, including The Revenant (2015) and Prison Break (2005-17).
Since The Times' article was published, Wonder Woman star Gal Gadot has backed out of honoring Ratner with the Tree of Life Award at a dinner for the Jewish National Fund (via Variety). However, a rep for the event claims that Gadot simply had a scheduling conflict.
The accusations against Ratner come just weeks after similar allegations have been made against Miramax co-founder Harvey Weinstein, director James Toback, and several other top dogs in the entertainment industry.