Katharine McPhee Proves There's Still A Spark With Her Husband David Foster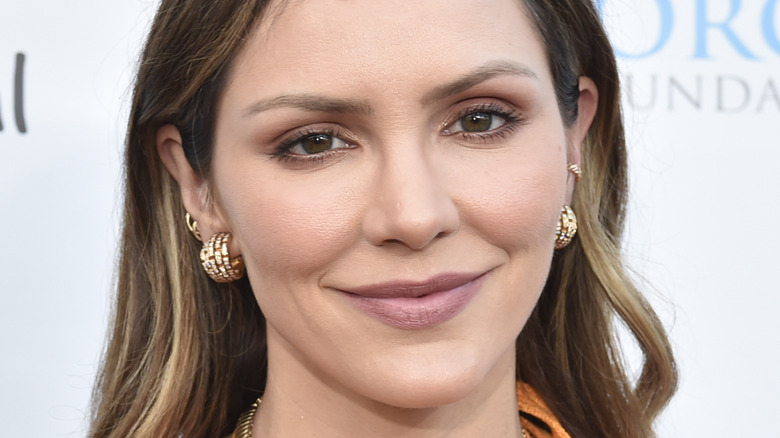 Rodin Eckenroth/Getty Images
There's no shortage of passion in Katherine McPhee's life, at least according to a recent social media post. The "American Idol" alum took to Instagram to share a series of sultry snaps alongside her husband, legendary record producer David Foster. While much has been made about the couple's age difference, with Foster being 34 years McPhee's senior, the lovebirds look to still be going strong, proving once again that love conquers all.
The singer and actor — who is Foster's fifth wife — donned a taupe mini-skirt and sweater in the trio of saucy snaps. McPhee can be seen embracing her husband, complete with a smooch on the lips and a leg around the waist. "Poor guy," she captioned the post. "Too bad he doesn't get very much attention." The second shot shows the lovebugs squeezing each other tight, while the third reveals that the "Country Comfort" star had to stand on top of her husband's shoes to reach his face.
Friends and fans are here for Katharine McPhee's passion
Family, friends, and fans are here for the would-be PDA, with many taking to the comments to show their support for Katharine McPhee and David Foster. The record exec's daughter, Erin Foster, quipped in the comments section that she would be "reporting" the post. On the contrary, Sony Music Entertainment head-honcho and friend of David, Tommy Mottola, wrote, "David..Ua lucky guy my man." One fan even shared, "What a beautiful life of love you share. I'm so happy you found each other."
McPhee and Foster tied the knot during an intimate London ceremony in 2019, according to Cosmopolitan, two years after the two were first spotted together. The singer took a moment to share a special message with fans on the day of her marriage. "Exactly 13 years ago today, my very first single, 'Somewhere Over the Rainbow,' was released right after Idol. Today...I'm marrying the man who produced it," she gushed on Instagram. "Life is full of beautiful coincidences, isn't it? Thank you for taking me over the rainbow, David."