Julianne Moore Reveals The Real Reason Her Eyebrows Are Completely Gone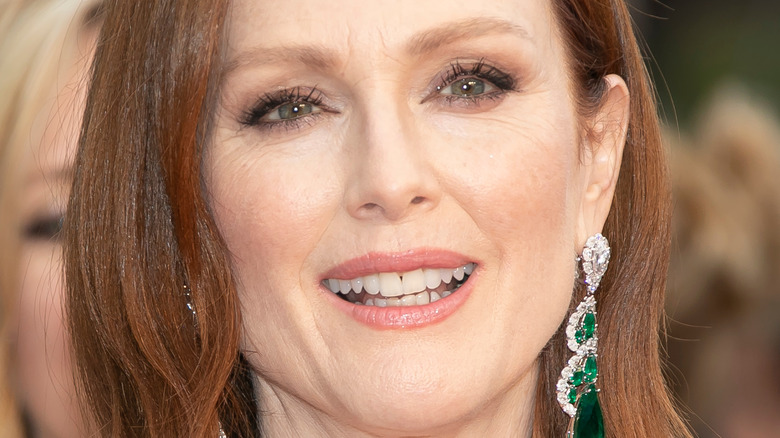 BAKOUNINE/Shutterstock
From Julia Fox's bleached eyebrows to Chrissy Teigan's eyebrow transplant surgery, celebrities have turned eyebrow experiments into an iconic trend. Another star to add to the list? Julianne Moore, who dramatically changed her eyebrows decades ago. This time around, the star isn't exactly looking back on her experience with pride.
Over the years, the actor has shared her go-to beauty and anti-aging secrets. She recently revealed her top tip to Women's Health. "The number one biggest is sunscreen; starting at young age makes such a big difference." Moore is also a fan of face oils and radio frequency facials. She just became a brand ambassador for Hourglass Cosmetics, and the role consists of a campaign called We Glow. According to Cosmetics Business, Moore said, "I appreciate the refreshing approach of this campaign in showing that beauty also comes from within and from the relationships we share."
Moore is also raising eyebrows with an unfiltered conversation about her eyebrow journey. The actor is now offering up an inexpensive beauty secret — if you touch them, you'll lose them. She also revealed the reason she went to town on her eyebrows. 
Julianne Moore wanted to fit in with her eyebrows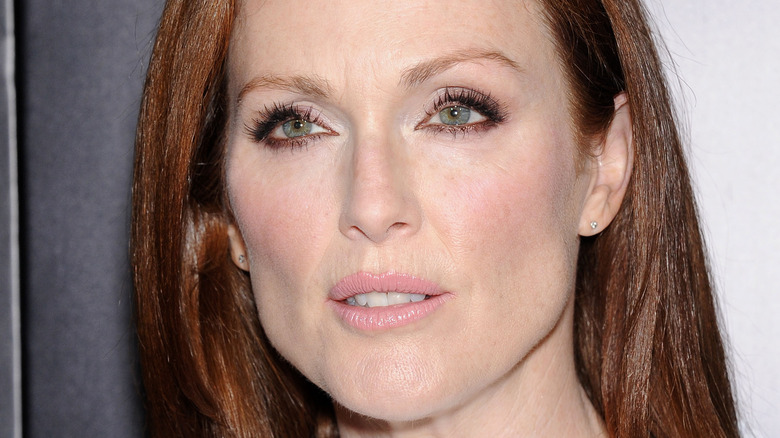 DFree/Shutterstock
Julianne Moore is coming clean about her eyebrows — or rather, her lack thereof. In an interview with The Sunday Times (via BuzzFeed), Moore said that her eyebrows are "drawn on now." Moore previously told Hello! magazine (via Metro), "My biggest regret is that I ruined my eyebrows. The minute I could hold a pair of tweezers in the 1970s I pulled them all out, to be fashionable at the time."
Moore's other reason for grabbing the tweezers? As a kid, the actor had insecurities about her appearance. "When I was growing up in the U.S., it felt as if no one had freckles. I just wanted to look like every other tanned American kid," Moore said to The Sunday Times (via W Magazine). So, she started plucking and bleaching her brows. She's now passing on her lessons to her daughter Liv Freundlich, urging her to leave that aspect of her face alone.
However, Moore isn't one to obsess over her looks. She mentioned the importance of interests like "family" and "work" to the U.K. outlet. She added, "Being myopic about the way you look recedes. I don't think it goes away entirely, I don't think there is a person in the world who couldn't care less; everybody cares somewhat." According to Moore, your mindset may shift. "But the degree to which you are interested in that, and the fruitlessness of that, becomes apparent as you get older."