The Real Reason CNCO Is Splitting Up
Rodrigo Varela/Getty Images
Latin group CNCO has been one of music's leading boy bands for a number of years, racking up hit after hit. As noted by AllMusic, the original lineup — made up of Richard Camacho, Erick Brian Colón, Zabdiel De Jesús, Christopher Vélez, and Joel Pimentel — first rose to fame in 2015 after winning Simon Cowell's talent show competition, "La Banda." Since then, they have taken the charts by storm.
As of this writing, CNCO has released three studio albums, two of which reached the No. 1 spot on the U.S. Top Latin Albums chart. Throughout their career, they collaborated with a range of stars from across the globe including Little Mix, Becky G, and Meghan Trainor, to name a few. After a successful run, the group announced on Twitter in May 2021 that Pimentel had chosen to leave the group. "We know this news is saddening and is going to be as hard for all of you as it is for us, but we appreciate you sticking with us," they wrote. "While it will be different, we are so excited to continue into this new era of CNCO, and can't wait for all of you to see what we have in store for you!"
Over a year after continuing as a quartet, it appears CNCO has more sad news for their fans.
CNCO members want to go solo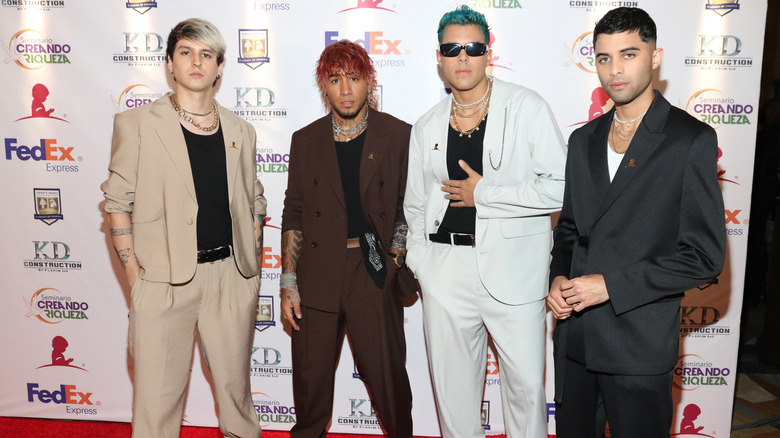 Aaron Davidson/Getty Images
Seven years after forming, CNCO revealed on stage at the 2022 Premios Juventud on July 21 that they will be splitting soon. "We are feeling nervous but at the same time, we feel excited, anxious," Erick Brian Colon told Billboard ahead of sharing the news with everyone. While fans might be sad over CNCO disbanding, they will be happy to hear that the boys are still friends and aren't parting ways just yet. "We always thought that if we split, it had to be natural, and that's how it happened," Zabdiel De Jesus added before explaining they want to expand their careers as individuals. 
Before waving goodbye to the group, CNCO has lots in the pipeline for the next year and a half. The "Reggaeton Lento" hitmakers have plans to release a new album, embark on a tour, and will even put out a series on Disney+, "4 Ever," that will see them make their acting debut, per Deadline. On July 20, CNCO dropped their latest single, "Plutón," with Kenia OS.
Christopher Velez expressed his appreciation for their large fanbase — also referred to as the CNCOwners — and thanked them for their ongoing support. "They know that we love them from the beginning. Without them, this wouldn't be possible. I know they're going to follow our solo careers and support us," he said. "The love is always going to be mutual. We're going to become better artists to deliver the best music. They know we love them."