How Cole Sprouse Really Felt About Skeet Ulrich's Riverdale Exit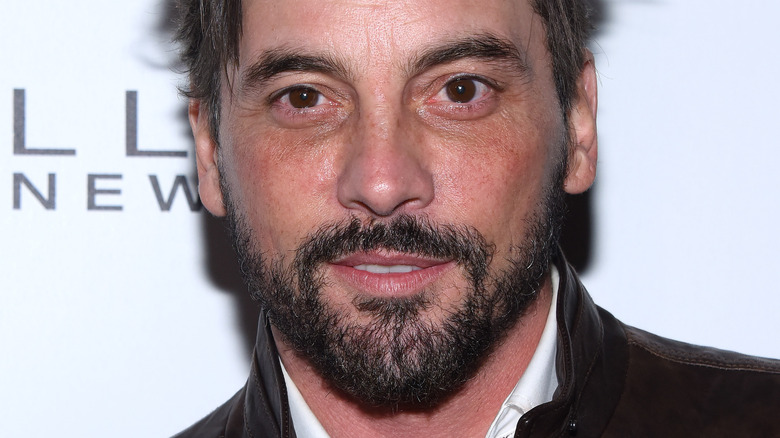 DFree/Shutterstock
Some might say "Riverdale" is the ultimate guilty pleasure show, as the writing is a bit out there from time. However, the CW series has its devotees, largely because of its stellar cast. As a result, many fans were disappointed when Skeet Ulrich announced his departure from "Riverdale" in 2020, after playing FP Jones for five seasons.
"Riverdale" creator Roberto Aguirre-Sacasa addressed the star's exit alongside fellow regular Marisol Nichols in a statement to TVLine: "Part of life in 'Riverdale'— and part of growing up — is saying goodbye to people. I'm grateful to Skeet and Marisol for their incredible work on the show these last four years, and we all wish them well on their future endeavors." He added, "F.P. and Hermione will never be far from our hearts. And, of course, they're always welcome back in 'Riverdale.'"
Ulrich described leaving the show a bit differently. "I'm leaving 'Riverdale' because I got bored creatively," the actor said on an Instagram Live, per The Wrap. "How's that? That's the most honest answer." Some might assume that ruffled the feathers of the show's remaining cast members, like his on-screen son, Cole Sprouse. But was that really the case? 
Cole Sprouse shows support for Skeet Ulrich
"Riverdale" hosts a dynamic roster of characters, all based on Archie Comics. From 2017 to 2021, Skeet Ulrich played FP Jones, the absentee father of Jughead Jones, played by Cole Sprouse. Though he was rough around the edges, he ultimately endeared himself to both Jughead and the audience. Naturally, when Ulrich announced his exit from the series, fans wondered how his on-screen son felt about the major news.
"I think it's easy, as an actor, especially on a long-term project to start feeling like, creatively, you're repeating the same motifs or, or whatever it is," Sprouse told Variety at the time. "But in truth, Jughead was a much more prominent character than FP was on the show. So, I don't think I'm really qualified to talk on that because to compare and contrast our two positions is sort of fruitless."
As for whether or not there's any bad blood between the former costars, Sprouse made it clear where he and Ulrich stand. The Jughead actor explained: "Skeet's truly a second father to me, so I'm, like, ride or die for that guy. So, anything that makes that guy happy is something that makes me happy."
Skeet Ulrich will always hold a space for Riverdale
Despite Skeet Ulrich wanting out of the show, it didn't mean he was bitter toward the cast and crew, as evidenced by his heartfelt goodbye messages.
"I'm incredibly grateful for the friendships I've made on 'Riverdale,' and I will miss seeing everyone on a daily basis," Ulrich said in a statement, per TVLine. "I'm proud to have been part of such a talented group of people, in front of the camera and behind, but I've decided that it's time for me to move on to explore other creative opportunities."
While he was initially slated to leave at the end of the fourth season, Ulrich's exit from "Riverdale" carried over to the beginning of Season 5 because of filming delays due to Covid-19. As a final goodbye to the cast and fans, Ulrich shared a kindhearted message via Instagram: "Goodbye 'Riverdale'...thank you for introducing me to some lifelong friendships and so many beautiful souls. Today is my last day on set but the experience will never leave my heart."