Inside Madonna And Sean Penn's Relationship After Getting Divorced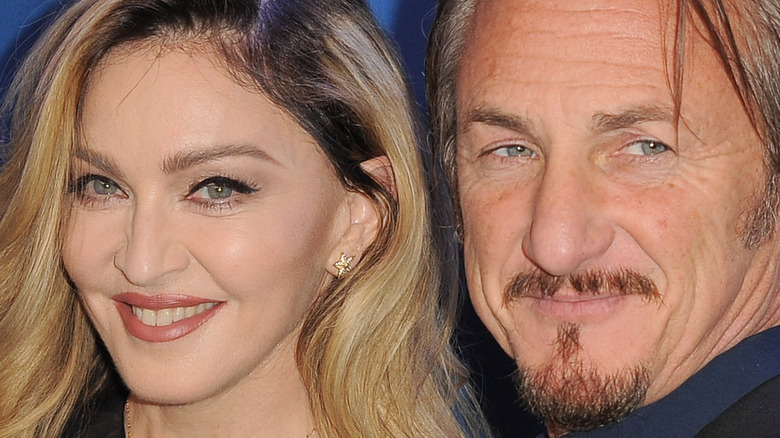 Angela Weiss/Getty Images
In the '80s, the Brangelina or Bennifer of the day was Madonna and Sean Penn. They married in 1985, per ET, in a ceremony that was plagued by paparazzi helicopters, per People Magazine. That, notwithstanding, the "Papa Don't Preach" pop star was so smitten with her then-hubby, she even dedicated the entirety of her hit 1986 album "True Blue" to Penn, writing in the liner notes, "This is dedicated to my husband, the coolest guy in the universe."  The media glare, however, plagued their marriage, resulting in Penn getting so enraged at the papps following him and his wife down the street, that he threw some punches and landed in jail because of it, per People. 
Unfortunately, there were also rumors of spousal abuse: the prevailing one being that Penn allegedly tied the singer down to a chair and beat her with a baseball bat, per The Daily Mail, with the outlet reporting that she was examined for injuries at Cedars Sinai hospital. In 2015, the "Material Girl" star denied any abuse on the part of Penn, writing, "Sean has never struck me, 'tied me up,' or physically assaulted me," per The Guardian. Nonetheless, Madonna filed for divorce twice: first in 1987 (later withdrawing the petition), and again in 1989, which stuck. 
So it might surprise some to learn that, in the decades since their divorce, their relationship is still full of love and kind words.
Madonna has said several times Sean Penn is the love of her life
Kevin Mazur/Getty Images
During her 1991 rock-umentary "Truth or Dare," Madonna admitted that Sean Penn was the love of her whole life, per Decider, and the pair of them have gushed about each other despite their 1989 divorce. During a 2018 appearance on "The Late Show," host Stephen Colbert asked Penn if he could choose between the "Vogue" songstress and Britney Spears. "Ah, I love my first wife very much. There's no — you don't compare those things," he said with a giggle. Even Madonna's bestie, actor Debi Mazar, told Andy Cohen on "Watch What Happens Live" that the "Milk" star was the love of her best friend's life, per Us Weekly.
But the post-divorce love fest doesn't end there. They briefly embraced on stage in 1995 at the VH1 Fashion Awards when Madonna won a Fashion Icon award. They were photographed holding hands in 2016 at a benefit to raise money for Haiti, per Variety, and the "Like A Prayer" singer even said, "Sean, I love you, from the moment that I laid eyes on you." That same year, at her "Tears of a Clown" show at Miami Art Basel, she pulled her ex up on stage and said, per The Daily Mail, "I'm still in love with you."
And the cherry on top has to be her 2015 "Rebel Heart tour" rendition of "True Blue," the very song she wrote for him during their marriage, with the "At Close Range" star in the audience, beaming.
Madonna and Sean Penn have a longtime love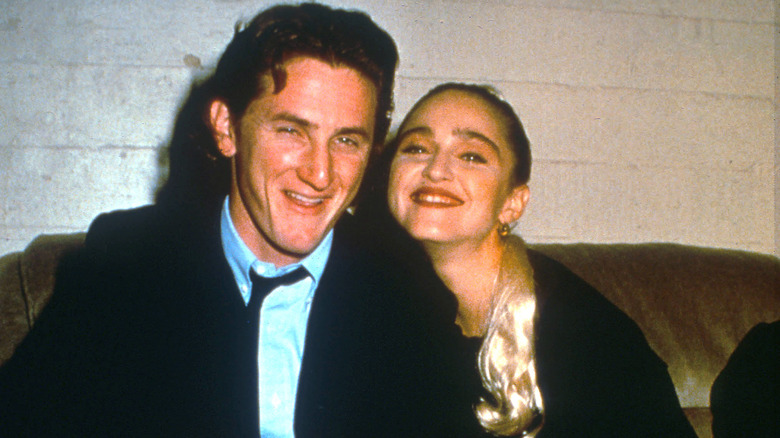 Laura Luongo/Getty Images
In 2008, while Madonna and Sean Penn were very much married to other people, they still were flirting with each other. The Daily Mail reported in 2009 that, after filming a kissing scene with James Franco for "Milk," Penn texted the "Like A Virgin" singer, "I just popped my cherry kissing a guy. I thought of you. I don't know why." This cheeky tease was sent when Madonna was married to "Snatch" director Guy Ritchie, and Penn was married to "The Princess Bride" star Robin Wright. 
Despite their friendly divorced relationship, Madge hasn't managed to maintain that with her second ex-husband, Ritchie. In fact, the pair have rarely been seen together, despite sharing two sons, Rocco Ritchie and David Banda. In 2020, however, they were both photographed at the same time attending an art gallery exhibit in London, per The Daily Mail. The artist in question, Rhed, has since been revealed to be the sobriquet of their son Rocco, per The Guardian. 
Penn, on the other hand, had two kids with Wright in 1991 and 1993 before marrying her in 1996, per People. They eventually divorced in 2010, and since then, the Oscar winner has walked down the aisle for a third time, this time with Aussie actor Leila George in 2020. Unfortunately, Penn had a third walk to the divorce court, as their marriage ended just a year later.