JoJo Siwa Reveals The Rudest Celebrity She's Ever Met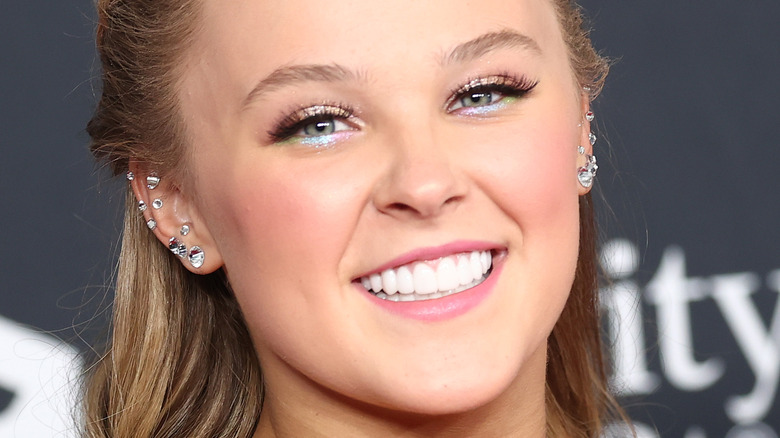 Matt Winkelmeyer/Getty Images
JoJo Siwa never seems to shy away from spilling the tea and expressing her feelings online. She has an active social media presence that captures the attention of fans of all ages. In fact, Siwa is followed by over 42 million people on TikTok alone, where she typically posts several videos a week and garners millions of views.
On the platform, Siwa is often vulnerable with her followers about how she is feeling and even responds to the criticism she receives online. In a recent TikTok, she revealed that she often has the same negative thoughts about herself that she hears from haters on the internet. The dancer said, "I look like a boy? I literally said that same thing about myself to my best friend 30 minutes ago."
Siwa's unfiltered thoughts on the platform make her a notable content creator, who often posts things that many celebrities would never share. Most recently, Siwa nearly broke the internet when she opened up about some of her favorite and least favorite celebrities on the popular app. 
JoJo Siwa exposes Candace Cameron
In a viral six-second TikTok, JoJo Siwa revealed a few interesting thoughts she has about certain celebrities. The video, shared on July 24, has over 14 million views and features Siwa quickly flashing photos of celebrities on her phone with different captions. She revealed that her celebrity crush was Zendaya, the coolest celebrity she's ever met was Elton John, and that the nicest celebrity she's ever encountered was Miley Cyrus.
While the majority of the video praised public figures, it began with some major tea. Siwa kicked off the video with the "rudest celebrity I've met" caption and quickly showed a photo of "Full House" star Candace Cameron Bure. It is unclear what exactly happened between Siwa and Cameron Bure or when the encounter occurred. Siwa did attend the premiere of "Fuller House" in 2016 per Instagram. However, the interaction could have happened at any time. Cameron Bure has yet to respond to Siwa's recent dig that has gone completely viral.
The clip ended with a "celebrity that did me dirty" before Siwa flashed a photo of SpongeBob SquarePants and burst into laughter. The joke comes after she was not invited to the Kids Choice Awards this year. In an Instagram video, Siwa said (via Entertainment Weekly), "A lot of you have been asking me why I'm not at the Nickelodeon Kids' Choice Awards tonight, and the answer is very simple — I wasn't invited." Fans will have to see if either Siwa or Cameron Bure explain the situation or if it will remain a mystery.