Whatever Happened To Danica Dow From Vanderpump Rules?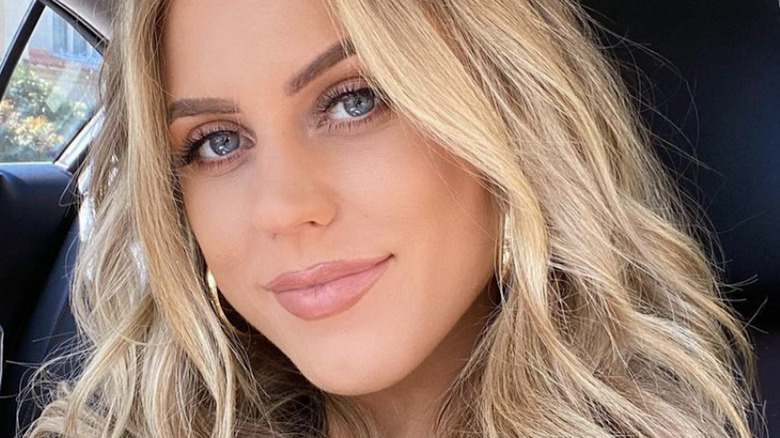 Danica Dow joined the cast of "Vanderpump Rules" during Season 8 alongside other new SUR staff members such as Charli Burnett and Brett Caprioni. "VPR" viewers got to know new cast members during their time working at SUR and time spent hanging out with the original staff like Tom Sandoval and Scheana Shay. According to Bravo, Dow was the youngest individual to hold the position of assistant manager at SUR restaurant in West Hollywood, California. However, she had a difficult time staying out of drama on the series and ultimately blending her personal and professional life.
During an interview, Dow opened up about her feelings regarding Jax Taylor, "He's gross. He and I never even talked before then. Because SUR is huge." She continued, "We don't even talk at work because I work in the restaurant and he works in the lounge," per The Blast. Her lack of filter and confrontational personality quickly became a problem for Dow as the assistant manager.
And when Dow began dating SUR bartender Brett Willis, things quickly became toxic. After Dow allegedly pushed Willis at work, she was suspended for two weeks and the drama only continued.
What happened between Danica Dow and Brett Willis?
Michael Tullberg/Getty Images
Danica Dow and Brett Willis had a tumultuous relationship that viewers caught a glimpse of on Season 8 of "Vanderpump Rules." However, after filming wrapped, a series of dramatic events ensued off-camera. Dow was granted a temporary restraining order against Willis in August 2020 after getting into a fight with him at a party, according to E! News. While she claimed that Willis was threatening and stalking her, her ex-boyfriend had a different story to share.
According to The Blast, Willis filed legal documents claiming that Dow was constantly violent towards him during their relationship and cited several examples with evidence. This information was provided when Willis asked a judge to tell Dow that she could not speak about him negatively in public.
Willis claimed that Dow attempted to choke him and assaulted him on multiple occasions. In the legal documents, he explained, "Danica ran across her bed to claw my neck and rip my shirt apart preventing me from Ieaving. As I tried to get away from her, she grabbed my arm and bit into my outer arm (bicep/tricep) drawing blood." This type of behavior was not unusual for Dow. In fact, a source close to her "VPR" co-stars told TMZ that they want her fired from the show after witnessing her "volatile behavior" and deemed her dangerous.
Danica Dow did not return for Season 9 of Vanderpump Rules
Several cast members, including original "VPR" stars like Stassi Schroeder and Kristen Doute, were fired ahead of Season 9 by Bravo for unacceptable behavior per Vanity Fair. And while it was unclear if Danica Dow would return after her dramatic legal trouble, she never made an appearance during Season 9. According to LinkedIn, Dow stopped working at SUR in March 2021 after nearly three years at the restaurant. She is now working as an event sales manager for the Boujis Group also located in West Hollywood.
In October 2020, Dow announced in a since-deleted Instagram post that she was moving out of WeHo and back to the Valley (via Bravo). She is still very active on Instagram and appears to have a new boyfriend. Most recently, Dow failed to show up to a court hearing in February to have her restraining order against ex-boyfriend Brett Willis extended per The Blast. Willis adamantly denied ever getting physical against Dow and wanted her to retract her allegedly untrue statements about his behavior. In response, Dow said, "Brett's version of these events is a complete lie. Brett kept trying to follow me around the party into different rooms and harass me."
It appears that Dow is still living in California according to her social media and that both she and Willis have moved on from their past drama. While viewers won't see Dow on the upcoming season of "Vanderpump Rules," they can still keep up with her on Instagram.