This Is The Celebrity Feud An Overwhelming Number Of Fans Will Never Forget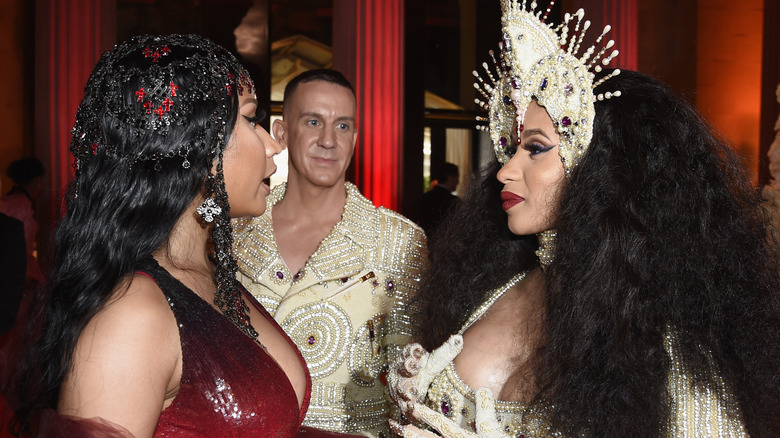 Kevin Mazur/mg18/Getty Images
When it comes to celebrity feuds, some conflicts are simply too intense to forget. And while many famous faces are able to overcome their public beefs, some escalate to a dangerous point. Cardi B and Nicki Minaj's feud came to an explosive climax in 2018 when the pair got involved in a physical altercation at New York Fashion Week (via Inside Editon). Following the incident, Cardi dragged Minaj online for allegedly referencing her daughter.
"I've let a lot of s*** slide! I let you sneak diss me, I let you lie on me," Cardi said (via TMZ). "But when you mention my child, you choose to like comments about me as a mother, make comments about my abilities to take care of my daughter is when all bets are f***in off!!" Minaj has since denied ever speaking ill about Cardi's daughter. She said during an episode of Queen Radio that she "would never talk about anyone's child or anyone's parenting," per Complex.
Despite Cardi and Minaj both stating that the conflict is over, the drama seems to never escape the rappers. However, the feud between Cardi and Minaj isn't the only celebrity beef that fans can't seem to get over.
Fans will never forget the Kanye & Taylor debacle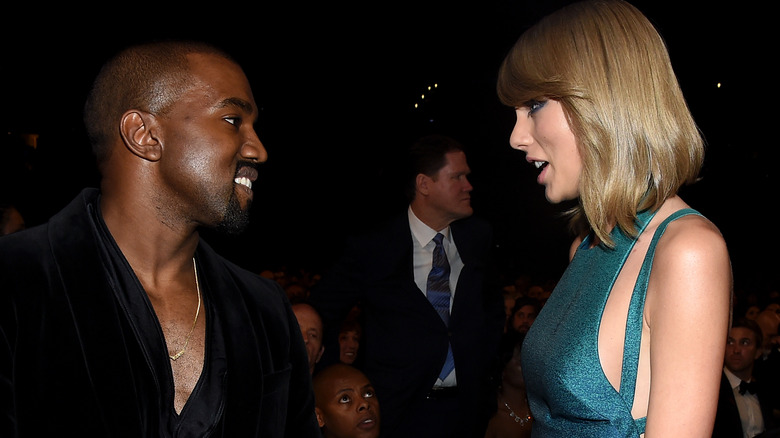 Larry Busacca/Getty Images
Fans have spoken out about the celebrity feud that they will never forget, and their choice might be surprising to some. Of the 595 Nicki Swift readers surveyed, 260 (43.70%) selected the beef between Kanye "Ye" West and Taylor Swift, as the most memorable drama of them all. And while its been over a decade since Ye infamously interrupted Swift at the MTV Video Music Awards, fans are apparently not over the debacle. Paris Hilton and Lindsay Lohan landed in the second spot on our list, nabbing a total of 87 votes (14.62%). Swift also found herself in the third highest spot – alongside her former musical nemesis Katy Perry. The singers reportedly had a falling out after Swift's background dancers joined Perry's tour, but they have since reconciled.
Nicki Minaj and Cardi B landed at 4 on the list, with 75 votes (12.61%). Britney Spears and Christina Aguilera found themselves in second-to-last place, as 54 readers selected their beef as the most memorable. While Drake Bell and Josh Peck finished last with 39 votes (6.55%).