Brendan Fraser's Huge Comeback Is Really Turning Heads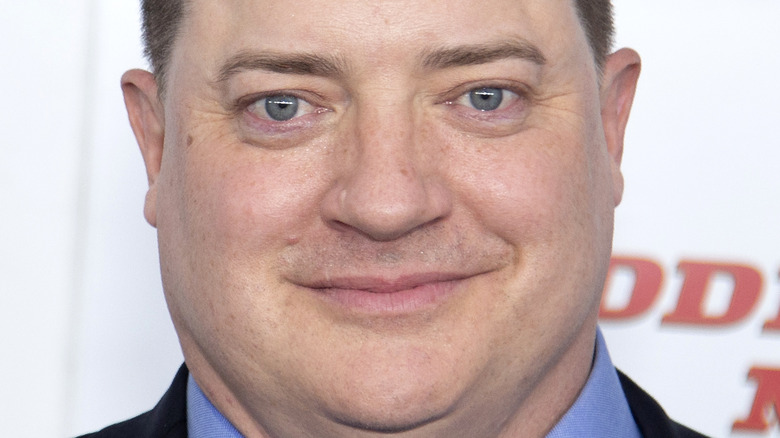 Santiago Felipe/Getty Images
In recent years, Brendan Fraser, star of hit '90s films like "The Mummy" and "George of the Jungle," has faded into the background. Years of doing his own stunts caused injuries that led to multiple surgeries, per Daily Mail.
Then in 2018, the actor talked to GQ about the professional and personal effects of past sexual assault accusations he made toward a powerful Hollywood figure, who allegedly harassed the actor in 2003. "I became depressed. I was blaming myself and I was miserable," he told the outlet. "That summer wore on—and I can't remember what I went on to work on next."
Though he hasn't completely disappeared from the big screen, Fraser hasn't exactly been the center of attention in Hollywood — until recently. The star is generating major buzz for an unrecognizable photo just released. The still image depicts the actor looking much heavier than he has in previous roles. Actors are known for going through drastic physical changes to transform into characters, and Fraser's upcoming role in Darren Aronofsky's film "The Whale" is no exception.
Brendan Fraser underwent a major physical transformation for 'The Whale'
"The Whale," which will premiere at the 2022 Venice Film Festival, revolves around a reclusive English teacher trying to mend his relationship with his 17-year-old daughter, played by "Stranger Things" star Sadie Sink. Brendan Fraser's 600-pound character also battles obesity.
There was no shortage of makeup and prosthetics used to make the physical aspect of the role as believable as possible. "It's gonna be like something you haven't seen before. That's really all I can tell you," he spoke to Unilad last year. The actor told Newsweek, "The wardrobe and costume was extensive, seamless, cumbersome." It's definitely a new look for Fraser, who said, "This is certainly far removed from anything I've ever done but not to be coy, I haven't seen any of it yet but I do know it's going to make a lasting impression," per another Newsweek report.
Many fans are showing their support for Fraser's comeback on Twitter. One fan wrote, "Can't wait. Love Darren & Brendan. I hope this is the start of the next act for Mr. Fraser. The world needs his voice & talent. A BIG FU to those who tried to ruin him." Fraser fans couldn't be more excited. Another user tweeted, "Seeing Brendan Fraser at it again makes my heart SO HAPPY!! hoping this new chapter of life brings him his deserved rewards!" One person noted, "Brendan's back big time," making a pun on the actor's extreme physical transformation.