Alec Baldwin Has Hosted SNL More Times Than You Thought
Jim Spellman/Getty Images
For the uninitiated, "Saturday Night Live" is an incredibly long-running sketch comedy show, launching many careers from Chevy Chase to Pete Davidson. Of course, hosting "Saturday Night Live" has long been considered a coveted gig, one reserved only for those who are either currently popular or forever a household name. Once one crosses the threshold of hosting five times, they are inducted into the iconic "Five-Timer's Club."
The "Five-Timer's Club" started off as a joke, when in 1990, Tom Hanks hosted "Saturday Night Live" for the fifth time. A hilarious skit included Hanks alongside comedy icon Steve Martin, spoofing his many hosting gigs on the late night comedy. Since then, a similar concept has been used almost every time a host reaches the milestone, from John Goodman to John Mulaney. While many have joined the ranks of "Saturday Night Live's" prestigious "Five-Timer's Club," only one actor holds the ultimate record: Alec Baldwin.
Alec Baldwin blew away the Five-Timers Club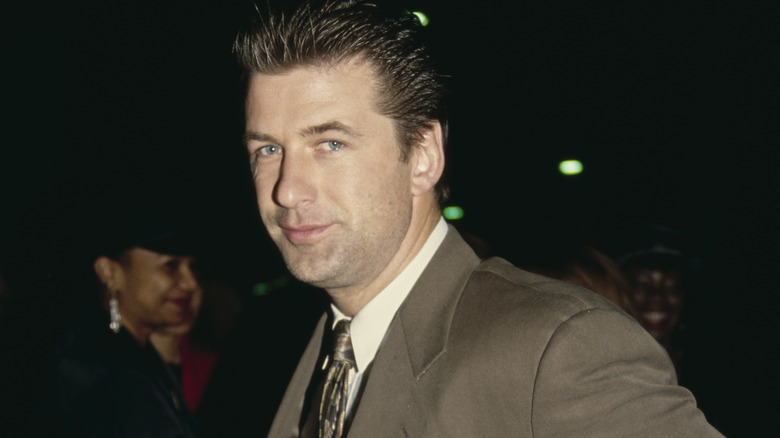 Michael Ochs Archives/Getty Images
Alec Baldwin first hosted "Saturday Night Live" in April of 1990. Since then, he's hosted a record-breaking 17 times, and he returned to the show several times as a featured guest. A number of his skits are considered iconic, including his Schweddy Balls Christmas skit.
Additionally, he starred in Tina Fey's "30 Rock," which parodied her time as head writer of "Saturday Night Live." In this series, he played Jack Donoughy, Liz's boss and mentor. His trademark was smarmy white collar humor, much of which aged poorly by today's standards, but cracked everyone up in 2008. After the end of "30 Rock," he dropped by "Saturday Night Live" a few times, most notably playing the role of Donald Trump, starting with the 2016 election up until roughly 2019. 
While Baldwin didn't enjoy the role ("It's not doing anything good or bad for him [Trump]," he complained to "Saturday Night Live" alum Kevin Nealon, according to Deadline), Baldwin won an Emmy for Outstanding Supporting Actor in 2017 for portraying the then-president of the United States.
Baldwin's milestone monologue brought the humor
As the record-holder for hosting "Saturday Night Live," Alec Baldwin is proud to have reached the milestone in 2017. In his opening monologue, the actor recapped his many gigs on the series, with then-cast member Pete Davidson on hand to heighten the comedy.
"That's an achievement that only comes if you are a comedy icon like Steve Martin or an enduring character/actor like John Goodman, or if you were lucky enough to be in the car in 1987 when Lorne Michaels ran over a man selling oranges on this side of the highway," Baldwin joked in the monologue. "But I'm proud to say, 17 is the all-time record." Afterward, Davidson appears, mocking how much things — including Baldwin — have changed since 1990.
However, Davidson does pay his respects to Baldwin, calling him "the greatest" and adding that the cast was "so happy" he was hosting. Of course in typical Pete Davidson nature, he continues: "Also, I look really hot standing next to you." Baldwin, being a "Saturday Night Live" veteran, took it all in jest, proving why the show continued to bring him back.