Rihanna Once Got Into A Very Public Twitter Feud With Ciara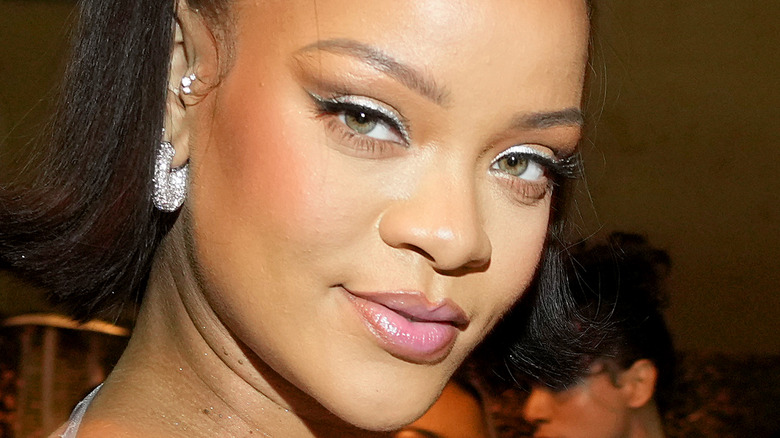 Kevin Mazur/Getty Images
Having been in the game for nearly 20 years, Rihanna has had her fair share of feuds with her fellow celebrities.
In 2017, Rihanna came for former President Donald Trump on Twitter after he ordered a ban of citizens of seven Muslim-majority countries from entering the US. The "Don't Stop The Music" hitmaker was so "disgusted" that she used her large platform to express how she really felt about the situation. "The news is devastating! America is being ruined right before our eyes! What an immoral pig you have to be to implement such BS!!" she wrote. In return, rapper Azalea Banks chose to get involved and slammed Rihanna for her personal views. "As far as Rihanna (who isn't a citizen, and can't vote) and all the rest of the celebrities who are using their influence to stir the public, you lot really REALLY need to shut up and sit down," Banks wrote in a now-deleted post (via Pressparty). Never one to not clap back, Rihanna took to Instagram and shared a snapshot of her looking unbothered while pouting. "The face you make when you a immigrant," she epically captioned her post.
This, however, isn't the only heated feud Rihanna has had on social media. In fact, her beef with singer Ciara was all anyone wanted to talk about at the time.
Ciara and Rihanna's shady tweets didn't go unnoticed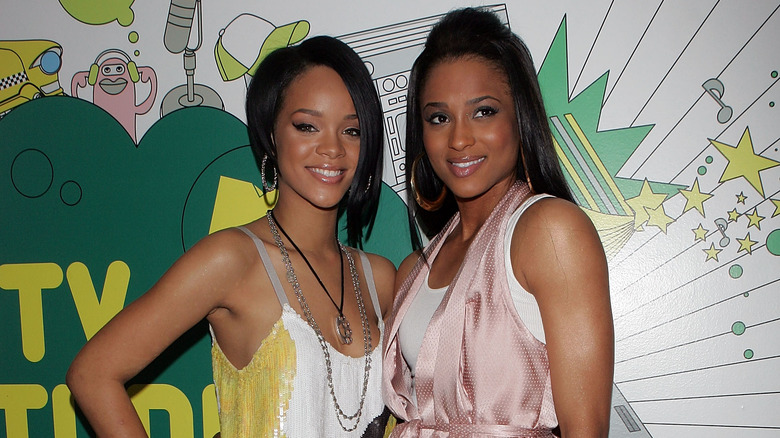 Scott Gries/Getty Images
Rihanna and Ciara's feud from over 10 years ago was rather juicy. As far as the public was concerned, everything was sweet between the two entertainers. However, during a 2011 appearance on E!'s iconic "Fashion Police" show, Ciara let it slip that the duo wasn't on good terms. "I ran into her recently at a party and she wasn't the nicest and it's crazy because I've always loved and respected what she's done with fashion," she explained, adding, "I've ran into her before, but this time it wasn't the most pleasant run-in."
Word got out to Rihanna and she instantly clapped back on Twitter, writing, "My bad ci, did I 4get to tip u? #howrudeofme." A little over 10 minutes later, Ciara responded by tweeting back, "Trust me Rhianna u don't want to see me on or off the stage." However, Rihanna wasn't done just yet. Minutes later, the "Shut Up And Drive" singer questioned Ciara's ability to book a performance, writing, "Good luck with bookin that stage u speak of."
That same day, it appeared Rihanna felt guilty and wanted to make amends with Ciara, suggesting they should put everything behind them. "Ciara baby, I love u girl! U hurt my feelings real bad on TV! I'm heartbroken! That's y I retaliated this way! So sorry! #letsmakeup," she tweeted. Ciara accepted her apology and insisted they should consider talking in person. In an interview with HOT 97 two years later, Ciara wished Rihanna well.
Ciara and Rihanna's feud is definitely no longer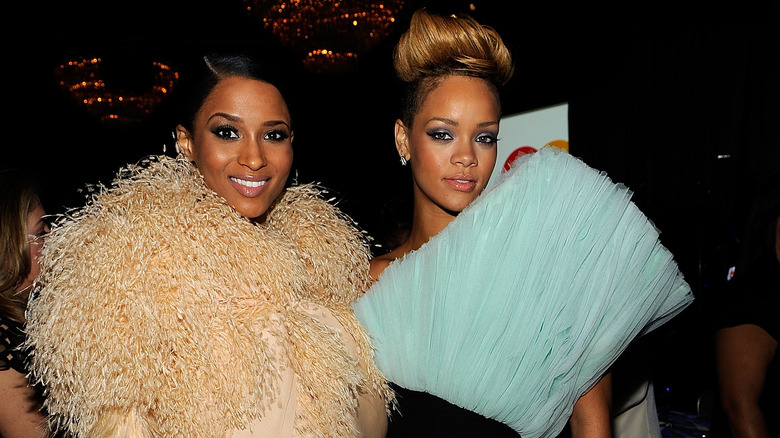 Larry Busacca/Getty Images
These days, it seems Ciara and Rihanna really have nothing but love for one another. After giving birth to a son, Ciara had only positive vibes for Rihanna and was so pleased to hear that she had also become a mom in May 2022. Even though she had yet to congratulate her, Ciara reminisced with ExtraTV over how the pair first met.
"I'm excited for her ... I remember meeting her years ago, like back when she was just getting going and I was someone in my early stages, too, and it's amazing how all of us women have, you know, blossomed," she expressed. Ciara revealed that Rihanna had been "killing it" as a businesswoman and insisted she is an inspiration for many, exclaiming, "That baby's going to be fly." 
Fans will be happy to hear that the appreciation hasn't been one-sided. Aside from being on good terms, it appears that Rihanna is also a fan of Ciara's music. As reported by Complex in 2018, Rihanna sang Ciara's smash hit "Goodies" while enjoying a karaoke performance on a night out with friends and documented it on her Instagram stories.