This Is What Gigi Hadid Studied In School
Ovidiu Hrubaru/Shutterstock
You already know that Gigi Hadid is one of the highest-ranking supermodels in the world today (per L'Officiel Malaysia). She has walked the runway for top fashion brands such as Chanel, Versace, and Fendi, and posed for covers of major publications including Vogue and Harper's Bazaar. You also know that Hadid came from a famous family: Her mother Yolanda is a former model-turned-TV star, her sister Bella is also a supermodel, and her younger brother Anwar has also followed in their footsteps and joined the modeling world. Oh, and Hadid used to be in a relationship with singer and former One Direction member Zayn Malik. 
However, what you may not know about Hadid is that prior to becoming a successful model, she went to college for a brief period of time. Per Harper's Bazaar, a then-teenage Hadid packed up her life in her hometown of Los Angeles to pursue college at The New School in New York City in 2013. But what's interesting is that she didn't go there to study fashion, or anything related to her modeling career. Far from it, actually.
Gigi Hadid studied criminal psychology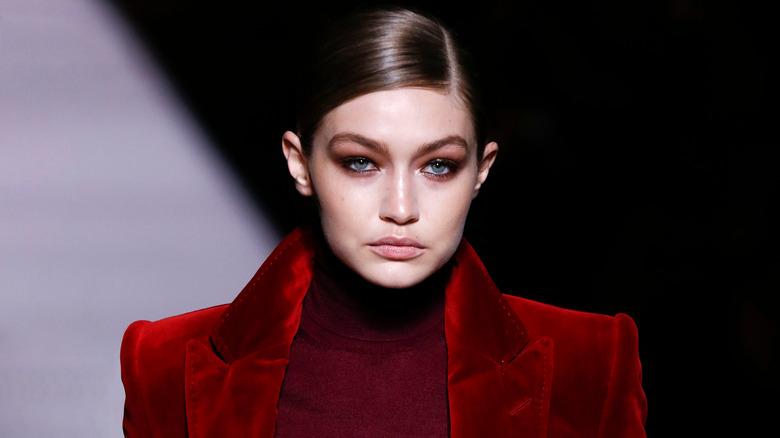 Ovidiu Hrubaru/Shutterstock
Appearing on "Live! with Kelly and Michael" in 2015, Gigi Hadid revealed that she studied criminal psychology at The New School in NYC.
"I loved it. I think what I realized is that I didn't really need the degree necessarily. I just love being in class, being in that environment, part of the conversation, stuff like that," she said. After sharing her love for crime shows — namely, "Snapped," "Forensic Files," and "Law & Order" — Hadid disclosed her habit of "profiling everyone" whenever she takes the subway. Well, back when she still could. "I'm sitting there, like, that phone looks a little bit old to be an actual phone and I'm getting off at the next stop," she jested. 
Turns out, pursuing criminal psychology was what got Gigi Hadid in New York in the first place. She shared this in her profile for Adweek in 2015 (via Cosmopolitan), where she also talked about the possibility of going back to college to finish her degree. "Who knows? I could always be a fact checker on CSI," she quipped.
What Gigi Hadid is up to now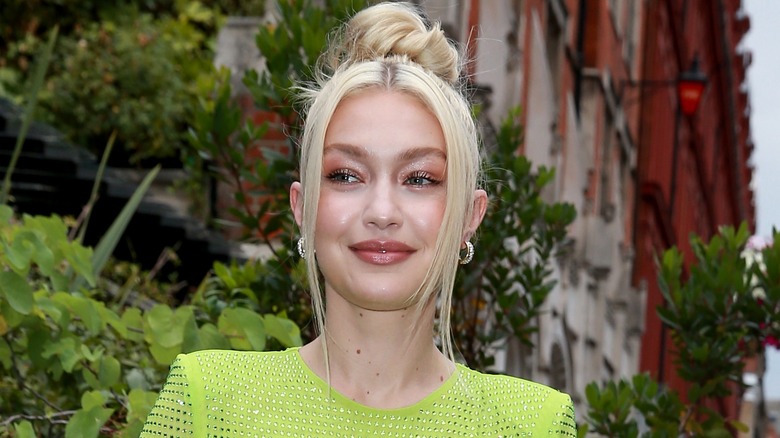 Cubankite/Shutterstock
That being said, her wish to continue her studies might remain on the back-burner for now, as Gigi Hadid currently has her hands full both with modeling and being a mother. As nearly everyone on the planet knows, Hadid has a 1-year-old daughter, Khai, with her on-again, off-again partner, singer Zayn Malik. They welcomed her in September 2020 (per People), just several months after Hadid shocked the world with news of her pregnancy.
Juggling a busy work schedule and motherhood is certainly no easy feat, but you can count on Hadid for making it seem not only possible, but effortless. The supermodel stressed the importance of balance in her profile for InStyle in February, saying, "Everyone has to learn that balance ... I'm trying to learn [it] still, being a mom and letting myself rest." 
Additionally, she shared the joys of motherhood in her interview with Access in 2021. "The highlight is I would say, like the most simple things," Hadid said. "Just seeing her learn something new everyday, even if it's like picking up a cup or like putting a ball in a hole. You just think they're the best, most genius thing that's ever been born." How sweet!