JoJo Siwa Reveals The Sad Health Issue She Suffered Due To Dance Moms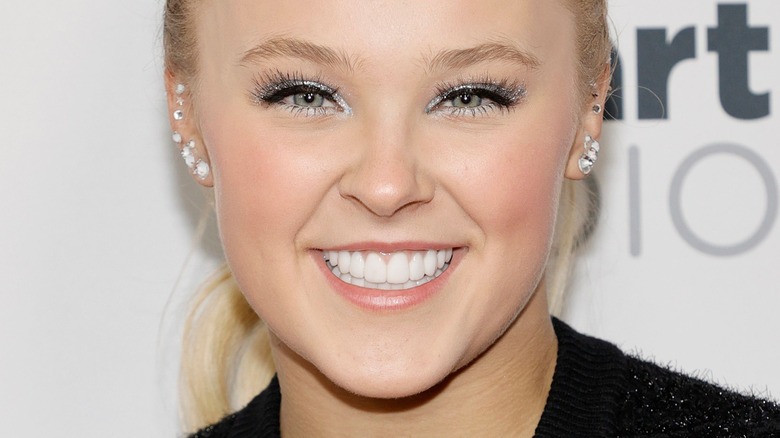 Amy Sussman/Getty Images
JoJo Siwa's days on "Dance Moms" are long behind her, but the social media star has just revealed a shocking reminder she has from her time on the show. Siwa's introduction to reality television came when she joined "Abby's Ultimate Dance Competition," in 2013. Her impressive stint on that show earned the young star an even larger role in Abby Lee Miller's "Dance Moms." A few years later. Siwa openly discussed her time on the show and revealed that she is grateful for Miller's no-nonsense style of teaching.
"You go to Abby, you know what you're getting into," Siwa told ET in 2020. "So it makes me really, really upset that I am one of the few — there's only a few people — that really truly thank Abby, and are thankful and grateful for what she's done for us." The YouTube personality went on to emphasize that without Miller and her time on the dance competition, she would not have a career today.
However, Siwa is now further speaking out about her experience on "Dance Moms," and has revealed a saddening impact the show had on her health.
JoJo Siwa reveals she has a stress-induced bald spot from Dance Moms
JoJo Siwa has been very vocal about her time on the hit Lifetime show "Dance Moms." Siwa, who has previously expressed her gratitude for Abby Lee Miller's teachings — is now exposing the devastating health complication she developed during her time on the show. She wrote on a TikTok video, "When someone notices my bald spot and wonders what it's from..." The clip then showed an image of Siwa from her time on the show. "Stress rash on my head when I was on 'Dance Moms' lead to no more hair there," she captioned the video.
A fan later asked the social media star if her bald spot could have come from her years of wearing a high-ponytail — to which she denied. "I figured I would just explain this. So no, it's actually not from the ponytails," she said in another TikTok. She went on to clarify that her ponytail did not cause tension on the balding side of her hair and that the thin spot came from consistent stress-picking.
And while Siwa may have endured an intense amount of stress while competing on the reality show, it appears her relationship with Miller is still very solid. When the "So You Think You Can Dance" judge came out in January 2021, Miller wrote a touching note to Siwa on Instagram, calling her "a shining example for the kids."