The Truth About Harry Hamlin And Nicollette Sheridan's Marriage
Everett Collection/Shutterstock
Before Harry Hamlin found love in Lisa Rinna, he was married to Nicollette Sheridan, showing he has a thing for TV housewives. But his relationship with the "Desperate Housewives" alum happened more than 30 years ago, before she starred in the popular ABC series that earned her a Golden Globe nomination. Hamlin and Sheridan met while filming the 1990 erotic drama "Deceptions," giving them the perfect stage to fall for each other — and quickly. Just the following year, the actors tied the knot, according to Yahoo! Entertainment. Hamlin and Sheridan seemingly fell out of love just as fast, separating in mid-1992.
Neither wasted much time. By the end of 1992, Hamlin was inviting the "Real Housewives of Beverly Hills" star to join him in Aspen, though she declined, they told People. Still, Rinna was smitten. "He called me every day for two weeks during Christmas ... and I got to know him," Rinna explained. Soon enough, the two were an item. Sheridan found love again even more promptly. Hamlin filed divorce papers in August 1992, according to Us Weekly, coinciding with when Sheridan went public with Michael Bolton, if People's math adds up.
But the exact timeline is fuzzy — and that's no coincidence. Given the "Mad Men" star and Sheridan were together for only about two years, their relationship had little time to produce enough headlines. In fact, most of is known about their marriage surfaced in 2019, when they publicly feuded over exactly when she started seeing Bolton.
Harry Hamlin accuses Nicollette Sheridan of infidelity — she denies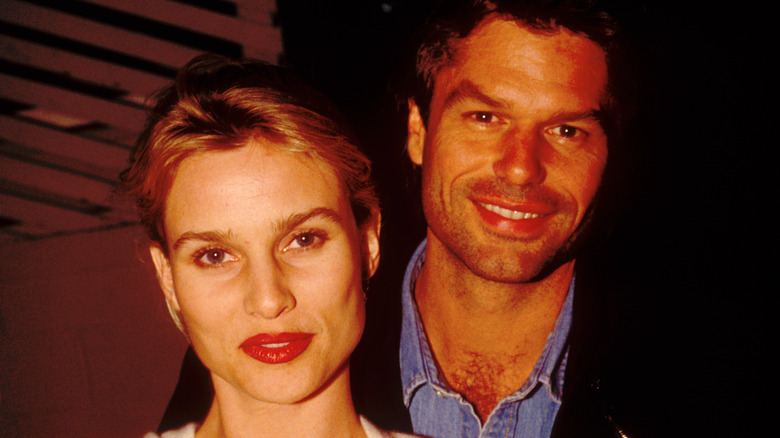 Bart Sherkow/Shutterstock
Nearly 27 years may have spanned between mid-1992 and early 2019, but time didn't seem to have subsided the animosity Harry Hamlin has cultivated for his ex-wife Nicollette Sheridan. In February 2019, Lisa Rinna told her fellow "Real Housewives of Beverly Hills" stars that Sheridan and Hamlin's marriage broke down because she cheated on him with Michael Bolton, Bravo shared. "I thank Michael Bolton to this day, are you kidding me?" Rinna said. "Let's cheers Michael Bolton."
A few days later, Sheridan took to Twitter to deny Rinna's accusations. "Harry and I ended our marriage nose to nose in Canada... Michael was a long time friend that was invited to our wedding," she wrote. To make things really interesting, Hamlin himself decided to chime in — and he held nothing back. "I did a lotta stuff with my wife 'nose to nose' but ending our marriage was not one of them!" he tweeted in response.
And Hamlin didn't spare the details of what he says happened. "What's it called when your wife of one year suddenly goes to bed with a pop singer? ...two weeks after your mother dies??" According to FamilySearch, Hamlin's mother died on July 1, 1992. While appearing on Andy Cohen's SiriusXM show in June 2021, Bolton neither confirmed nor denied involvement in Sheridan and Hamlin's split, simply stating Rinna had previously thanked him. "She said, 'If it weren't for you, I would have never gotten together with Harry.'"
Harry Hamlin first met Lisa Rinna thanks to Nicollette Sheridan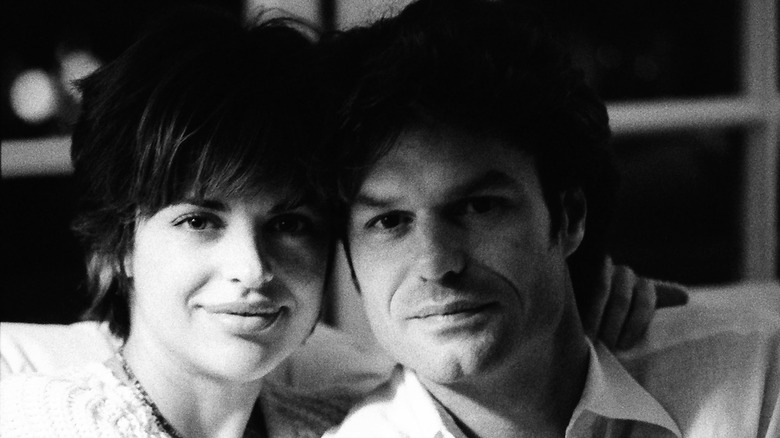 Roxanne Mccann/Getty Images
Harry Hamlin has Nicollette Sheridan to thank for first putting Lisa Rinna on his radar. Hamlin and Rinna first exchanged pleasantries in 1992, when Rinna stopped by his table at a restaurant to greet Sheridan. "I was sitting with my wife at the time having dinner the two of us and this absolutely gorgeous girl walked by me — might've said 'hello,'" Hamlin told People. Rinna confirmed that was the case. "I did say 'hello' because I knew your wife," she noted.
Hamlin didn't make much of that encounter at the time, but Rinna definitely made an impression. "I was married, so I wasn't thinking beyond that, but I do recall being stricken," he explained. Their paths would cross again just a few months later — again through another chance encounter. Rinna was working at an eyeglass store whose owner was friends with Hamlin. "I was having dinner with him and she came in to deliver the keys when she closed the store at 10 ... It was sparks right away," he said on "The Jess Cagle Show" in December 2019.
But Rinna agreed to go out with the "L.A. Law" alum only in early 1993, after spending hours getting to know him over the phone, she told People. "I started to really like him just by talking to him." This time, Rinna didn't refuse Hamlin's invitation to join him. She went to the Italian restaurant and never looked back.