The Real Reason RuPaul Wasn't Excited About Winning An Emmy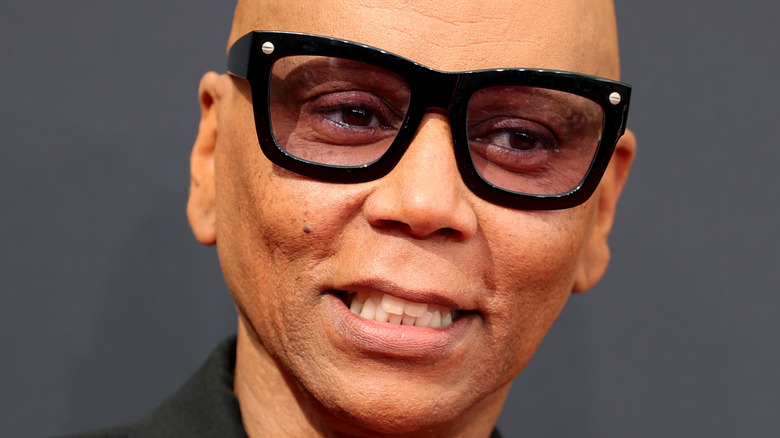 Rich Fury/Getty Images
RuPaul is an icon; it's undeniable. From his music career to his time hosting "RuPaul's Drag Race," RuPaul is truly a renaissance man — well, queen. Unsurprisingly, he holds the distinction of the most-awarded Black artist in Emmy history, with 11 wins. However, he was quick to redirect the credit of his accolades to the LGBTQIA+ community.
"They are so gracious to tell their stories of courage and how to navigate this difficult life, even more difficult today," he said in his acceptance speech in 2021, receiving the trophy for best competition program, per USA Today. "This is for you. For you kids out there watching, you have a tribe that is waiting for you. We are waiting for you, baby! Come on to mama Ru! Thank you so much! Thank you!"
Interestingly, RuPaul cared little for the mainstream awards he received — he was never doing this for anyone's approval aside from his own.
RuPaul never wanted an Emmy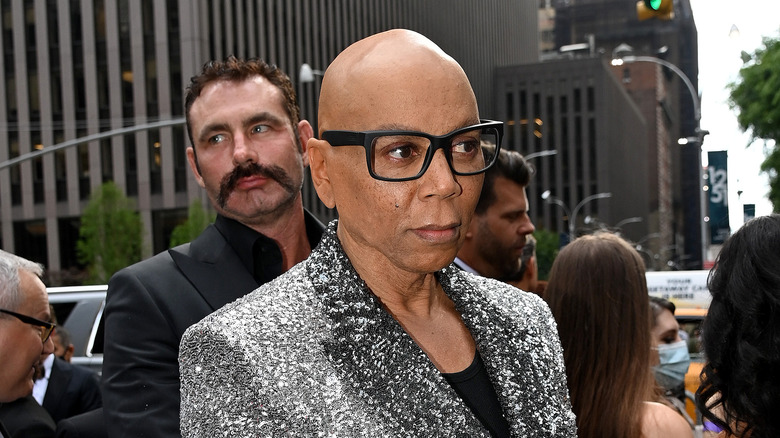 Bryan Bedder/Getty Images
RuPaul's goal in life was never to fit in, and he truly doesn't care what society thinks. When deciding to embark on his drag career, the supermodel explained that he knew society as a whole wouldn't necessarily welcome him. As a result, RuPaul says haters can suck it.
"I made a pact with myself when I was 15 that if I was going to live this life, I'm only going to do it on my terms," RuPaul told Vulture. "I'm only going to do it if I'm putting my middle finger up at society the whole time. So any time I've had yearnings to go, 'Aw, gee, I wish I could be invited to the Emmys,' I say, Ru, Ru, remember the pact you made. You never wanted to be a part of that bull****."
In typical RuPaul humor, the legendary host then added, "I'd rather have an enema than have an Emmy."
RuPaul on existing outside the mainstream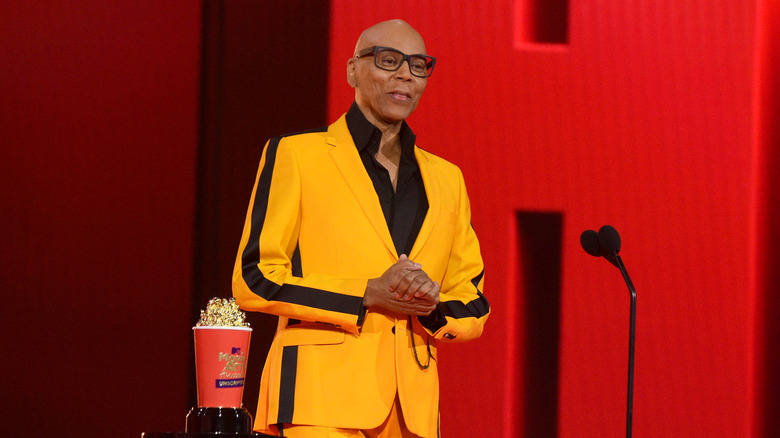 Kevin Mazur/2021 Mtv Movie And Tv Awards/Getty Images
Despite his critical and commercial success, RuPaul doesn't feel he fits in with Hollywood at large. The drag superstar clarified that while he is well-know, that doesn't mean he's welcome.
"You know, I've never been on 'Ellen' or 'David Letterman' or 'The Tonight Show,' and there's a reason for that, which I don't want to go into," RuPaul further explained. "But there's a reason that I've never been thought of as someone who can go on there. Because it makes those hosts feel very, very uncomfortable, especially if we really talked. It would be the opposite of what they're used to. So am I part of the mainstream? No. People know my name, people know what I look like, but am I invited to the party? No, and there's a reason for it."
However, RuPaul did reach one mainstream milestone: hosting "Saturday Night Live." His stint at 30 Rock was a resounding success, playing incredibly well off of cast members such as Pete Davidson. While RuPaul may not exactly fit in with society, is society worth fitting in if RuPaul isn't a part of it?