What Eiza Gonzalez Has Said About Her Mexican Heritage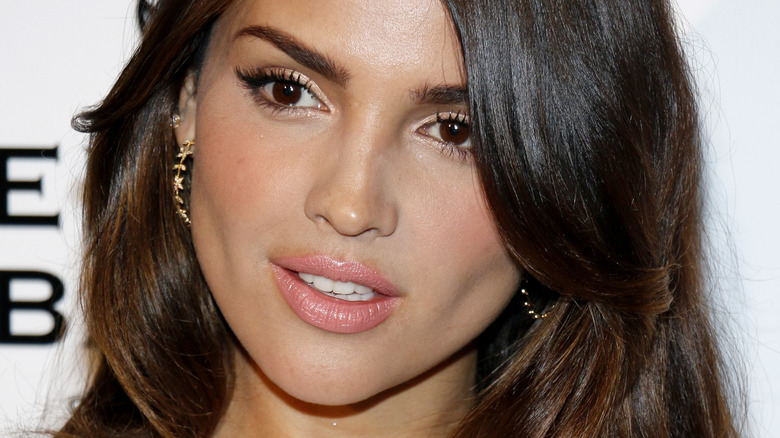 Tinseltown/Shutterstock
Mexico-born actor Eiza González has been steadily working with some of the biggest names in Hollywood for years. In the thriller "Ambulance," she found herself under the tutelage of action aficionado Michael Bay while starring alongside Jake Gyllenhaal, and in "Fast & Furious Presents: Hobbs & Shaw," her co-stars included Dwayne "The Rock" Johnson, Jason Statham, and Idris Elba.
González's previous work impressed Johnson so much that he and the "Fast & Furious" crew shifted their filming schedule so she could appear in the movie, per Collider. This allowed her to also shoot "Godzilla vs. Kong," but she had to make a sacrifice to make it all work. "It was the holidays. So I remember I was like, 'I'm game to not have vacations if I can go do that,'" she said. Two years earlier, the dedicated actor worked with Ansel Elgort and Lily James in the 2017 film "Baby Driver," which marked a turning point in her career. "It was my first big movie," González told ContentMode. "The dynamic with the cast and [director] Edgar Wright was so fun. I learned endlessly everyday just by watching them."
Before that, González made waves in the "From Dusk Till Dawn" television series as Santanico Pandemonium, the snake-charming vampire originally portrayed by Salma Hayek. It was the first role González landed in America, and she considers moving to the States the most momentous career decision that she's made. However, she upset some of her fans by going Hollywood.
Why Eiza Gonzalez's Instagram followers complained about her posts
Before she took Hollywood by storm, Eiza González made a name for herself in her home country by starring in the telenovela "Lola: érase una vez." She later told V Magazine, "I've never really liked to define myself as one thing specifically, especially because I started [my career] in the early 2000s in a country that puts you in a specific box for a very long time." Once Gonzalez broke out of that box, her fanbase grew to include a lot more English-speaking fans, and she was using the language of Hollywood on her Instagram page. According to People, her Spanish-speaking followers were not happy about this.
When González shared a book recommendation in 2018, she was criticized for giving it an English-only caption. In a since-deleted response to the backlash, she explained that the translate button wouldn't work properly if she included multiple languages in an Instagram post. "I don't understand this thing that because I write in a global language I feel less Mexican. It's just looking for excuses to criticize, that's my opinion," she added.
But since then, González has shared a number of posts in Spanish or both Spanish and English, including a call-to-action on climate change and an announcement that she had been named Bulgari's first-ever Latina ambassador for North America. "Being an immigrant woman, to be part of the brand in North America, sends a loud message," she told People.
How Eiza Gonzalez pays tribute to her roots with her movie roles
Eiza González told V Magazine that she considers herself a global citizen, and she revealed that she was just 15 years old when she left Mexico for New York. However, she's never forgotten her roots. "I love Mexico City. I have nothing but incredible memories," she told ContentMode. 
While González has made a splash by starring in multiple popcorn movies with splashy special effects and fast-paced action sequences, she's also pursued roles that remind her of her heritage. In the 2021 animated movie "Spirit Untamed," she plays a Mexican rodeo performer. "I was so excited to do this movie because being able to both portray my culture in such an uplifting way and then being able to speak my language in a movie like this and sing in my language it was such a unique experience," González told CinemaBlend.
The actor also celebrates her culture by making sure certain stories get told. In 2021, Deadline reported she was producing and starring in a biopic about legendary Mexican actor María Félix. Another big career goal for González is to create more opportunities for other Mexican women working in the entertainment industry. She told V Magazine, "I'm moving towards a place where my platform's becoming a bit bigger and I wanna be able to use that and bring more opportunity to my people and the talented female cinematographers, writers, and actresses that we have in our country."