The Truth About Alicia Silverstone's Ex-Husband, Christopher Jarecki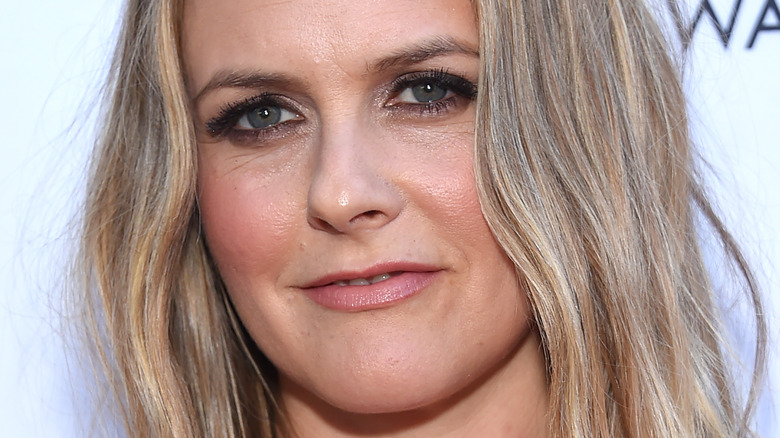 DFree/Shutterstock
Celebs with long, public relationship histories are common in Hollywood, but Alicia Silverstone's includes exactly one partner. Silverstone met Christopher Jarecki outside of a movie theater in 1997, two years after she starred in the cult-classic "Clueless," W magazine noted. The 20-year-olds had no reason to rush into taking their relationship to the next level. Their relationship continued to thrive for eight years until Jarecki felt compelled to ask Silverstone's hand in marriage in 2004, according to People.
By then, the couple was already living together in Los Angeles, showing they were serious about their union. "He was waiting on our old wicker love seat, ring in hand, with the most beautiful proposal any best friend could ever give," Silverstone told the magazine. She and Jarecki tied the knot on June 2005 in an unconventional, eco-friendly beach ceremony that included plenty of Beatles songs, a campfire, and nothing but vegan food.
Silverstone and Jarecki showed the same restraint when it came to expanding their family, welcoming their son, Bear Blu, six years after getting married, People reported. But after more than 20 years together, Silverstone and Jarecki called it quits in February 2018, per Page Six. "They still deeply love and respect each other and remain very close friends but have mutually decided to separate," a rep for Silverstone confirmed. While it is true that Jarecki is best known for his relationship with Silverstone, the former teen icon's ex-husband is an artist in his own right.
Christopher Jarecki is a punk-rock musician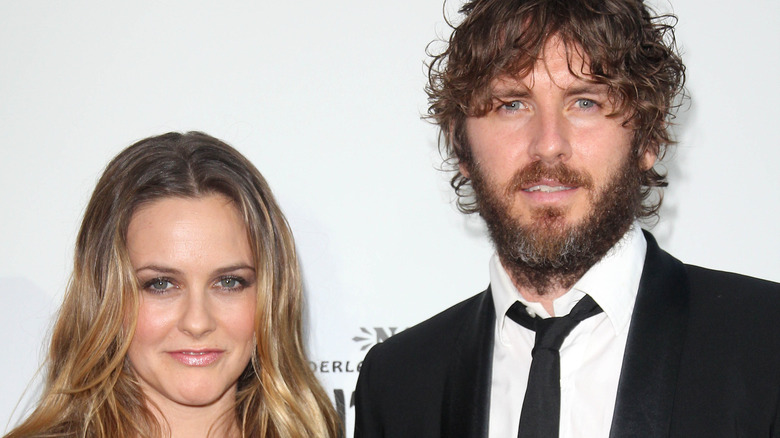 s_bukley/Shutterstock
Alicia Silverstone may have been the bigger star in the relationship, but Christopher Jarecki was also known around the LA punk-rock scene in the early aughts. Going by Christiane J, Jarecki formed the band S.T.U.N, which stands for Scream Towards the Uprising of Nonconformity, according to a 2003 MTV report. S.T.U.N. drew on the political rebellion of bands like Rage Against the Machine, with lyrics that criticized American imperialism and promoted socialist thoughts.
Those themes were present from the moment S.T.U.N.'s first single came out, shaped by Jarecki's interest in the work of Noam Chomsky and Daniel Quinn. "'Annihilation of the Generations' is about people not paying attention to how many people have it worse off than them in the world," Jarecki told MTV. Jarecki's band was signed by Geffen Records in 2002, allowing them to release their debut album in 2003, AllMusic noted. Soon enough, the band was opening for powerhouses of the genre, including Jane's Addiction and The Used, the Houston Chronicle reported. 
Despite a promising start, S.T.U.N never produced a second album. But Jarecki continued to work as a musician, later founding the group The Bathroom Murders and hosting a music radio show on GTFU, "A Musical Journey with Christopher Jarecki," according to The U.S. Sun. Like his former partner, Jarecki is also a lifelong vegan and passionate about animal rights, W noted. Jarecki even dabbled in acting, snagging tiny roles in "Me & Will" (1999) and alongside Silverstone in "Vamp" (2012).
Alicia Silverstone and Christopher Jarecki have a good co-parenting relationship
Alicia Silverstone's parenting methods have raised plenty of eyebrows throughout the years, but her dynamics in raising her son with Christopher Jarecki post-divorce has been going great. From the moment they decided to go their separate ways, Silverstone and Jarecki knew they would make Bear Blu a priority. "They have a son together who they will continue to co-parent," Silverstone's rep told Page Six upon confirming their separation. They proved they weren't bluffing as they navigated the rough waters of divorce.
In November 2018, a court ordered Silverstone to pay her ex the hefty monthly sum of $12,000, Entertainment Tonight reported. Silverstone showed she held no grudge, as the couple promptly agreed to a joint-custody deal regarding Bear. That same month, Silverstone took to Instagram to post a photo showing the parents posing with their son as he celebrated a milestone. "Our big 1st grader!" she captioned the snap, which showed both with their arms around Bear.
Their approach to co-parenting remained unfazed in subsequent years. "Bear and his daddy and I flow really well together," Silverstone told Today in 2020. In fact, Silverstone and Jarecki never impose their presence on Bear, allowing him to choose which parent he wants to be with at any given moment. "I started to wonder if that was too much pressure. So, I checked in with him and he said, 'I love that I get to decide.' We both have different perks!" she explained.