Inside Kira Kosarin's Real-Life Relationship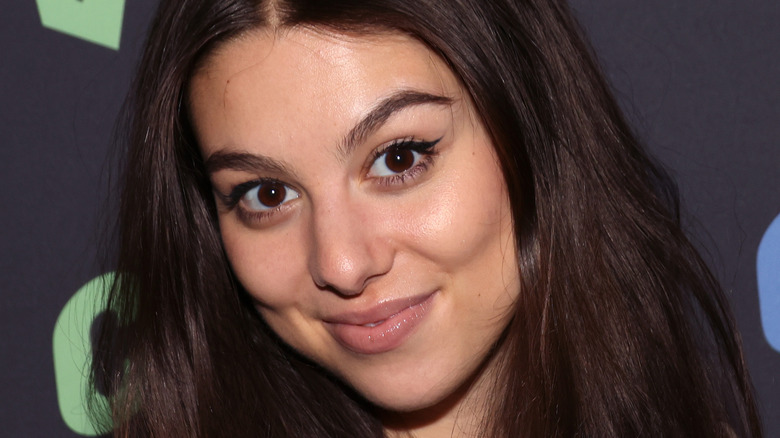 David Livingston/Getty Images
At age 14, Kira Kosarin hit the small screen when the cast of Nickelodeon's superhero TV series, "The Thundermans." The show appeared to be the network's live-action response to Pixar's "The Incredibles," as it also followed the lives of a family that possessed superpowers, and the formula worked; the series aired for four seasons before Kosarin hung up her blue spandex super-suit for good in 2017.
Kosarin went on to appear in the Hulu series "Light as a Feather," but like fellow Nickelodeon star Ariana Grande, she shifted her main focus to her music career. In March 2022, Billboard reported that the entertainer had signed with the label Republic Records, the culmination of a steady drip of music drops. Among them was a song that took off on TikTok, "First Love Never Lasts." Kosarin's fans learned that she's the type of artist who uses her music as an outlet to pour her heart out about her love life when she released the EP "Something New" in July 2022. Per Enigma Online, she said of the record, "It's a story of meeting somebody where you have all of these preconceived notions of what's going to go wrong. Your mind is changed though, because you haven't encountered a relationship like this before. Maybe you can let your guard down and trust."
Kosarin also started using social media to give her followers a window into her love life, and it turns out that she and her boyfriend share a passion for making music.
Kira Kosarin and Max Chester have performed together
In December 2020, Kira Kosarin showcased her vocal talents by covering the HONNE song "Location Unknown" in a video on her YouTube channel. But she wasn't alone; she was joined by another performer named Max Chester. In addition to harmonizing with Kosarin, Chester provided musical accompaniment by playing a keyboard. That same month, Chester shared a photo of himself and Kosarin on his Instagram account. He was playfully poking Kosarin's bottom lip while the couple soaked in a hot tub. "Step 1: fall in love w your best friend step 2: *beeblbweeblbeeblbeebl*," the caption read. 
According to his website, Chester is a composer and conductor from the UK who divides his time between Boston and London. He's been playing piano since he was a child and studied film scoring at Berklee College of Music in Boston. Kosarin regularly appears on Chester's Instagram page, and he even shared how they fell in love in a post celebrating their anniversary. "Like all good stories it began with salted watermelon and eye contact, and like all good stories you have made every page since breathtaking and inevitable," he wrote. "What an honor to live each day with your beautiful hand in mine. I will always hold it carefully, but never too tight."
The couple musically meshed so well that they started co-writing songs together, including the track "Parachute (Plan B)" from Kosarin's "Something New" EP. The song is, unsurprisingly, about falling in love.
Max Chester cared for Kira Kosarin when she had COVID
In December 2020, Kira Kosarin let her Instagram followers know she was one of the unlucky celebs who contracted COVID-19. The actor assured her fans that she was well on the road to recovery, writing, "My symptoms have been very manageable, that of a bad cold/mild flu." However, she added that losing her senses of smell and taste was a bit alarming.
While Chester was also diagnosed with the virus, Kosarin revealed that he was asymptomatic, so he was able to help nurse her back to health. She shared a public thank you note to her boyfriend that read, "The hardest days are infinitely better with you by my side and I'll gladly be stuck in a one-bedroom apartment for 14-days with you any time." 
According to Kosarin, their diagnoses prevented them from being able to spend the Christmas holidays with Chester's family in England — plans that were a sure sign that the couple was already getting serious. In an interview with On Demand Entertainment, Kosarin said that her parents once wanted her to date her "The Thundermans" co-star Jack Griffo, but it looks like they're out of luck — in July 2021, Kosarin indicated that she and Chester are in it for the long haul. "This year of life together in our third-floor apartment has been the greatest of my life so far," she wrote on Instagram. "Here's to all the rest. I'll see you forever."